It's possible for preschool math activities to be hands-on and fun!
If you are ready to help your busy toddler and/or young kids have a great time learning math, you are in the right place.
In this post, I share hands-on activities to help young learners build a strong foundation in math. Each activity is intended to provide a hands-on sensory experience while also being a building block for understanding basic math concepts.
Related:
Kindergarten Homeschool Curriculum
These kid-friendly math activities can be helpful for four year olds, five year olds, and even learners in the first grade. Also the tools or toys for each activity can be used in different ways and repeatedly to support different types of learners.
This post contains affiliate links. Please see my Disclosure Policy for more information. I do not recommend products I do not believe in and the photos in this post are my own – showing that I have almost every product (or a similar version of the products) I recommend or share.
Let's get started.
Hands-On Math Activities for Preschoolers and Kindergarten
Using toys to introduce mathematical concepts is a great way to trick…I mean engage young children. So…let's start with one of my favorite toy sets for working with children as they learn shapes.
Shapes & Sorting
SmartMax Start Stem Building is marketed as a magnetic discovery toy and we have found it useful for several simple pre-k math activities like sorting and shape forming.
Activity 1: Build different shapes with the balls and magnetic objects
Activity 2: Practice comparisons with long vs short
Activity 3: Sorting objects by the different colors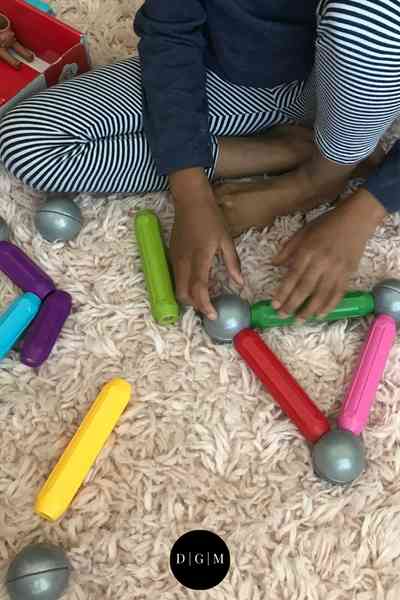 Psst. It's also a great toy that has pieces large enough for kids as young as one to play with! I can't be the only mama trying to manage toys that are safe for multiple ages.
Another tool for learning and creating shapes are geoboards with rubber bands. Children are able to use the pegs in the board to form geometric shapes again and again.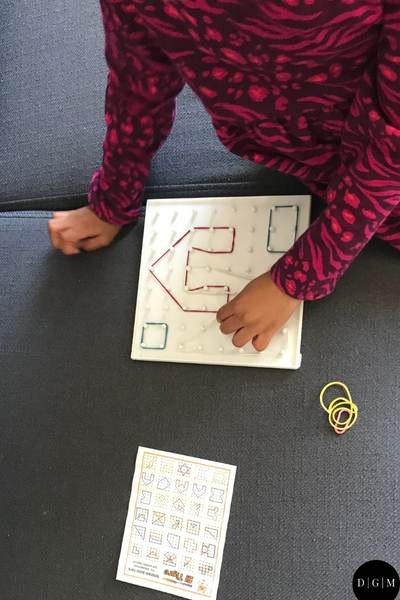 Do you have other toys that can be used for learning? Use what you have.
---
Number Activities
If you aren't interested in purchasing fancy toys, no worries. There are ways to have frugal fun and still enjoy learning.
Grab some craft sticks, stickers, and color cups for the following number activities.
Activity 4: Sort the sticks by matching the craft sticks to the corresponding cup color. If all your cups are one color just place stickers on the cups. 😉
Activity 5: Cup fingers. Flip the cups upside down and write numbers. Have the child place the correct number of sticks under the cup.
Activity 6: Hide the sticks or use painters tape to stick the sticks to the wall to extend the activity duration.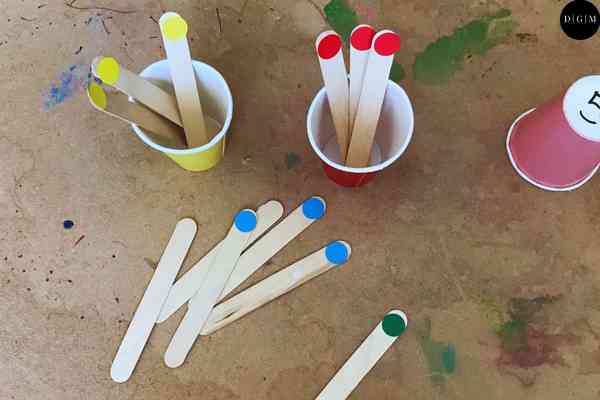 ---
Number Recognition
Plain paper flashcards and laundry clips are all you need for three number recognition activities that teaches basic math skills and provides fine motor skills practice.
Activity 7: Match the word to corresponding dotted card.
Activity 8: Match the numbered clothing pin to the corresponding dotted card.
Activity 9: Match the numbered clothing pins to the corresponding numerical spelling.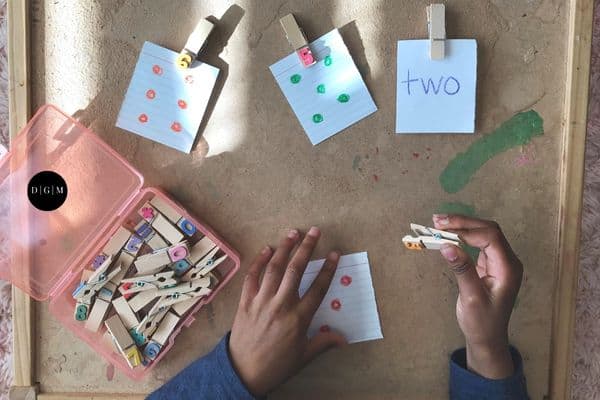 ---
Graphing & Patterns
Graphing and pattern activities can be accomplished with everyday items including: household items, food, legos/blocks, and other toys.
Activity 10: Create simple lego patterns (blue, red, blue, red, …) and have the child complete the pattern or make their own with the different color or shaped objects/toys. Legos and building blocks are great for these simple activities.
Activity 11: Practice creating graphs in a fun way. Be sure to ask questions about the graph. Example: How many red frogs are there? How many green frogs are there? How many more red frogs than yellow frogs.
Activity 12: Practice simple math (addition and subtraction) exercises. Example below: There were two blue frogs. Three red frogs joined the party. How many frogs in all?
---
Number Sense
If you don't have a set of dominoes, consider grabbing a set. They're great for number sense concepts like understanding quantities, more vs less, and recognizing relationships.
Activity 13: Matching the numbers to each other
Activity 14: Adding the numbers on each side of the line
Activity 15: Practice identifying which side is greater than, less than, and equal to.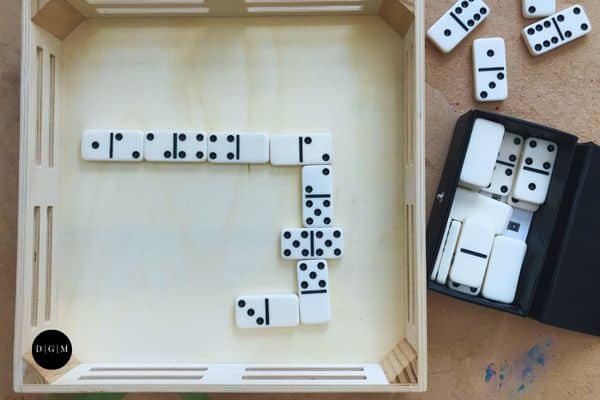 ---
Roll & Count
Dice games are another great tool for fun math activities. We like these large wooden dice.
Activity 16: Roll two dice and use the numbers to create and solve math problems. This was a big hit for my little one.
Activity 17: Match the dice to number cards for number identification.
Activity 18: Practice quickly recognizing numbers by common grouping.
---
Board Games
Family night board games are also gems for preschool math games that helps kids get practice counting, number recognition, number ordering, skip counting, and simple math. It's play but it's also learning math basics.
Activity 19: Play UNO | Each player matches cards by number or color to get rid of an initial seven card hand. The game requires recognition of numbers 1-9 and skip counting for the 'draw +2' and 'draw +4' cards.
Activity 20: Play Trouble | Each player must pop the die in the middle (number recognition 1-6) and move that number of spaces (counting).
Activity 21: Play Candyland | Each player picks a card and moves with color cards. Although our version didn't come with dice, using dice will encourage counting.
We have a weekly family game night to ensure these games get practiced over and over. Beware, these games may bring out the competitiveness in your child that you hadn't knew was there!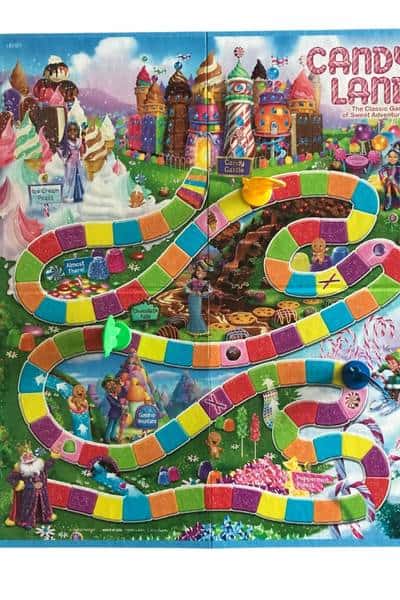 ---
Puzzles & More Games
There are a number of puzzles for early math concepts. Here are a few that are colorful and perfect for a bit of math fun.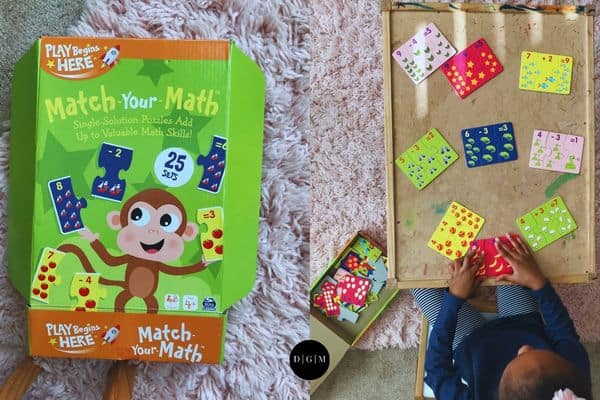 ---
Fractions
One more easy way to engage in math with your early learner is by cooking in the kitchen. Recipes that involve measuring flour, baking powder, sugar, and wet ingredients are good for introducing fractions.
I never thought we'd be looking at fractions at the preschool/kindergarten level but understanding 1 cup, 1/2 cup, 1/4 cup, tablespoons, and teaspoons is useful and understandable for littles – when they see it in practice. I recommend the measuring tools you currently have in your kitchen drawer or measuring cups for kids.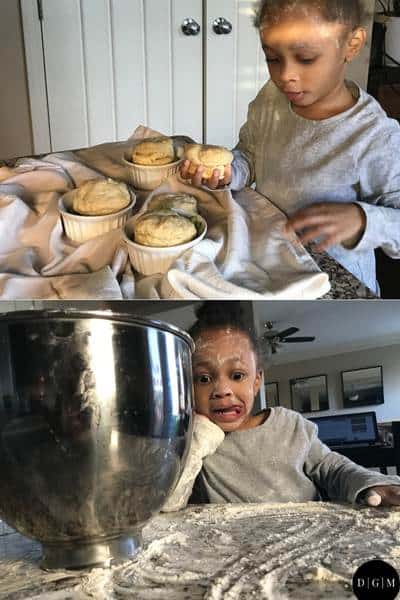 Our favorite recipes for practicing fractions in the kitchen are for biscuits, waffles, pancakes, cakes, and brownies. Yum for learning!
---
Stamps
The photo below is a worksheet that can easily be perceived as boring. But…I pulled out the number stamps I got from Michael's Craft Store and voila! Fun.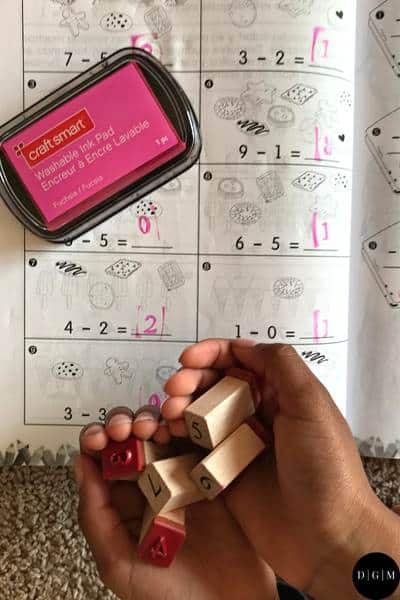 No need to limit any pre-writers from practicing their math skills. Stamps like mine, these ones (cute), and other kid-friendly manipulatives are useful tools for getting in some fine motor skills practice.
---
Dough Mats & Ten Frames
Using play dough mats for creating shapes and using ten-frames for introductory math isn't new and is useful for understanding the math concepts that are coming in the first grade. However, finding the simple worksheets that allow for comprehension and a hands-on learning can be daunting so I started creating my own. Explore engaging printable in my printable shop.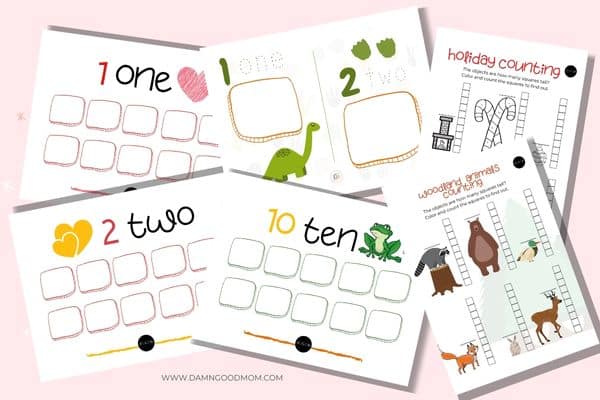 ---
Flash Cards
Flashcards don't need to be boring. There are games you can play to help children enjoy this simple and inexpensive tool.
Use painters tape to make squares on the floor. Put a number (answer to the question) in the box. Have the child place the flashcards in the correct box.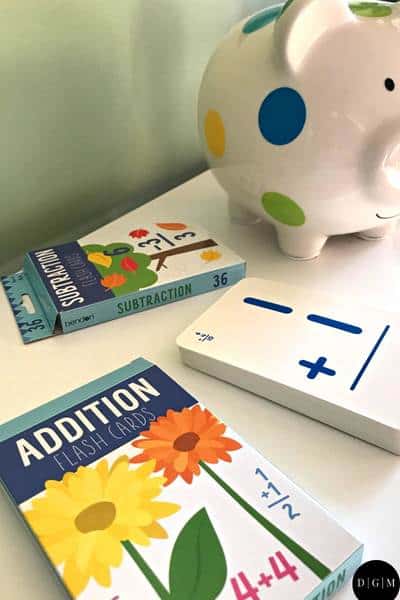 ---
YouTube
I know you're thinking YouTube isn't hands-on. Here's the thing. There are hundreds of counting videos on YouTube. It is possible to find short, focused, fun and engaging videos for kids. Below is the list of our favorites for counting and introducing math to preschoolers and other early learners.
I make these videos 'hands-on' by having my daughter point and count along using her number board which is probably my favorite math tool. It's been used for three years and I got it at the Bullseye section in Target one back-to-school season. I haven't been able to find another since (see below). It's perfect for adding, subtracting, skip counting, figuring out the missing number, and more!
Another tool to keep on display (or easily accessible) that solves many of the same problems as our math board is a printable hundreds chart.
---
Math for Preschoolers and Kindergarten Learners
Once children are able to count to twenty, they are on their way to skip counting and more advanced math and there are great videos by Scratch Garden for this as well! WE love the channel.
I hope this list of math activities for preschoolers and kindergarten level kids gave you several ideas that you can use in future lesson plans and play sessions. Early childhood is a fun time for children, parents, and educators. Employing hands-on activities is the best way to engage the mind and body, to support early math skills. HAPPY LEARNING.