Women often go through physical and mental transformations to become moms.
The physical changes are usually easy to point out, the mental changes vary from mom to mom but most of us experience mental exhaustion and sometimes some internal frustrations.
There are usually remedies and helpful changes that can help moms conquer both. However, no one is talking about the everyday fun and sometimes crazy changes that turn our worlds sideways, beginning as soon as we bring baby home.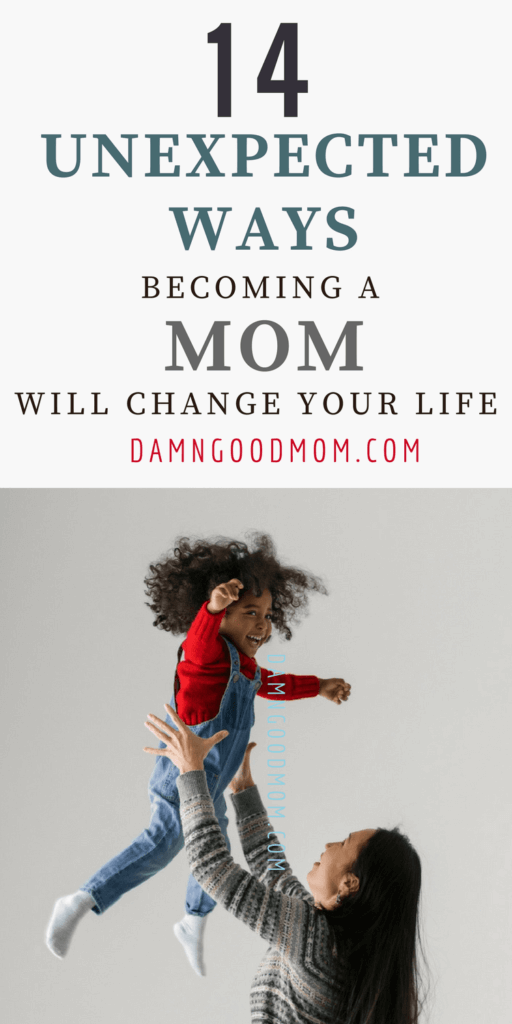 Below, is a list of 14 changes that many women experience when they become new moms. 
14 WAYS BECOMING A MOM WILL CHANGE YOUR LIFE (ESPECIALLY DURING THE 1ST YEAR)
1. TALKING ABOUT YOURSELF IN THE THIRD PERSON IS NORMAL
You may be thinking only crazy people refer to themselves in the third person; however, when I became a mom, I began introducing these phrases into my vocabulary:
Mommy loves you.

What did mommy say?

Mommy thinks that is wonderful?
Yep. I've gone with third person mommy phrases to communicate with my little one.
2. WEARING BRAS WITH UNDERWIRES ENDS
 I had no idea how pregnancy and breastfeeding would affect my body but I can now share that gravity seems to have gotten heavier. 😉 Cultivating a love for our postpartum bodies is important and comfort has also become a priority. So, I stopped wearing uncomfortable bras with underwires.
I  probably should have done this a long time ago, because it is great! I now wear sports bras, bralettes, and anything that offers support without an underwire. BOOM! Life is instantly better. Try it.
3. THE HOUSE WILL TURN INTO A CHILDPROOFED MAZE
Our windows have child locks, there are gates upstairs and downstairs, the cabinets doors have locks, doors are shut more often to keep little people out. Getting to the kitchen every morning is an aerobic exercise and because we use magnet locks, I need a key just to make oatmeal. 
4. GETTING OUT THE HOUSE TAKES AN HOUR
Remember when all you needed to leave the house was your phone, keys, and wallet?
That ends. Parents need their phone, keys, wallet, diaper bag, food, bottles, clothes, bibs, toys, and everything else. Just pack the whole downstairs in the trunk of your care, just in case. 
5. GETTING BACK IN THE CAR TAKES 30 MINUTES
Getting out the house takes forever and getting back in the car after an outing takes forever too.
I used to be that person who refused to wait for a parking space if it was a family with kids. I knew it would be a wait. NOW, we are that family that takes thirty minutes to get the baby safely in the car seat, with a toy that will make her happy for 11.5 minutes, and the stroller back in the trunk.
The fun you will have trying to figure out all the parts of a stroller compares to the fun had building IKEA furniture.
6. LOSING STUFF HAPPENS MORE FREQUENTLY
Keeping up with stuff has never been a talent of mine. It's the reason I only wear handbags occasionally and I do not order checkbooks. I'd hate to lose a whole stack of checks. Now, I have the added responsibility of keeping up with my stuff and my daughter's. :-/
It doesn't help that my little person has a fascination with all things tech related in the house and I often try to keep things away from her by hiding them. The problem is, mommy brain is real and I often end up hiding things from myself. It's a struggle.
7. ALONE TIME HAS TO BE PLANNED METICULOUSLY 
Before having a baby, alone time only required walking to another room in the house. Now that my baby is 10 months and walking, alone time seems to require an elaborate plan and like The Brain, who is always trying to take over the world (Pinky & The Brain-Millennial reference), I often fail.
Time in the bathroom is often interrupted and time to read a book requires hiding away in dark corners with a flashlight. There is always a little person on my heels and getting time alone doesn't seem possible at this early stage of the mommy game. But, I'm hesitant to complain.
One day, I'll wish for my baby to want to spend all her time with me, so I deal.
8. MEAL PLANNING BECOMES  NECESSARY
I dabbled in meal planning before becoming a mom (it was a cute thing to try), now I need it for sanity.
I make my own baby food and I'm the primary cook in the house. Prior to becoming a mom, a trip to the grocery store was easy breezy. Now, the thought of unpacking a stroller and car seat and heading into the food war zone alone can be intimidating. I'd rather just order but that isn't always the healthiest option. 
Having a week of meals planned for everyone makes the week more manageable. Also, I am much more aware of how much of the family budget is spent/saved on food when we plan it all out.
9. READING LABELS IS MORE IMPORTANT
OK, I read labels before I was pregnant but I read labels even more now.  I care about the health of my baby more than myself.
I read food labels to make sure we are eating whole foods. It's not enough for the label to say natural or organic, I want to be able to understand and pronounce every ingredient in the food that I give my family.
I read product labels to try and reduce the toxins that I may be unknowingly bringing into the household like, BPA and phthalates.
10. 
MORE FRUGAL, LESS CHEAP PURCHASES
Frugal is being smart with every purchase. Cheap is purchasing the lowest cost item. I love low prices but I value quality. It's not a deal if you have to buy it over and over because of poor quality.
I was frugal before baby. I'm super frugal now which is difficult because the baby product world is huge and as a mom, I have to remind myself I don't need everything that says "for baby".
I try to focus on products that get multiple uses and food that is whole and nourishing. But, sometimes a product with the cute factor gets the best of me. #momproblems
11. CREATIVITY INCREASES
Entertaining a baby or a toddler is time intensive work that requires creativity. My RESPECT for teachers and daycare workers who work with busy toddlers all day long has skyrocketed.
A book will only last for so long with little people with short attention spans. So, I've created hallway mazes, pillow jungles, sheet tents, teddy bear parties, block castles to be deconstructed, recycle play towers, and the list goes on. If it will keep my child's attention for more than 5 minutes, I may give it try.
I'm intentionally trying to limit screen time but I have to admit, sometimes an episode of Word Party on Netflix gives me a much-needed play break!
12. SINGING OUT LOUD IS MORE APPRECIATED
Honestly, I have to make up baby songs (because my lullaby game is weak). BUT, I don't mind making up songs because I'm just thrilled that my baby loves my voice. When I sing she giggles and laughs and my heart melts. I love it!! Especially, since I've been told for so long to keep my singing in the shower and the car, places where I'm alone. I hope this never changes. 🙂
13.  SELFISHNESS ENDS OR DECREASES CONSIDERABLY
I was married before I became a parent but caring for a child is different from the way you care for a spouse or partner. Every decision now requires asking myself several questions and they all involve my little one.
How will this decision affect the baby?

Will the baby enjoy…?

Will the baby be able to participate in….?

Do we have adequate care for the baby?
Her needs come before everything.
There are few thoughts that don't include the baby that has been in my life for less than a year–It's amazing and wonderful.
Our children come first in every way. 
14.  LOVE  FOR THE DEDICATED & LOVING FATHER GROWS
I've been blessed with an amazing husband and we have been together since college. I've watched him turn into a lovely, tall, handsome, drink of water. I didn't think I could love him more, then I watched him be a loving parent and my heart melted with pride, joy, and love. 
Watching your significant other fall in love and care for a child is mesmerizing and down-right sexy! 
Overall, becoming a mom has been the most drastic, exhilarating, tiring, and exceptional thing that has happened to me. I wouldn't change my new status for anything in the world, even with all the changes that continue to add up!
If you are a new mom, be sure to download Motherhood, Don't Kill My Vibe:  13 Tips for New Moms
ARE YOU A NEW MOM? HOW HAS YOUR LIFE CHANGED?