Storytime, Animals and Play at Marie Farms may be worth a visit if…
you are looking for wholesome family time with the children outdoors.
What is The Shaggy Donkey Storytime?
The Shaggy Donkey Storytime is a residential farm program located in Clayton, North Carolina, hosted by Amber Peay on Marie Farms. It's an adorable experience for children and families that includes: reading time, a craft, feeding donkeys, cuddling bunnies, coloring, bubbles, and a gnome hunt through the trees. 
How was your experience at Marie Farms? 
First, we were greeted by Amber and led onto a The Shaggy Donkey Bus. This isn't just any bus, it's a mini-bus designed for sweet story times. 
Amber shared a bit about the decor and how The Shaggy Donkey came to be before reading the book with the same name.
The story is nice but for the really little ones, some the of concepts are too advanced; however, the photos in the story may be enough to keep some children engaged. After reading we did an cute origami craft (I was thankful for the pre-folding) and then it was time to leave the bus. 
Reading time was cool but you probably want to know are there really donkeys at The Shaggy Donkey Story Time Program? The answer is Yes!! 
After the story, we were able to meet the two rescue donkeys on the property. Cute is an understatement. Both donkeys appeared to be healthy and happy. At the first sight of carrots, they were at the gate and the children were able to share the treat.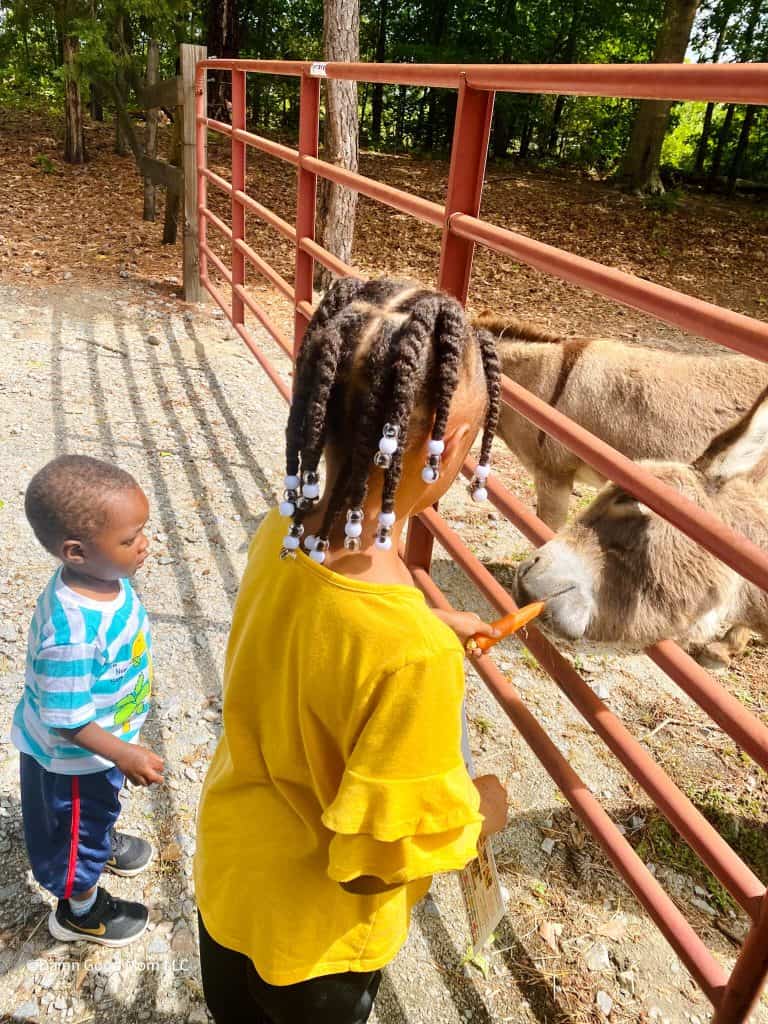 Photo taken by: Amber Peay
Feeding the donkeys was a nice experience but my daughter was more excited about the bunnies. She got to feed the family of bunnies lettuce and then she got to pick one to hold.
      Photos taken by: Amber Peay
To her, Amber was a genie that morning, answering a six-year-old top wish. You see. This year, we have baby rabbits that have been finding their way under areas of our fence. It's a nuisance to me (I have a garden) but a delight for my daughter. She has been wanting to catch one to hold and this morning she didn't need to do any catching – just holding.
When the cuddling of the rabbits concluded, we got to peek into the chicken coop to meet the hens. There was even an egg that had been laid that morning! Fun fact I learned – the colors of the feathers may be an indicator of the egg color. 
Finally, the structured portion of the program ended with a gnome scavenger hunt. Amber led us through the trees with child appropriate clues as we went on a gnome hunt.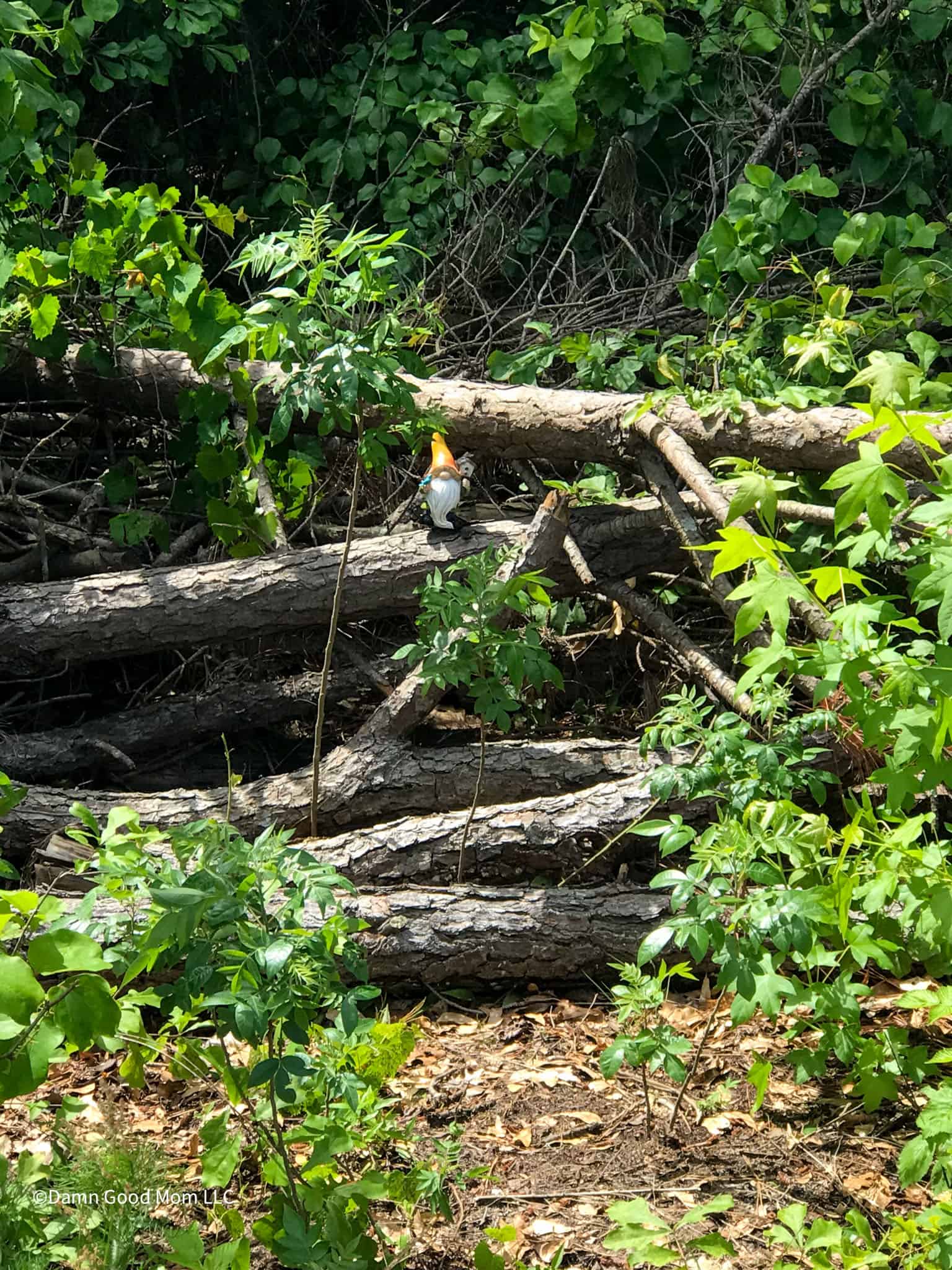 This activity wasn't cumbersome at all, in fact, I think it's simple enough for little people like my son (under two) and older grandparents or parents not able walk for long periods (although it's still not the best for those who need lots of assistance with mobility). Some of you know, I'm more aware of these details since my husband tore his achilles and has been in a cast/boot and on crutches/knee scooter these past few months. 
After finding every gnome, it was free time (unstructured time) to snack, color, read, play, or do the gnome hunt again.
Our host left us to do what we wanted and that was nice.  We sat at the picnic table where a bubble machine was a nice addition to our reading and snack time. AND…because my older one loves nature, we went for another gnome hunt (not escorted) through the forest. 
What are some tips for visiting Marie Farms with children?
TIPS:
Pack a small lunch or snacks.
Bring a water bottle.
Hats can't hurt as the picnic table is not shaded during the early hours.
Depending on the time of year, spray some non-toxic bug spray for moving through the trees.
What are some pros and cons of The Shaggy Donkey Storytime Activity?
PROS:
Marie farms is a residential farm and not a large country farm – so the activities are not spread out across lots of land which makes it manageable for the youngest and the oldest.
There were structured and unstructured activity time.
The animals all look healthy and well-cared for.
The purpose of sowing resiliency in children is admirable.
Each activity was well-timed – I have a little one with a very short attention span.
Parents aren't charged for a ticket.
It's easy to purchase tickets online via Eventbrite.
CONS:
If you have many children, the cost can add up quickly.
The playground is currently one little car toy but there are plans for it to grow to more in the future. (***Not really a con because a playground is not advertised – so what's there is an

extra perk

for the little ones.)
Would you recommend The Shaggy Donkey Storytime ?
Overall, we had a lovely morning and we recommend a visit to Marie Farms for families with children looking for an outing in nature with a few sweet animals. Book your tickets for The Shaggy Donkey.
I especially like how simple and easygoing the activities were.
How about you?
Have you been to Marie Farms for The Shaggy Donkey? Can you recommend other places for children to visit in Wake County or Johnston County? If so, leave a comment.