If you are a new mom, congrats! Here you will find a list of products that helped make my first year more manageable. I hope they can do the same for you!
This post contains affiliate links, please see disclosures for more information.
I'm a new mom and I know how easy it can be to get overwhelmed by all the products that are available for newborns. I've tried to keep things simple and inexpensive by investing in items that fit in these three categories:
The product will offer value and help me get more sleep.

The product will help occupy the baby with fun and learning and let me get more sleep.

The product will support my baby's needs and let me get more sleep.
If you noticed a theme of me trying to get more sleep. Congrats! You aren't as sleepy as I am right now. 😉
New mom life is tiring and while I'm all about keeping a budget, I must say I have splurged on items to help keep peace, love, and sleep in our home.
If you have the same goal, then you'll be happy with this list of products, I personally own each one.
Related:
THE BEST BABY PRODUCTS FOR NEW MOMS
1-Baby Brezza Formula Pro | 2- Como Tomo Bottles | 3- Dekor Diaper Pail | 4- The First Years Bottle Warmer | 5- Liname Pacifier Clips | 6- Soothie Pacifier | 7- Munchkin Drying Rack | 8- Bottle Brush
My husband and I love this bottle maker. It measures, mixes, and warms a bottle fast which is a Godsend when the baby is hungry and impatiently crying!
I was initially disappointed that I needed to supplement because I was committed to breastfeeding. After being unable to produce any type of freezer stash of breastmilk, we turned to formula and this Baby Brezza has been so legit. Push one button and a bottle is ready in seconds. If you are using formula, this product will be your bestie while you are bottle feeding.
While I was pregnant, I focused on glass bottles; however, after needing to supplement and wanting to prevent nipple confusion, I decided to give these bottles a try. I love them! I love the shapes and I love that they are silicone, therefore, no worries about BPA or other harmful toxins leaching.
Como Tomo bottles are very easy to clean and lightweight which is perfect for when we are on the go. Most surprising is that we survived the early months with just four of the bottles. The bottles come in two sizes, 5 ounces, and 8 ounces. If you only want to start with two, I recommend getting the 8-ounce bottles for longer use. I also purchased these handles for the bottles and they helped my daughter grip the bottle by herself more easily.
If you are looking for a budget option for a diaper pail, this one works fine. I don't know how it compares to others like the Diaper Genie, but we take the bag out 2-3 times per week, and we are satisfied. Note: In my opinion, it doesn't keep out all the smells, if left to get full.
I initially planned on using regular trash bags for the diaper pail, but the long bag that is made for the pail is a better option because you can cut the bag when it's filled or overwhelmingly stinky. You can get them here.
If you or the new mom on your list has breast milk or a bottle from the refrigerator that needs to be warmed, this inexpensive gadget works great. Just add a few ounces of water and it heats the bottle without the need from microwaving water and then waiting. Plus, the unit turns off automatically, which is great for mommy brain fog moments.
If you don't want to spend hours of your life looking for pacifiers, I highly recommend getting clips. These clips are awesome for keeping up with the pacifiers or soothies. Just clip this to your little person or something attached to you or dad, and no more worrying about if the little one has dropped or lost his or her pacifier.
6. Soothies or Pacifiers
We were gifted many pacifiers, and these are the ones my little one loves. Every baby is different, so be sure to get what works for your little one. We managed with four soothies that were always floating around and at around eight months she stopped needing a pacifier altogether.
Cleaning and storing bottles can be a hassle but this bottle rack/dryer is a great option for drying and storage. This product saved us from needing to use up drawer space. We leave it on our countertop, right behind our bottle maker and use it every day. I love that we have kept the baby items/dishes organized and separate from our own, with this product.
If you are using bottles, you need a bottle cleaner. I don't recommend any particular brand but I would recommend one with a firm (non-bendable) stem.
We started with the ones that bend and it's much easier to get a firm grip with the brushes with firm and solid stems. This is personal preference, of course!
BABY PRODUCT IDEAS FOR PLAY, SLEEP, AND TRAVEL
1- Baby Swing | 2- Baby Play Mat with Piano| 3- DockATot | 4- Graco Verb Travel System| 5- Bright Stars Activity Gym| 6- Infantino Baby Carrier
Our baby swing was gifted to us, and it worked great in the early months (before 5 months) for soothing and naps. Our baby loved the lights and sounds, we loved that it could be plugged in, so no batteries (I'm so over batteries). Here is a similar model.
2. Piano Play Mat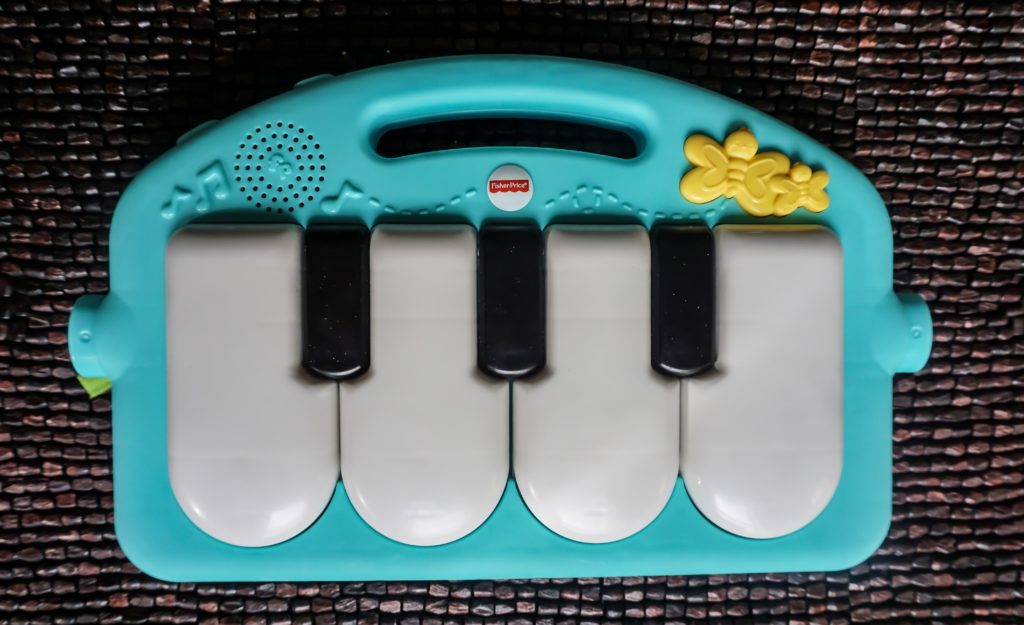 My baby loves her play mat. The colors are great and as she has grown, we have begun to use the piano without the mat, which is an option. This is a great play mat, but it does require a few screws. Here is how it looks without the mat and just the piano.
I have a love-hate relationship with the DockATot. I was hesitant to purchase because of the sticker price; however, the reviews from other moms were really good.
Here's my verdict; It's not magical, but it worked great for naps, in the early days. Now that our little one can turn over and sit up on her own, she can flip out of it easily; but, I still use it for floor naps and it's still great for a traveling bed.
I love this stroller combo because it folds easily and glides with ease. If you are getting a combo set, I recommend this one too. Although I like both travel sets, don't make the mistake of buying two travel systems, like we did. If you have two vehicles and live in the same household, consider buying just one system and an additional base for one car to save money.
I love this play gym. All the little hanging toys are removable and the elephant has a tune when it's hit or kicked. It's simple and perfect, for tummy time. Also, it's easy to clean when you get the lovely spit ups and unspeakable diaper messes.
I have three baby carriers. I use this carrier and another soft wrap carrier like this one. I thought I was buying the carriers for use when we went out, but I ended up using them around the house.
I put my daughter inside when she gets fussy and voila, in minutes she is napping; sometimes, it's the only way I can get stuff clean and organized around the house because I get longer naps when she is cuddled close. I love that I don't lose all mobility.
**Please use any carrier you chose as directed, and with caution.
---
I hope this baby product list gave you some useful ideas! Let me know if you have questions, I own every product on the list. Also, you can never go wrong with an Amazon Prime membership. I use it to get household items and diapers and wipes delivered to my front door. The free-2-day shipping has been an amazing perk!
I wish you all the luck in finding the best baby products that help with many peaceful naps!
Be sure to follow along on Pinterest for more new mom content.