The best way to teach the alphabet is with play because "Play is our brain's favorite way of learning." – Diane Ackerman
This post contains affiliate links. Please see my disclosure policy for more information.
My daughter was two when she learned the alphabet. It didn't happen because I forced her to sit at a desk and listen or write alphabets in sequence until she memorized all 26 letters. That would probably feel like punishment. Instead, I was purposeful about introducing ABC games, interactive toys, and alphabet activities that allowed curiosity and play to takeover.
If you've reached the fun time of teaching your child the English alphabet, here's are my best tips.
* In this post, I'm writing about teaching the 26 letter English alphabet. I like to clarify because I've spent time teaching English as a Foreign Language (EFL, ESOL) and there may be moms who search and land here looking for more information about different languages.
7 Engaging Ways to teach the alphabet
1. Books
Books are our friends. I began reading to my daughter while I was pregnant and the practice continued as she matured into a busy toddler. Initially, her attention was focused on the photos in the books but as time passed, she became more interested in the letters.
When I noticed her interest in the letters growing, I began to read and point to the letters and the words. When I did this, she'd mimic my behavior (as toddlers do) and soon she began to retain the information she was learning.
It's exciting to watch children learn letters and books are a great way to introduce the alphabet.
Tips:
Read with your child as often as possible.
Introduce a variety of books to retain interest.
Want FREE books? Sign up for Dolly Parton's Imagination Library. We get free books in the mail every month. It's great!
Also, we especially enjoy books like the one below because the letters slide and photos are hidden. It's interactive and fun. 😉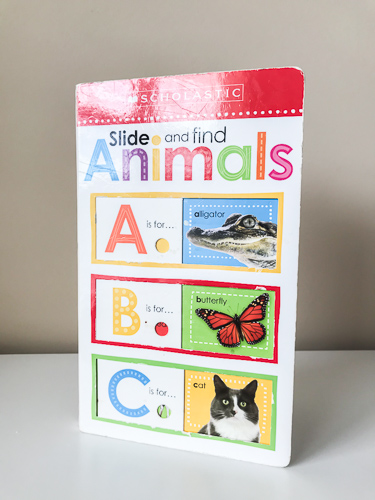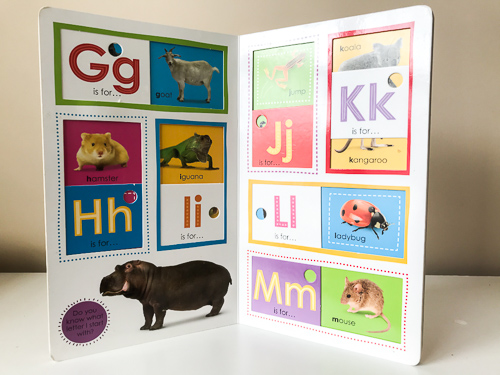 Resource: 6 Ways to Get FREE and Inexpensive Books for Babies and Older Kids
2. ABC Sing-A-Long Songs
The ABC song and other popular ABC sing-along songs may not be exciting for you but it helps children learn the alphabet without pressure. In our house, it's abc songs have been sung a ba-gillion times. At first, it was just learning each of the letters and sounds. Now, we use the songs as building block for comprehension of other things like speed (fast and slow) and volume (loud and quiet).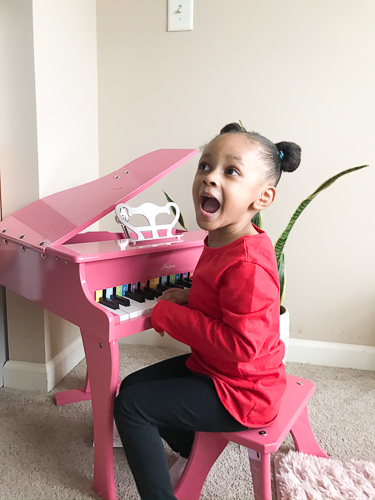 Tips:
Introduce several versions of the ABC song.
Sing with your child.
Repeat often.
Resource: YouTube has tons of ABC song videos
3. Letter Boards + ABC Games
Early on one of my daughter's favorite toys was her flip letter board. I love this toy because it's wood (I prefer wood over plastic), each letter has a noun (person, place, or thing) printed on the backside of the letter, and each of the pieces are forever attached (no searching for missing pieces). This was a useful product for introducing letter sounds and picture association.
similar alphabet flip board on Amazon ⟶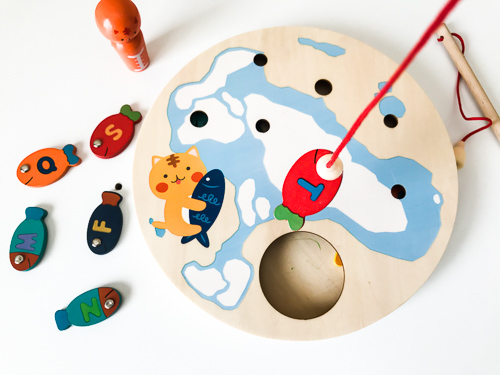 Tips:
Introduce the board as a toy.
Let your child flip the pieces around.
If it helps. Focus on the photo side first.
4. Letter + Word Puzzles
Puzzles are useful learning tools because they increase the sensory experience. No longer are children just using their eyes and ears. Puzzles introduce a new sensory experience that quickly turns learning into play.
Letter Board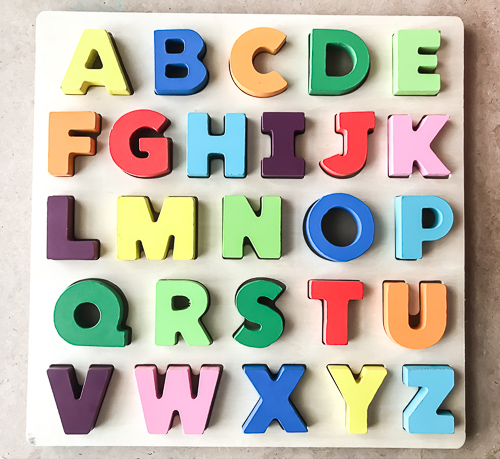 Find this Wood Alphabet Puzzle on Amazon ⟶
Word Puzzle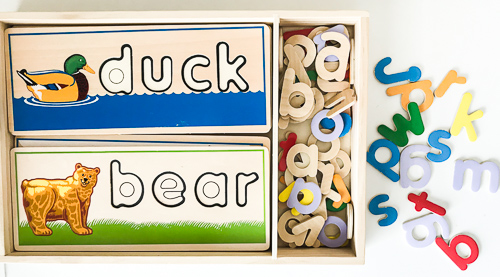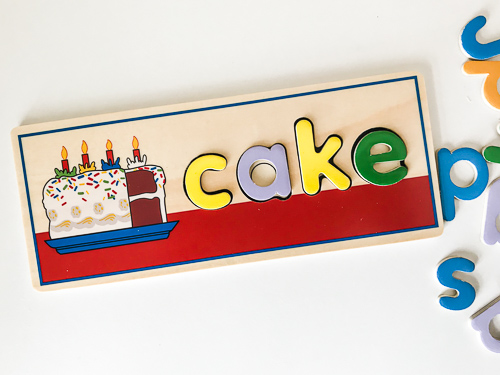 Find This Melissa & Doug See + Spell Board on Amazon ⟶
Tips:
Use a variety of letter boards and puzzles.
Don't focus too much on teaching the letters in order.
Use the letter pieces during play – don't rely on call-and-response. For example, I like to hide letters in the sand and let her dig them out before asking her what letter she's found.
5. Coloring Sheets
Many children enjoy coloring – mine does. So. It made sense to introduce letter coloring sheets. Although it's easy to find lots of free coloring sheets on websites like this one, many of them aren't as minimal or simple as I prefer and that led me to create my own.
Tips:
Start with minimal design coloring sheets when they are for learning. Busy sheets can be distracting.
Use several types of coloring utensils (crayons, markers, paint).
When possible use the front and back of sheets.
Resource: Check out a selection of minimally designed coloring sheets in our shop.
6. Alphabet Scavenger Hunts
Who doesn't love a scavenger hunt? The great thing about being a parent is that we can to re-imagine what learning can be and become co-explorers with our children. A great way to put this into practice is with age-appropriate scavenger hunts.
Lights On Scavenger Hunt:
Lights Off Scavenger Hunt:
7. Apps
I saved apps for last because I know that some parents will shy away from using screens. Honestly, as someone who studied psychology and earned my masters in family life and youth development, I thought I'd be against screens too. But, I've found that there are apps that are instrumental in offering engaging learning experiences. Here are a few of our favorites:
Another way we use our tablet is to slide through our printable collection. It's true not all printables need to be printed.
3 Important Things to Remember About Ways To Teach The Alphabet
1. There is no right age
Although there are skills we want our children to learn before beginning pre-school and/or kindergarten, there is no one right age to teach the alphabet.
2. Each Child Is Different
Children learn at their own speed. Getting frustrated with a child for not learning at the same pace as other children is not useful. Instead, meet them where they are and offer compassion as you figure out how they learn best.
3. You don't need to teach the alphabet in order
There is no rule about learning the alphabet in order. In fact, my daughter learned the letter 'J' first. The letters of her name are displayed in her nursery turned toddler room (tear) and each day my husband would ask her about the letters. It stuck.
Learning the alphabet is an adventure. I hope these tips and resources help you teach your child(ren) their ABCs. Good luck mama! You got this.