It is possible to teach the alphabet to children of a young age and it doesn't need to feel like a chore – it can be fun!
If you've reached the fun time of teaching your child the English alphabet, let's get started. 
In this post, you are going to learn:
The goal of teaching the alphabet (and why it matters)
The best way to teach letters
9 playful ways to assist with learning letters and letter sounds
Teaching letter order
The age to begin teaching the alphabet
My journey with my toddler (video)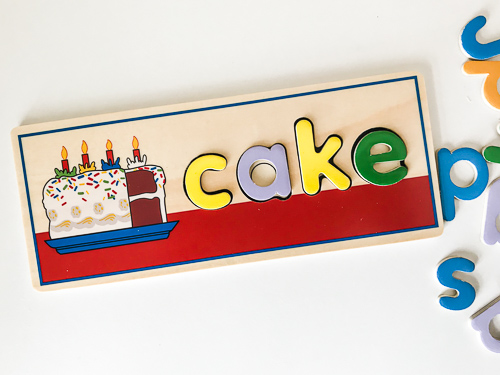 This post contains affiliate links. Please see my disclosure policy for more information.
---
Now…
Before we get into the ways to teach the alphabet, let's first chat about why we help our kids learn the alphabet (the answer isn't obvious to everyone).
So…
What is the purpose of alphabet teaching?
Alphabet learning is fun but taking the steps to help children recognize letters AND letter sounds is a foundational skill that prepares children to begin reading.
You see…
Reading is the end goal.
Children learn letters so that they can build words and words are the building blocks necessary for literacy.
Related: Words For Kids From A to Z
Therefore, each activity, game, or learning toy you employ is a stepping stone leading to the ability to read. 
Knowing your end goal (big picture) is useful for management your approach to teaching and assessing your child's understanding. 
What is the best way to teach the letters of the alphabet and alphabet sounds?
We like to think there is a best way to teach and a best way to learn but each child is unique and each child has varying learning styles.
The important thing is to ensure you are teaching letter sounds (necessary for reading) and not just letters names while also incorporating various learning styles. 
Four common learning styles to know about as you help your kid with alphabet knowledge include:
Visual Learning (seeing)
Auditory Learning (hearing)
Tactile Learning (touching)
Kinesthetic Learning (doing and moving)
(source)
Currently, you may be unaware of how your child learns best; therefore, it is appropriate to teach by incorporating each of the main styles of learning listed above. 
The best way to teach letters of the alphabet is with play because "Play is our brain's favorite way of learning." – Diane Ackerman 
Thankfully, this can be achieved in easy ways with fun letter games, multi-sensory alphabet activities, and lots of play.
9 Fun Ways to Teach The Alphabet to Early Learners 
1. Use Name Activities
Helping children learn the letters of their own name is a great start to introducing letter recognition activities.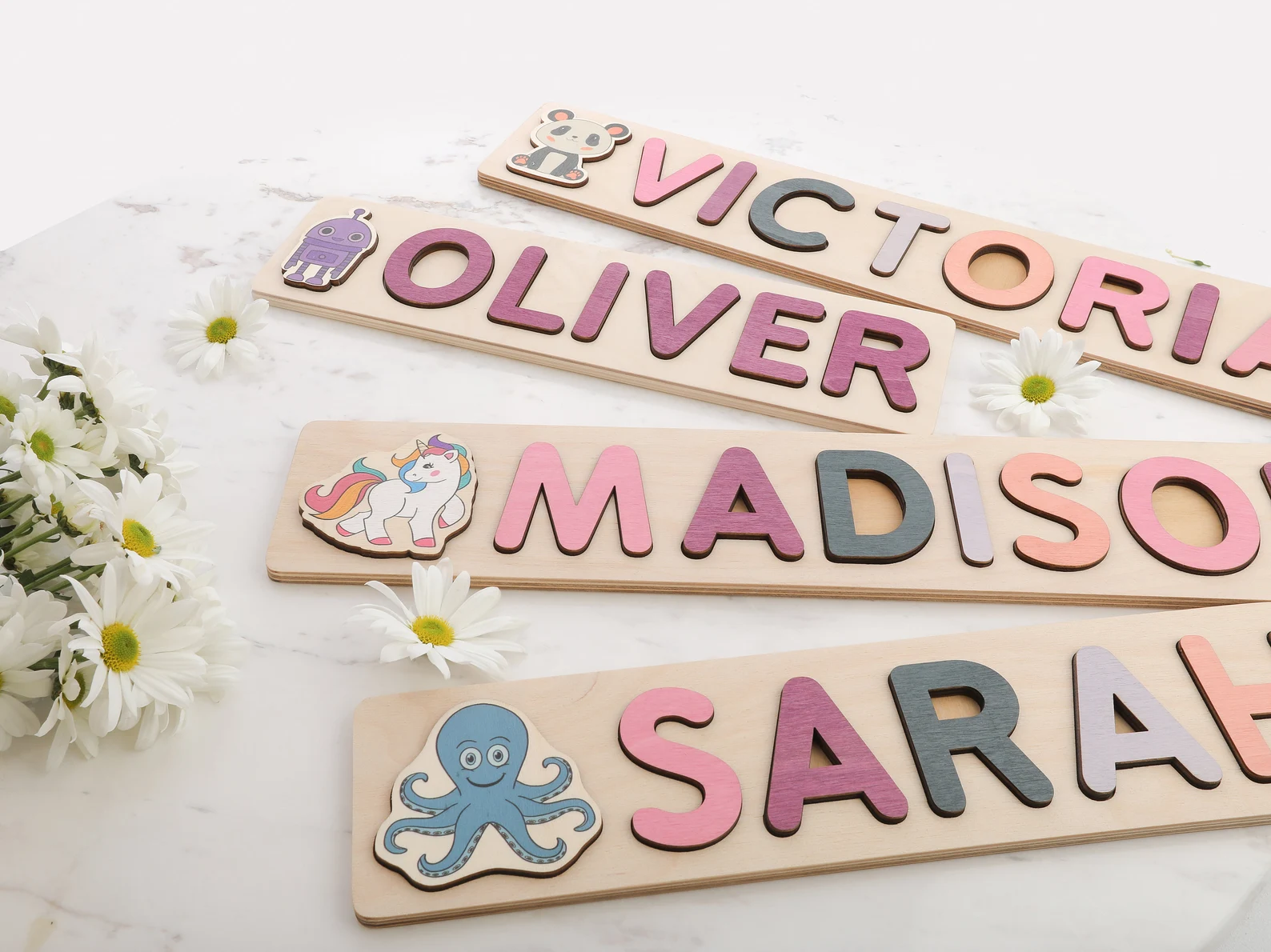 You can find cute personalized name puzzles on Etsy. This shop has great reviews and reasonable prices. Also check out the personalized name Busy Books for kids learning their ABC's.
2. Introduce Lots of Books
Books are our friends. I began reading to my daughter while I was pregnant and the practice continued as she matured into a busy toddler. Initially, her attention was focused on the photos in the books but as time passed, she became more interested in the letters.
When I noticed her interest in the letters growing, I began to read and point to the letters and the words. When I did this, she'd mimic my behavior (as toddlers do) and soon she began to retain the information.
It's exciting to watch children learn letters and books are a great way to introduce the alphabet. 
Tips:
Read with your child as often as possible.
Introduce a variety of books to retain interest.
Also, we especially enjoy interactive books like the one below because the letters slide and photos are hidden.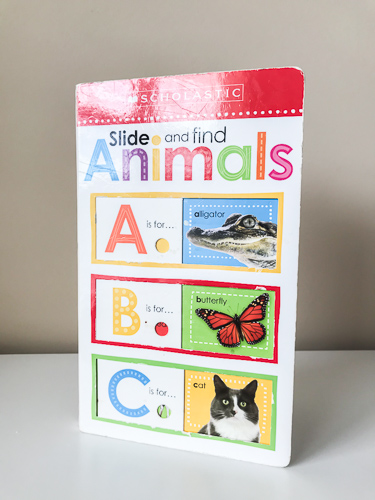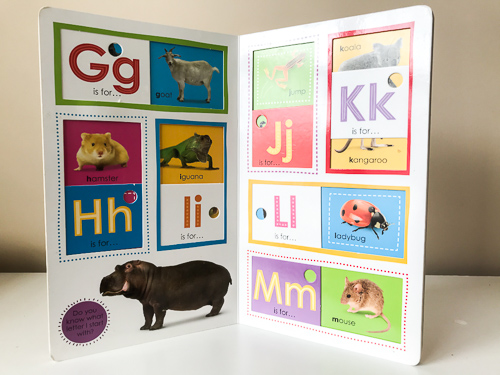 Resource: 6 Ways to Get FREE and Inexpensive Books for Babies and Older Kids
3. ABC Sing-A-Longs and Nursery Rhymes
The ABC song and other popular ABC sing-along songs may not be exciting for you but it helps children learn the alphabet without pressure. In our house, ABC songs have been sung hundreds of times.
At first, it was just learning each of the different sounds of the letters. Now, we use the songs as the building blocks for comprehension of other things like speed (fast and slow) and volume (loud and quiet).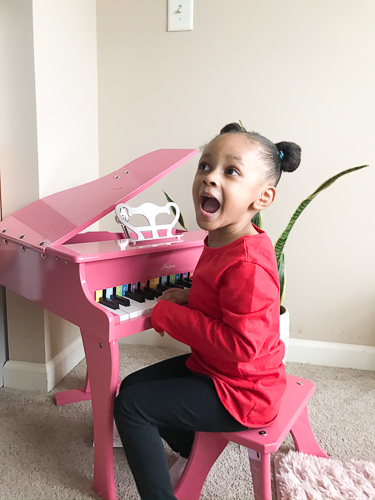 Grandma gifted this piano. You think she wants to get back at me for something? 😉
Tips:
Introduce several versions of the ABC song.
Resource: YouTube has tons of ABC song videos
 I like this one because it focuses heavily on letter sounds. Letter sounds are the precursor to reading – not letter names.
4. Letter Boards + ABC Games
Early on, one of my daughter's favorite toys was her flip letter board. I love this toy because it's wood (I prefer wood over plastic), each letter has a noun (person, place, or thing) printed on the backside of the letter, and each of the pieces are attached (no searching for missing pieces) to the board. This was a useful product for introducing letter sounds and picture association. 
FIND SIMILAR FLIP BOARD ON AMAZON ⟶
Tips: 
Introduce the board as a toy.
Let your child flip the pieces around.
If it helps, focus on the photo side first.
5. Letter and Word Puzzles
Puzzles are useful learning tools because they increase the sensory experience. No longer are children just using their eyes and ears. Puzzles introduce a new sensory experience – touch with the added benefit of improving fine and gross motor skills. 
Letter Puzzle (our favorite)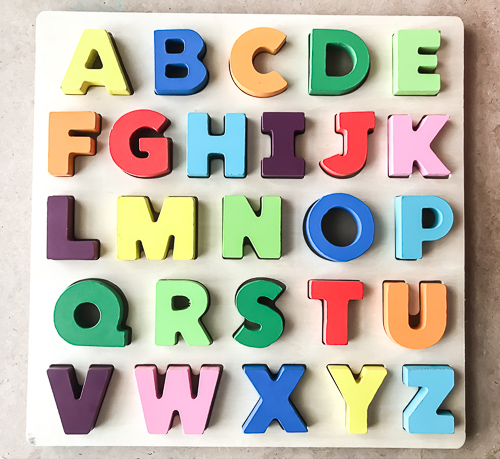 Word Puzzle (love that is has lower-case wood pieces)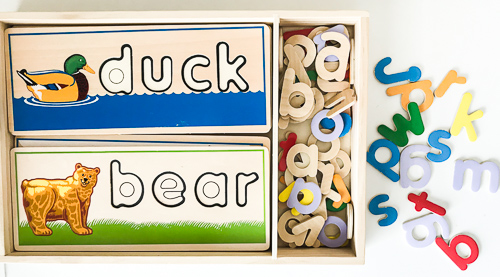 Letter Game (this one uses fish magnets, fishing poles, and a cute magnet cat for play)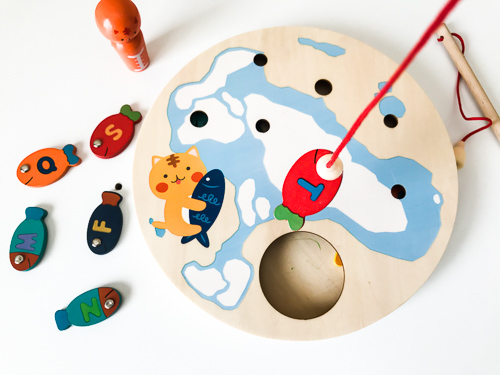 Tips:
Use a variety of letter boards and puzzles. 
Don't focus on teaching the letters in order.
Use the letter pieces during play – don't rely on call-and-response. For example, I like to hide letters in the sand and let her dig them out before asking her what letter she's found.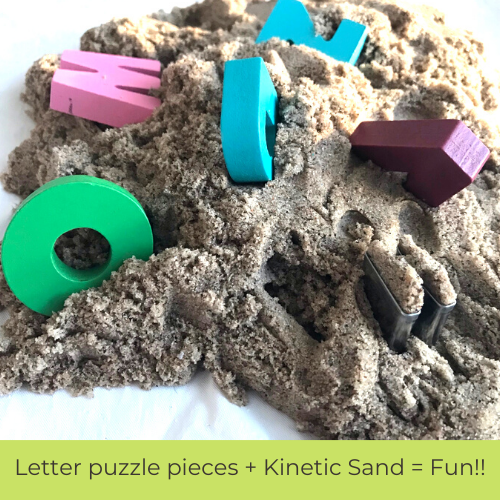 6. FREE Printables or Invest in ABC Printables and Worksheets 
Many children enjoy coloring – mine does. So. It made sense to introduce letter coloring sheets. Although it's easy to find lots of free coloring sheets online, many that I found weren't as minimal or simple as I prefer and that led me to create my own.  Head over to English Confetti for free printables and online classes.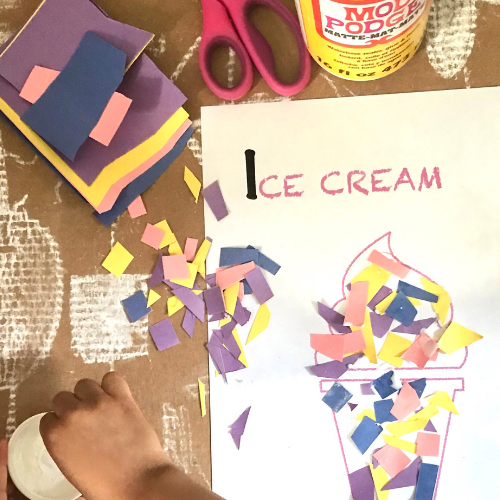 We use the coloring printables for crafts too. 😉
Tips:
Start with simple design coloring sheets, when they are for learning. Busy sheets with tons of objects and colors can be distracting.
Use several types of coloring utensils (crayons, markers, paint).
 I like to slip my printables into sheet protectors and let her enjoy coloring with colorful dry-erase markers for more repetition and less printing. 😉 
If you think printables are just bland and boring worksheets, think again. Printables can be hands-on and engaging.
7. Alphabet Scavenger Hunts
Who doesn't love a scavenger hunt? The great thing about being a parent is that we can re-imagine what learning can be and become co-explorers with our children. 
A great way to help kids learn the alphabet is with a fun scavenger hunt. Pair a simple handwritten list of letters, or a printable like the free one linked below,with an alphabet puzzle or cutouts and you have an easy and enjoyable alphabet learning game.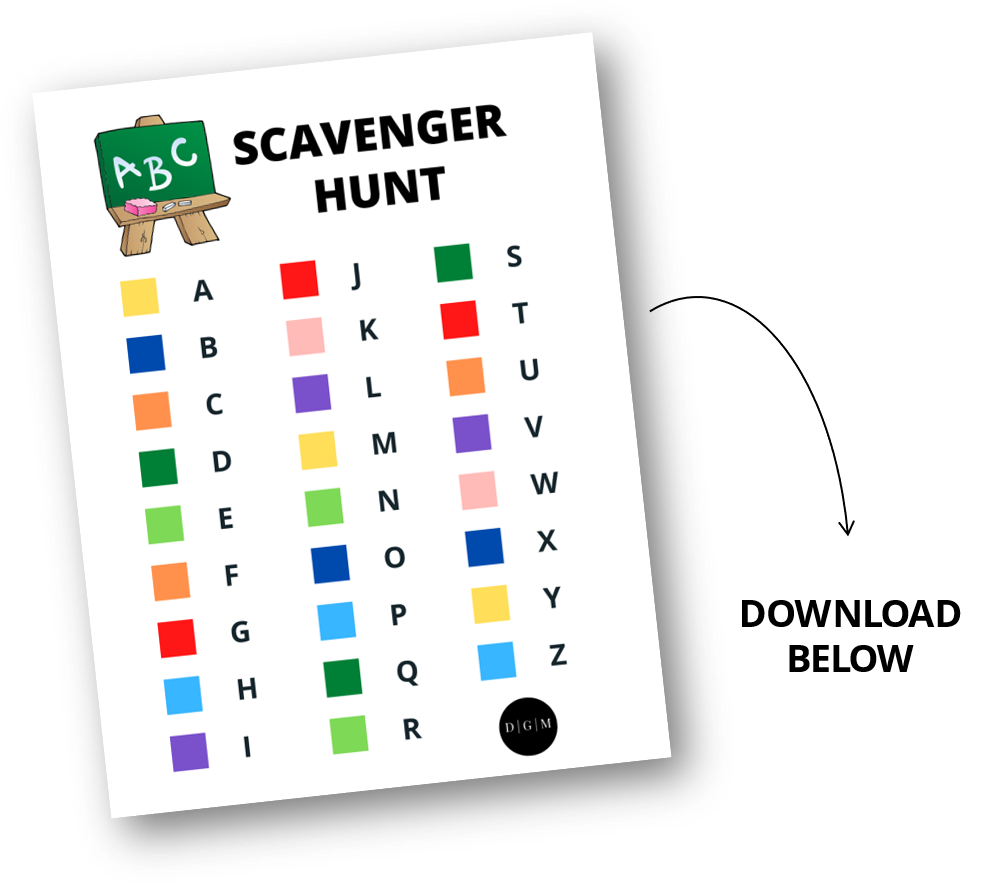 IT'S FREE TO DOWNLOAD
Pair it with an alphabet puzzle or the cutouts included in the download and you have at least a half-hour of fun!!
Be warned, your kid may request to play this simple game over and over again!
8. Apps
I saved apps for last because I know that some parents will shy away from using screens. Honestly, as someone who studied psychology and earned my masters in family life and youth development, I thought I'd be against screens too. But, I've found that there are apps that are instrumental in offering engaging learning experiences. Here are a few of our favorites:
Also, a tablet and stylus for writing or coloring can be used to help make printables more engaging. 
9. Outschool Classes
If you are overwhelmed by the idea of introducing the alphabet to your kid, consider allowing an Outschool teacher help. Outschool is a platform that connects young learners with teachers that teach live classes via Zoom.
Teachers are encouraged to teach the things they love and as a result the variety of classes is amazing. You can sign you kid up to learn letters, words, reading, math, languages, and more! 
I've signed my daughter up for several classes and she loves interacting with the teachers and the other students. I'm also a teacher on the platform; explore the Outschool classes and use my referral link for a $20 class credit.
---
Ok. I hope that list of letter learning activities was helpful and you're feeling more confident about getting started. So that you don't get stuck, below I've addressed a few common questions that you might have about teaching the abc's.
What age should you begin teaching the alphabet?
Children are unique so there is no right age to begin teaching letters. 
We all want our children to have a solid foundation as they begin preschool and kindergarten, typically around the age of four and five; however, there is no set age to teach the letters of the alphabet. Some children learn the alphabet earlier and others later; it all depends on the child's development and the ability to differentiate between specific shapes, sizes, and line types.
A good starting point may be beginning with introducing letters of your child's name with toys like alphabet blocks. As you introduce activities, pay attention to your child and assess their readiness.
Remember, there is no rush. But, if you ever feel that your child is "behind", don't hesitate to reach out to a child development specialist.
What letter order do you teach the alphabet?
You don't need to teach the alphabet in order. Does this surprise you? 
It's true.
Many children learn the letters in their name first. This was true for my child because we decorated her nursery/room with large letters spelling out her name.It makes sense because these are the letters that become high frequency almost immediately.
Instead, of focusing on alphabetical order, realize the end goal is to teach your child to read; therefore, introducing letters and their sounds by their frequency of use is common practice. Often, with the multi-sensory activities that are recommended below, you'll find that the letters are often presented together. For example, an Alphabet puzzle has all the letters.
Pauline, a primary school educator, suggests beginning with vowels as they are the most useful letters followed by more useful consonants (source).
**Please note that how you introduce letters for reading may differ for how you teach letters for handwriting (this) is a great resource for exploring teaching letter formation order.
Do you teach uppercase or lowercase letters first?
There are arguments for teaching uppercase letters first and those suggesting teaching lowercase letters first (source).
What do you do?
My daughter was introduced to capital letters first because the materials and puzzles I used were often capital letter but the time between teaching the two forms was negligible and I did not limit myself to popular letter-of-the-week curriculums.
---
Teaching Alphabet Sounds | My Journey
My daughter was two when she learned the alphabet and at three she is reading simple Bob Books. I used to think this only happened at later stages and in preschool or kindergarten spaces. I was wrong. Learning can happen anywhere and parents can teach their children their ABC's and more!
When I taught my child letter recognition skills AND how letters represent sounds (phonemic awareness) it gave me the confidence to teach her how to read and we succeeded – together. You and your kids can start this journey too. 
Video: My goal was to teach each letter in it's uppercase and lowercase form. I also wanted to ensure my daughter could recognize each letter out of order while also having a firm grasp of each letter sound. Now, we are on to reading and reading comprehension.
In Conclusion
You are capable of giving your child a strong foundation in literacy by introducing letters and letters sounds in intentional ways. This can be true whether you plan to home educate or send your child to school.
While there are four common learning types, many alphabet learning activities for young kids are multi-sensory; taking the time to learn your child's learning preferences can guide learning activities. Ultimately, learning the alphabet can be a fun adventure filled with play and a great opportunity to connect with your little learner.
Bonus Tip: Lead with enthusiasm, patience, and be flexible.
WHAT'S NEXT?
Check out The English Confetti website. It's a hub of resources you can use to teach your kid each letter of the alphabet effortlessly with online classes and low-prep printable resources. Enjoy!