It is possible to teach letter recognition and letter sounds to toddlers and preschoolers in an intentional and engaging way.

This post contains affiliate links. Please see my disclosure policy for more information.
The best way to teach letters of the alphabet is with play because "Play is our brain's favorite way of learning." – Diane Ackerman
If you've reached the fun time of teaching your child the English alphabet, you are in the right place. In this post I'm sharing my best tips for teaching your toddler letters and letter sounds. 
What is the best way to teach the alphabet?
My daughter was two when she learned the alphabet and at three she is reading. This didn't happen because I forced her to sit at a desk and listen or write the alphabets in sequence until she memorized all 26 letters. That would probably feel like punishment.
Instead, I was purposeful about introducing various learning activities and products that encouraged her curiosity including: ABC games, interactive toys, books, and household objects.  
Video: My goal was to teach each letter in it's uppercase and lowercase form. I also wanted to ensure my daughter could recognize letters out of order while also having a firm grasp of each letter sound. Now, we are on to reading and reading comprehension.
You can do the same and show your kid that learning the abc's can be fun. Children follow our lead so no matter what lead with positive energy and enthusiasm.
What age should you begin teaching the alphabet?
There is no right age. Although there are skills we want our children to learn before beginning pre-school or kindergarten, there is no set age to teach the letters of the alphabet. It depends more on the child's brain development and the ability to differentiate between specific shapes, sizes, and line types.
You can try introducing letter toys like large alphabet blocks at age one. Just pay attention to your child and encourage play. If there is no interest at first, it is okay. There is no rush, just continue to try and don't be afraid to get creative.
For example, if your child enjoys cookies try making alphabet cookies or buy some. In the USA? Trader's Joes has low sugar cinnamon alphabet cookies our family enjoys. 
How long should it take for a child to gain letter recognition?
The ability to recognize each letter in it's uppercase and lowercase form will vary. Children learn at their own speed. So…Getting frustrated with a child for not learning at the same pace as other children is not useful. Instead, meet them where they are and offer compassion as you figure out how they learn best. According to this resource, there are at least seven types of learners in the classroom.
What order do you teach the alphabet?
You don't need to teach the alphabet in order.
Instead, of focusing on alphabetical order, realize the end goal is to teach your child to read; therefore, introducing letters by their frequency of use in your home life (names) and in literature is a popular option for educators.
Many children learn the letters in their name first. My little bee learned 'J' followed by the rest of the letters in her name that are hung on the wall in her room. Then, I introduced vowels, the most useful letters, followed by the more useful consonants.  
Resource: How you introduce letters for reading may differ for how you teach letters for handwriting.
Do you teach uppercase or lowercase letters first?
I've seen arguments for teaching uppercase letters first and those suggesting teaching lowercase letters first; I decided to go with the former and as you see from the video in the beginning of the post it worked out.
In hindsight, it could have been more efficient to teach lowercase letters first as they are more prevalent in the books we read together; however, the time between teaching the two forms was neglible. I did not limit myself teaching to one letter a week.
Below you will find a list of activities that are useful helping children learn letters and letter sounds.
Engaging Ways to Start Teaching The Letters of The Alphabet
1. Introduce Lots of Books
Books are our friends. I began reading to my daughter while I was pregnant and the practice continued as she matured into a busy toddler. Initially, her attention was focused on the photos in the books but as time passed, she became more interested in the letters.
When I noticed her interest in the letters growing, I began to read and point to the letters and the words. When I did this, she'd mimic my behavior (as toddlers do) and soon she began to retain the information she was learning.
It's exciting to watch children learn letters and books are a great way to introduce the alphabet. 
Tips:
Read with your child as often as possible.

Introduce a variety of books to retain interest.

Want FREE books? Sign up for Dolly Parton's Imagination Library. We get free books in the mail every month. It's great!
Also, we especially enjoy books like the one below because the letters slide and photos are hidden. It's interactive and fun. 😉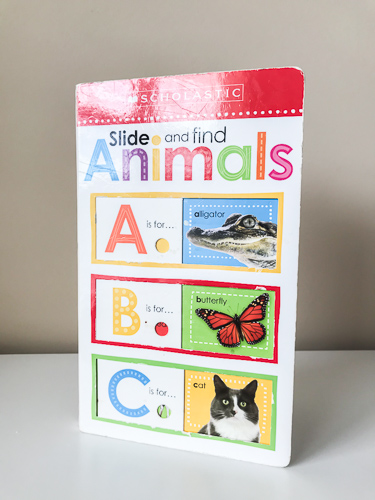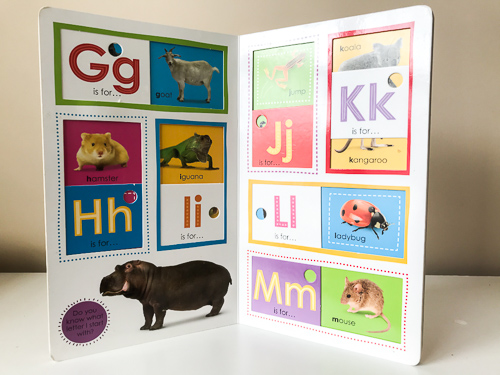 Resource: 6 Ways to Get FREE and Inexpensive Books for Babies and Older Kids
2. Participate in ABC Sing-A-Long Songs
The ABC song and other popular ABC sing-along songs may not be exciting for you but it helps children learn the alphabet without pressure. In our house,  ABC songs have been sung hundreds of times. At first, it was just learning each of the letters and sounds. Now, we use the songs as the building blocks for comprehension of other things like speed (fast and slow) and volume (loud and quiet).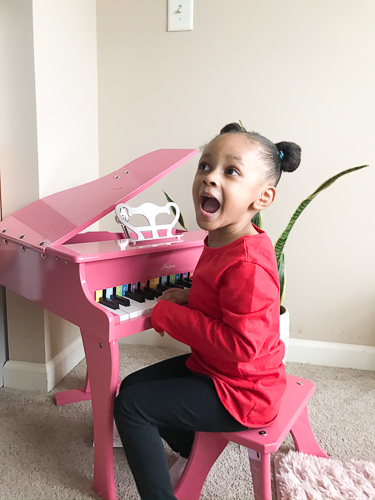 Tips:
Introduce several versions of the ABC song.

Sing with your child.

Repeat often.
Resource: YouTube has tons of ABC song videos

 I like this one because it focuses heavily on letter sounds. Letter sounds are the precursor to reading – not letter names.
3. Use Letter Boards + ABC Games
Early on, one of my daughter's favorite toys was her flip letter board. I love this toy because it's wood (I prefer wood over plastic), each letter has a noun (person, place, or thing) printed on the backside of the letter, and each of the pieces are attached (no searching for missing pieces) to the board. This was a useful product for introducing letter sounds and picture association. 
FIND SIMILAR FLIP BOARD ON AMAZON ⟶
Tips: 
Introduce the board as a toy.

Let your child flip the pieces around.

If it helps, focus on the photo side first.
4. Invest in Letter and Word Puzzles
Puzzles are useful learning tools because they increase the sensory experience. No longer are children just using their eyes and ears. Puzzles introduce a new sensory experience – touch with the added benefit of improving fine and gross motor skills. 
Letter Puzzle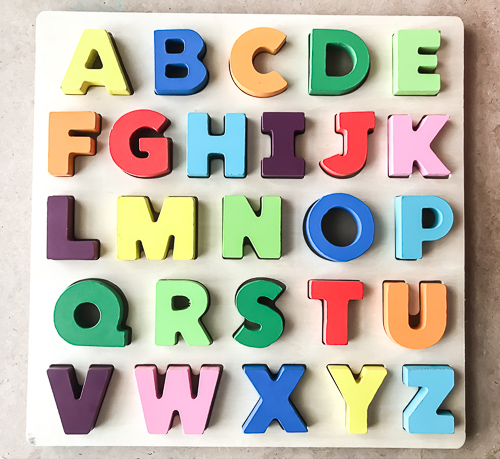 Word Puzzle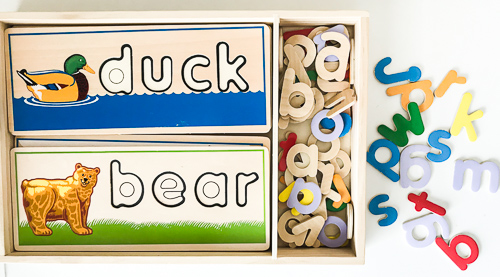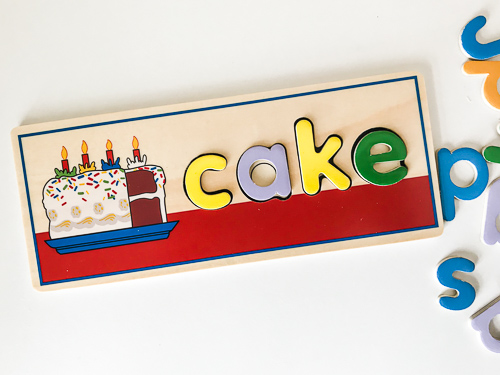 Letter Game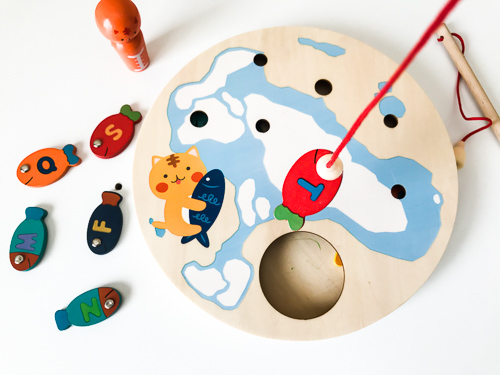 Tips:
Use a variety of letter boards and puzzles. 

Don't focus on teaching the letters in order.

Use the letter pieces during play – don't rely on call-and-response. For example, I like to hide letters in the sand and let her dig them out before asking her what letter she's found.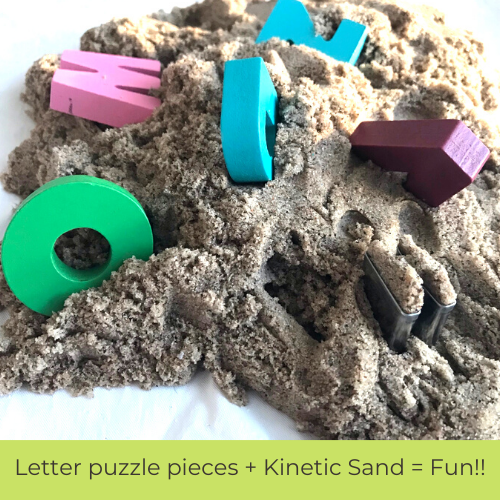 5. Create or Download ABC Printables and Worksheets 
Many children enjoy coloring – mine does. So. It made sense to introduce letter coloring sheets. Although it's easy to find lots of free coloring sheets online, many that I found weren't as minimal or simple as I prefer and that led me to create my own.  Grab your FREE copy today when you sign up for The Alphabet Resource.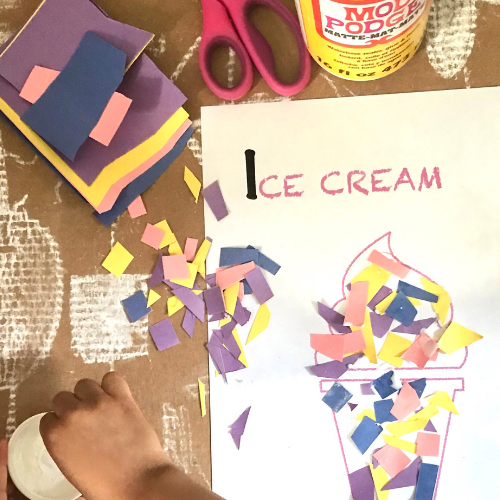 We use the coloring printables for crafts too. 😉
Tips:
Start with simple design coloring sheets, when they are for learning. Busy sheets with tons of objects and colors can be distracting.

Use several types of coloring utensils (crayons, markers, paint).
 I like to slip my printables into sheet protectors and let her enjoy coloring with colorful dry-erase markers for more repetition and less printing. 😉
If you think printables are just bland and boring worksheets, think again. Printables can be hands-on and engaging – see video below.
6. Alphabet Scavenger Hunts
Who doesn't love a scavenger hunt? The great thing about being a parent is that we can re-imagine what learning can be and become co-explorers with our children.
A great way to help kids learn the alphabet is with a fun scavenger hunt. Pair a simple handwritten list of letters, or a printable like the free one linked below, with an alphabet puzzle or cutouts and you have an easy and enjoyable alphabet learning game.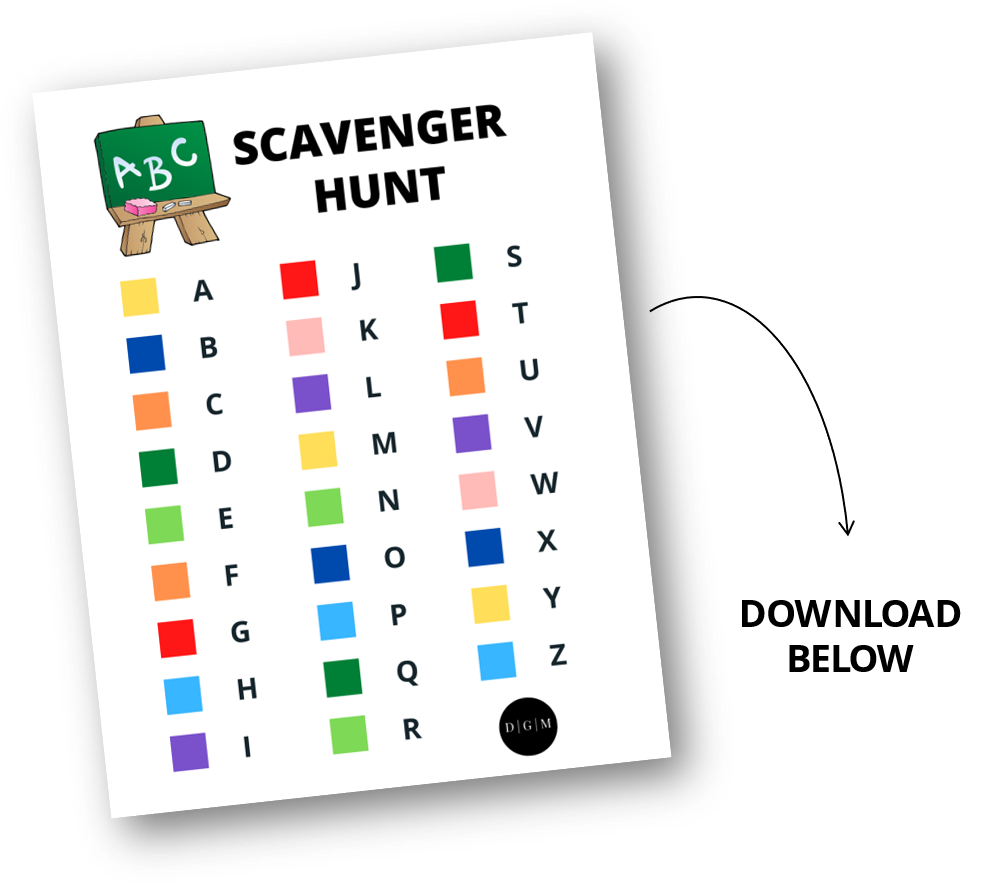 IT'S FREE TO DOWNLOAD
Pair it with an alphabet puzzle or the cutouts included in the download and you have at least a half-hour of fun!!
Be warned, your kid may request to play this simple game over and over again!
7. Apps
I saved apps for last because I know that some parents will shy away from using screens. Honestly, as someone who studied psychology and earned my masters in family life and youth development, I thought I'd be against screens too. But, I've found that there are apps that are instrumental in offering engaging learning experiences. Here are a few of our favorites:
Also, a tablet and stylus for writing or coloring can be used to help make printables more engaging. 
8. Outschool Classes
If you are overwhelmed by the idea of introducting the alphabet to your kid, consider allowing an Outschool teacher help.  Outschool is a platform that connects young learners with teachers that teach live classes via Zoom.
Teachers are encouraged to teach the things they love and as a result the variety of classes is amazing. You can sign you kid up to learn letters, words, reading, math, languages, and more!
I've signed my daughter up for several classes and she loves interacting with the teachers and the other students. I'm also a teacher on the platform; explore the Outschool classes and use my referral link for a $20 class credit.
---
Learning the alphabet is an adventure. I hope these tips and resources help you teach your child(ren) their ABC's because the next step is reading!
My little one is reading and I can attest that it's a process that is important but one that doesn't need to be rushed. Try to ignite curiosity and support the learning adventure. It's sure to lead to letter sounds, rhyming words, CVC words, and tons of reading. 
---
WHAT'S NEXT?
If you are ready for more resources to move from alphabets to kindergarten ready, check out The Alphabet Resource. It's a hub of resources you can use to teach your kid each letter of the alphabet effortlessly. It's launching September 1st and pre-selling now for an epic price of $1 per letter!!! Don't miss this!
YOUR TURN
What tools have helped you teach your child the letters of the alphabet?