In this post, we're going to go over a list of baby items you probably don't need to buy now or ever.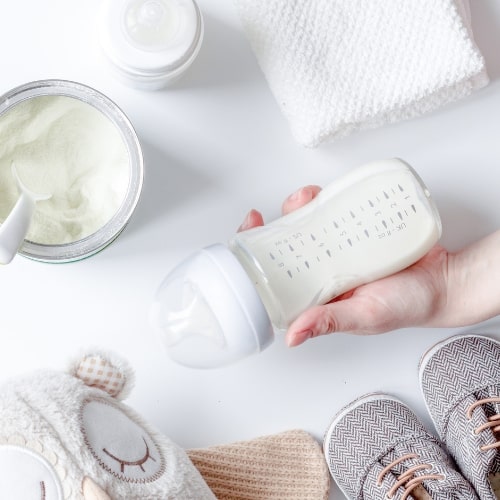 Shopping for a newborn can feel like emotional cardio, especially for first-time moms. We are persuaded we need everything marketed for babies, even though most of the gadgets didn't exist in our parents' generation.
As a result, our baby registries are easily 50+ items and our homes quickly get filled with stuff that results in clutter and wasted money.
Instead of falling into the new mom marketing traps (like me), here is a list of items to wait to buy until you know you need them or want them.  
BABY PRODUCTS YOU MAY NOT NEED
1. WIPE WARMER
Wipe warmers are great in theory but few work great, some are fire hazards, and we didn't want to get our baby used to a luxury that wasn't possible for us to keep up with when we were out of the house or traveling (which we do frequently). Instead, we use baby wipes at room temperature.
Tip: If you are wondering if your wipes have any nasty ingredients check out the Think Dirty app and this great post on non-toxic baby wipes. Once you know what wipes will work on your baby's sensitive skin, buy them in bulk.
2. BABY BEDDING SETS
When we were designing the nursery, we had a theme and purchased the cutest bedding set. It was a complete waste of money because pediatricians and The American Academy of Pediatrics recommend that "Infants should be placed on a firm sleep surface (eg, mattress in a safety-approved crib) covered by a fitted sheet with no other bedding or soft objects to reduce the risk of SIDS and suffocation."
Tip: Invest in good quality fitted sheets that are made of non-toxic materials. Just think, your babies sensitive skin will spend hours on the bedding you buy. Choose mindfully.
3. DOCKATOT
Desperate to find the magic wand that would get our baby to sleep more soundly, we invested in a Dock-A-Tot and it was nice. I have no bad things to say about the product… but honestly, it wasn't anything magical and a lower price item could get the job done just as well. 
This product falls in my nice to have category but it's not something we needed. We were gifted a Boppy Pillow and used that more frequently. And, I had a mom tell me a brand new dog pillow with a cover works well too. Go figure.
4. TONS OF NEWBORN DIAPERS
I had a healthy eight-pound baby and I am so glad I listened to my mom and all the experienced moms who told me not to buy tons of newborn diapers. Babies grow fast and we were finished with newborn diapers in less than a month. Having tons of diapers on hand is a great idea but it's hard to know what size you will need.
Tip: Instead of purchasing lots of one size, use Amazon Prime with free 2-day shipping when you need to restock. It's fast and easy!  I can't recommend the service enough! Use my affiliate link and…
 GET A 30-DAY FREE TRIAL
Also, if you're wanting to try cloth diapers, that's an option you can explore to help reduce waste. 
5. NEWBORN SHOES
OK. I understand the desire to purchase newborn shoes for a keepsake but honestly buying lots of shoes for a newborn is a waste. The baby will only be able to wear them for a week and even then, they are just for show because he/she will not be walking.
Tip: Consider investing in packs of socks to keep our baby's feet protected and warm. You have tons of fun options.
6. INFANT BATHTUB WITH BELLS & WHISTLES
Infant bathtubs are cute and some have nice features like thermometers. But… we found that a basic tub that held a small amount of water and drained easily was sufficient. I remember growing up and watching my mom bathe my siblings in the kitchen sink. It's not for everyone but it works. 
Tip: If you do decide to buy a baby bathtub, think about your storage options or go with a baby design that folds and/or stores easy. 
Also… A baby bath sponge  is great for added support in the bathtub.
7. BABY FOOD PROCESSOR
In the early months, I breastfed, then I added in baby formula for supplementation. When my daughter was ready for solids, we started buying baby food from the store. I was not impressed with the taste (yes, I tasted every baby food product we purchased) and I decided to begin making my own baby food. It was super easy and I didn't run out and buy a baby food processor. 
Tip: If you have a kitchen full of gadgets like me (blender, food processor, hand mixer, cake mixer) they all work to blend and mash food to serve to your baby or toddler. My old and reliable blender was perfect for every baby puree that I had the nerve to try and I still use it now for smoothies.  Baby FoodE is a homemade baby food resource I love!
8. BABYBREZZA FORMULA PRO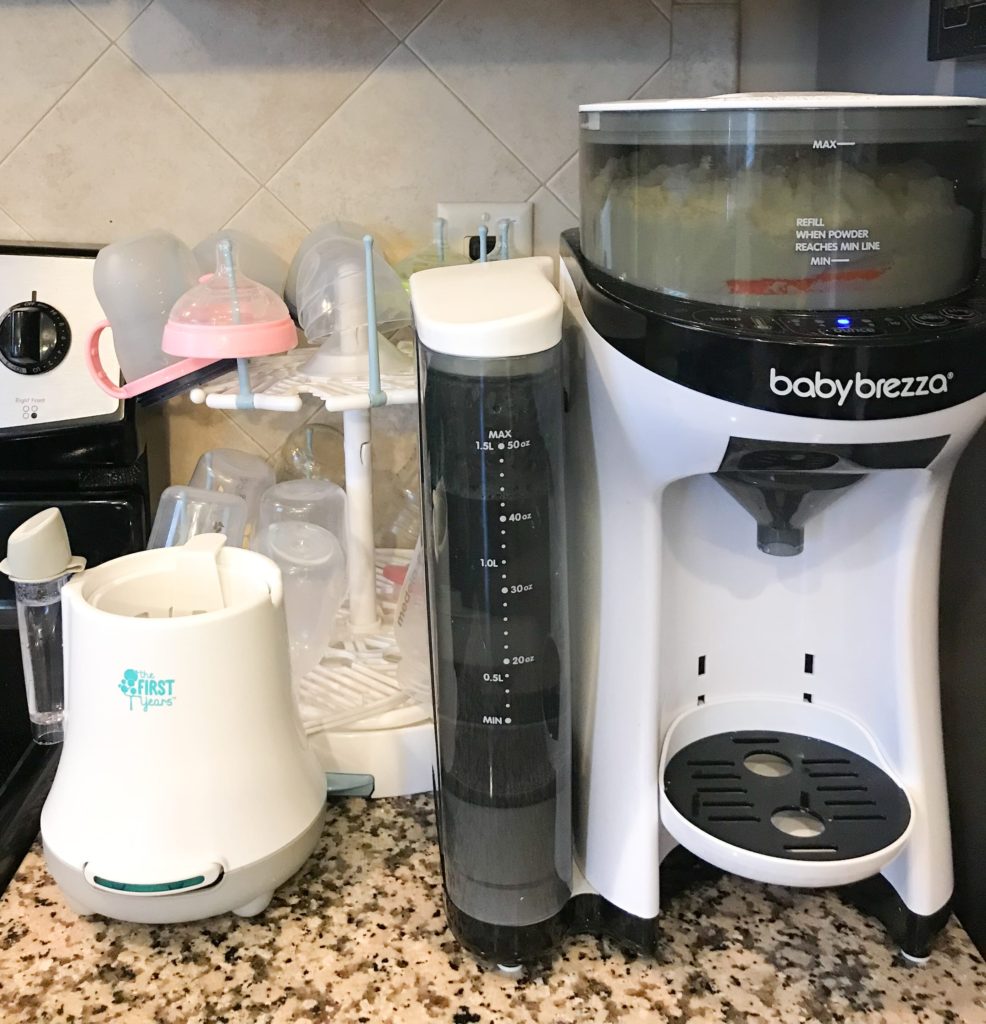 Many people might be surprised to find this on the list because we love our BabyBrezza Formula Pro. We thoroughly appreciated the ability to push a button that gave us a warm bottle in seconds – especially in the night; however, it's a luxury item, not a necessity. In fact, I had an inexpensive bottle warmer that I used for my breastmilk that would have been sufficient for warming bottles too.
PSA: There will be things you buy that aren't needed but they'll make your life easier and that's ok (IMO). This was an item we didn't need but it made life easier and we'd purchase it again.
9. A CHANGING TABLE

 We didn't purchase any of the baby/nursery furniture sets (crib, dressers, changing table, etc.). Each piece in the room was either purchased on sale or DIY'ed. It was all coming together nicely and under budget but I couldn't find a decent quality changing table that fit the room. In hindsight, I'm glad we didn't settle on just any changing table. We skipped the purchase altogether. 
Tip: If you have a sturdy dresser, you can add a changing tray  (for safety) and a changing pad and voila! You have a 'changing table'. Some people prefer to use the bed or the floor with a protective covering for their changing needs and this works but be mindful to have good ergonomics. Back pain is nothing to play with!
10. MULTIPLE DIAPER BAGS
Having a bag to carry the baby's stuff is necessary but it doesn't have to be expensive and we didn't need more than one. Initially, I was looking at fashion bags that were more cute than practical. Also, my husband and I both felt we needed a diaper bag, one that was masculine and one that was feminine. We were wrong.

What worked out well for us was one neutral diaper bag that we keep stocked and ready to go. It was less than $100 and has tons of compartments and space for our growing baby. 
CHOOSE ONE NEUTRAL BAG THAT YOU AND YOUR PARTNER LIKE


Not having two hasn't been an issue at all. Our baby is only in one place at a time and the bag follows her.
11. TWO STROLLERS & TWO CAR SEATS
We purchased two travel systems (ugh). I know you may be thinking who buys two travel systems? but hear me out. We had two cars and planned on putting my daughter in daycare and we didn't want to have to move a seat back and forth between cars.
Well…life happened and we chose to skip daycare. I quit my job and became a mompreneur. So… we definitely did not get good use out of both systems. Also, we realized that both of our travel systems came with newborn car seats that your daughter outgrew quickly (facepalm).

Tip: If you do have to transfer a child between cars, consider purchasing one car seat and one stroller (a travel system) and then purchasing an additional car seat base.
12. BABY LOTION
I was gifted baby lotion and baby body wash but my little one has sensitive skin and because the products have ingredients I don't recognize, I've opted to skip lotion and instead use mostly oils and baby balms. They have recognizable ingredients and are great for locking in moisture, especially after baths. 
My favorites are coconut oil and almond oil. Both have provided the moisture that my little one needs and when I want something more moisturizing for extra dry skin, I add a layer of shea butter or Primally Pure Baby Balm. 
Tip: Be careful of the baby lotions with nasty and toxic ingredients.
13. BABY POWDER
I have never used or purchased baby powder on my daughter. When I tell people this, the first question I get is "What do you use?". I don't use anything.
Although there are safe alternatives to baby powder,  I haven't needed any of them. I simply focus on cleanliness and dryness and in two years I haven't had any issues with rashes or infections.
---
WHAT'S THE POINT THAT I'M TRYING TO MAKE?
The baby marketing machine is alive and well, but we can be strategic and intentional about how we spend our money.
Taking the time to determine what baby products you don't need can help you save money. Just remember that there will be non-essential items you buy for comfort, peace, and sleep. Do you!
Don't mistake this as a list of things you shouldn't buy. Your baby will have different needs than mine and others. Instead, try to recognize which ones are needs and which items are wants – before you make the purchase.
Having a baby has a cost but we can be intentional about our spending.
Avoid putting unnecessary dents in the bank account, consider being slow and strategic when buying baby products. Make purchases using your rational brain and hope that the grandparents don't go overboard with their emotional baby spending (it happens).
Last Thoughts
Remember these three things:
Quality is more important than quantity.

You can ignore the word 'baby' on most products that aren't health or safety-related.

Most purchases can wait until you learn the unique needs of your baby.
What About You?
How are you being a conscious consumer as you welcome your baby? Are you figuring out there are baby items you don't need? Drop a comment below.