Learn how to Spring clean like a mother. Pun intended but seriously check out these Spring cleaning tips to help you get your entire house cleaned.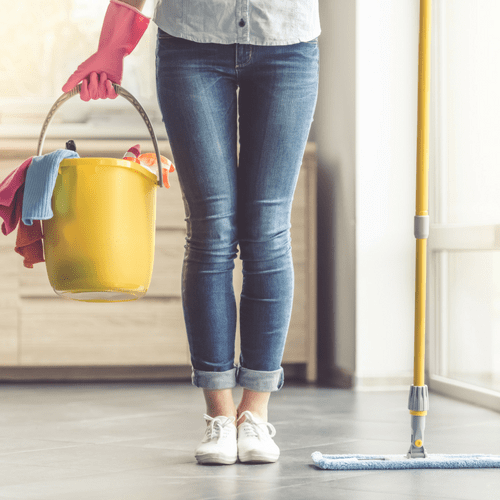 This post contains affiliate links. Please see the disclosure page for more information.
Whoever decided Spring was the best time to deep clean had a great sense of humor.
Why take such a lovely start to a season and pair it with the most undesirable house chores?
Well, it caught on and here we are. It's Spring.
The birds are chirping, the flowers are blooming, and our homes are begging to be cleaned.
We can finally send the kiddos outside to play and use our quiet time to relax clean. 😉
Let's do this.
Here are some Spring cleaning tips that will help you get organized and conquer your cleaning process. Plus, many of the products I recommend are safe and non-toxic which is so important when you have little people walking around.
MY BEST SPRING CLEANING TIPS
STEP 1: DECLUTTER
Spring cleaning may be about cleaning but the process should begin with a good decluttering session. 
This is not the time to be cute; nope it's time to get down and dirty. 
It's time to get rid of all the things that haven't been touched in the last 12-18 months. It's time to go to the back of the dresser drawers and to those long forgotten corners. 
This is a hard step for me because I always think I just may use or wear that thing, whatever it is, again.
But, I have a few rules now: 
If it hasn't been touched in a year, it gets donated.

If it is too small, it gets donated.

If it has no functional or emotional/sentimental purpose, it gets donated.

If it's broken (but fixable) or in need of stitching and I haven't done it in the last 6 months, that may be a project to forego and either toss it or give it away.
Decluttering is more involved with kids (I can hear the protests now) but the rules can apply to the kiddos too. 
The point is…there is no point cleaning and organizing the things that don't get used. The best part of this process is finding all the stuff that can be sold or given away.
STEP 2:  CLEAN ONE ROOM AT A TIME
Once the clutter is gone, it time to clean.
Since, I know my days are unpredictable, with a busy toddler, it easier to focus on one room at a time. 
Why?
Because doing one room at a time lessens the overwhelm and greatly increases our ability to finish. And, I don't know about you but when I finish one thing, I feel accomplished and super motivated to keep going.
The kitchen is a great place to start because it usually requires the most work.
KITCHEN CLEANING
Cabinets & Drawers
Inside:  I like to pull everything out, one cabinet and drawer at a time, and clean out all the dust and crumbs. In some areas, I use liners to protect the shelves.
Outside: Wiping down the outside of the cabinets and drawers are usually a breeze unless there is a grease buildup. For easy grease clean up, consider using undiluted vinegar. If that doesn't work, try grease or oil. 
Refrigerator & Freezer
Inside: Everything comes out and every surface gets cleaned. This is also a great time to toss old food and condiments away. Last time, I had products that had been expired for more than 2 years! Now, I make sure to check the dates on everything. 
Outside: I have a stainless steel refrigerator. I use olive oil to wipe it down once and then a towel to remove the greasiness and voila, it looks great again.
Stovetop & Oven
Stovetop: The stove usually get cleaned daily; however, the flattop stove we have can get scratches and baked on messes. If you have a flattop use this simple method to get it cleaned with just 3 products you probably already have at home.
Oven: On a nice day, when the window can be open, I run the self-cleaning cycle. Everything gets burned away and all I have to do is wipe it down. 
Counter Tops & Appliances
Counters: This is a daily task so buildup isn't an issue. 
Small Appliances: Admittedly, we have quite a few appliances they include the NuWave, KitchenAid Mixer, waffle iron, Crock Pot, rice cooker, George Foreman Grill, and a BabyBrezza. I usually clean the small appliances thoroughly after each use; it saves time and hassle later.
Drains & Garbage Disposal
Drains and Garbage Disposal:  If there is a build-up of grim, a firm brushing gets in all the crevices at the sink level. For the inside, I've tried lemon Kool-Aid ice blocks but the nice lemony smell was short lived. A baking soda-vinegar cleanse is more effective.
THINGS TO THROW AWAY:
Expired food and old condiments

Stained storage containers

Storage containers without lids

Chipped and broken dinnerware
BATHROOM CLEANING
Cabinets & Drawers
Inside: Under the cabinets in the bathrooms can get messy. I like to pull out all my products and declutter. Then I add liners and put everything in inexpensive storage bins.
Outside: A good wipe down with a cloth and a toothbrush for the crevices works great. 
Toilet & Drains
Toilets: I hate cleaning toilets but it must be done. I make sure to do around the base, the handles, and the inside where we often get those hard water stains. This product works great for cleaning those difficult stains without the need for harsh chemicals.
Drains: A baking soda-vinegar rinse can work but if you struggle with hair clogs, we use this tool in lieu of any chemicals. It works great.
Bath & Shower
Bath: Bending over to clean the tub stinks, so a long handle cleaning brush is great.  My favorite cleaner used to be scrubbing bubbles and it works great but in an effort to reduce the chemicals, I switched to this. If you give it a try, be sure to dilute.
Shower: I have a shower door that gets hard water buildup. This works great for getting the door back shiny and clean. 
Bath mats & Decor
Mats: I stopped using decorative rugs in the bathroom because I needed to reduce how much I was washing. If you use rugs or decorative towels, a good washing in the washing machine is all you need.
Tip: I don't dry rugs on high heat in the dryer. Air drying keeps them fluffy and fresh.
Mirrors
Get that streak-free shine without the chemicals. All you need is a mixture of vinegar and water.
THINGS TO THROW AWAY:
Old and expired medicine

Old makeup

Overused hair ties and bands

Broken combs and brushes

Hair products you haven't used 

Old shower liner
BEDROOM CLEANING
Sheets & Covers
Linen: Sheets and pillowcases can be washed weekly or biweekly that way you don't have a build up of dirty linen.
Covers: I purposely stopped buying big poofy covers. They wouldn't fit in the washing machine and trips to the laundry mat or cleaners can get pricey. I use lighter blankets and duvet covers that are easy to clean at home.
Pillows & Mattress
Pillows: If your pillows get those dreaded yellow stains, don't toss them just yet. Save them with this easy method of getting pillows back white.
Mattress: Learn how to clean your mattress here. Currently, we use a protective cover like this one to keep our mattresses refresh.
Closets
Closets: If you did the initial decluttering step, you can finish up by straightening up the closet by getting things off the floor and up on shelves or on hangers.
I love hanging things because they are easier to access and less likely to be forgotten.  These thin hangers save space and look pretty. I included a link so you can see them but if you have a local HomeGoods or TJMaxx, you can find a bunch of cheap.
Nightstands & Dressers
Inside: Fold clean clothing to make them easy to find. I also find that rolling clothing can be space saving.
Outside: Wiping down the outside of the nightstand and dresser with a fresh smelling all-purpose surface cleaner removes dust and leaves a great smelling space. 
THINGS TO THROW AWAY:
Ripped and 'holy' 😉 clothes

Stained materials

Broken toys

Fashion jewelry that is broken
SPRING CLEANING TIPS FOR WHOLE HOUSE CLEANING
Baseboards
I wipe down the baseboards with baby wipes. They get fresh and clean and I throw the mess away.
Windows & Blinds/Shutters
Blinds and shutters are great dust collectors. A quality duster that collects dust without spreading it around is a must.
Light Fixtures & Fans
If those light fixtures and fans have collected a few layers of dust. A duster and a wipe down with a multi-surface cleaner is all you need.
Outlet covers
Remove those fingerprints and dirt with a quick wipe down. The covers in the bathrooms and kitchens are the worst because they get used when hands are the dirtiest.
Vents & Fans
Replacing filters can make the air in your home cleaner and make the systems more efficient.
Carpets & Flooring
Carpets: Carpet cleaning is a must.Dirt and smells linger in carpet and you could call a service but we have this machine and get to it ourselves. 
Other surfaces: Wood and vinyl can be cleaned with surface specific cleaners. I have engineered hardwoods and this product gets the floor clean and is safe for the entire family.
Alright, these are my Spring cleaning tips. But I have one more important one. 
It doesn't involve a sponge or a spray bottle. 
It's taking the time to savor your clean home. 
STEP 3: ENJOY YOUR CLEAN HOME
Once you finally get your home clean, enjoy it. 
Those hours you spent cleaning, hopefully with a bit of help, deserves a mini-celebration.
If you live in a house with pets, children, and a man, well enjoy the clean while it lasts. 😉
As soon as the kiddos come running back in, the sinks will get a new layer of love, the paw prints will follow shortly after and heck dads will sit on the same cushions you just fluffed. That's family for you and it's great.
We do what we can to minimize the layers of dirt and keep a happy home!
I hope these Spring cleaning tips help make your house cleaning more manageable.