Moms have so many resume-worthy parenting skills that don't get the credit they deserve because they weren't gained in a 'traditional' 9-to-5 work place.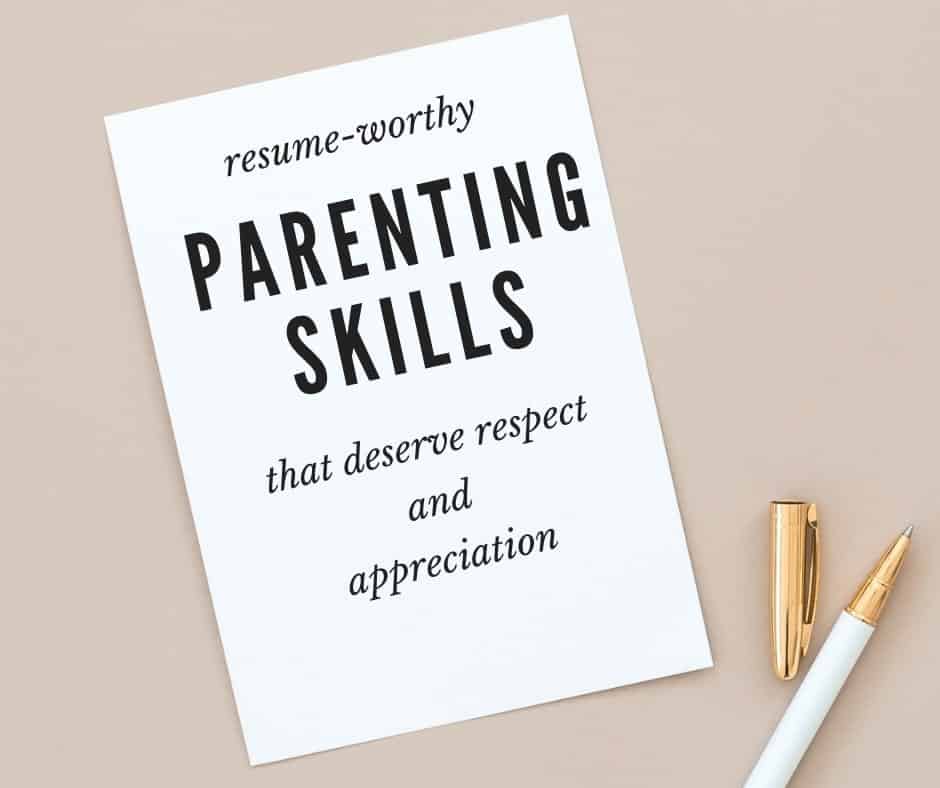 Not long ago my husband was working on his resume. He was including all the new skills he had learned in the workplace over the last couple years. It got me to thinking about my own skills – especially since I quit my job outside the home.
My initial thoughts were pretty depressing.  I started asking myself questions like…
What have you learned lately?

What kind of skills could you even add to your resume?

Who would even care about the skills you didn't earn at a traditional job?
Then…
I stopped myself because I'm a mom and while I may not have learned anything new from a corporate setting. I have gained a huge number of parenting skills that deserve respect and I know I'm not alone in this.
So…
I reached out to some real moms and put together this list of brilliant parenting skills that are often overlooked and underappreciated.
Some people may not know how to translate these skills to a professional resume, so I've used descriptive headers that could better describe each skill to non-parents.
Let's get to it.
Related posts:
RESUME-WORTHY PARENTING SKILLS THAT DESERVE RESPECT
EFFICIENT & EFFECTIVE WORKER IN CHALLENGING WORK ENVIRONMENT
Parenting skill: I can wake up and change a diaper in the middle of the night in about 15 seconds. I'm talking no light at all and I just woke up from a dead sleep. I'm so stealthy the baby/toddler never even wakes up!
Christina | raisingbiracialbabies.com
ABLE TO MULTI-TASK WITHOUT SACRIFICING QUALITY
Parenting skill: I have mastered washing dishes with one hand and a baby or toddler on a hip. Master at multi-tasking! Pssst. the trick wash all the dishes in the sink than move them to the other sink to rinse.
Toni | becomingschultz.com
PROFICIENT & ADAPTIVE PUBLIC SPEAKING SKILLS
Parenting skill:  Peeing with an audience. Imagine how good my public speaking skills are if I can do that!
Christina | mominthesix.com
SKILLED NEGOTIATOR – EVEN WITH CHALLENGING CLIENTELE
Parenting skill: I am a very skilled negotiator. My children argue, ask for too many things at the store and never want to go to bed. A simple…if you go to bed I will let you have candy for lunch goes far. Good negotiations skills is a must in the work force especially since many of my coworkers are like kids? .
Darla | Famleeoffour.com
COMPASSIONATE MANAGEMENT SKILLS – ESPECIALLY WHEN HANDLING MULTIPLES & GROUPS
Parenting skill: Learning to pick up wriggling toddler twins at the same time without dislocating any arms or causing headbutting issues. Very proud when I learnt my method haha.
Rebecca | livingwithpeas.com
HEIGHTENED AWARENESS SKILLS AND ABILITY TO TAKE SWIFT ACTION – EVEN WHEN TASKS ARE UNDESIRABLE
Parenting skill: I can wipe a snotty nose more than 100x per day without batting an eye at the task. Surely this talent is required in some positions!
ABILITY TO TRAIN WHILE MAINTAINING REGULAR WORKFLOW – WITHOUT INTERRUPTION
Parenting skill: Managing to help the toddler with a potty trip while still breastfeeding the baby. High or low, (depending how you look at it), point of my mothering career! 
FLEXIBLE AND WILLING TO ADJUST TO NECESSARY CHANGES IN WORK ENVIRONMENT
Parenting skill: Traveling has made me proficient at changing diapers while my baby is standing to avoid using or needing changing tables which are often gross or non-existent in many facilities. 
Tiffany | damngoodmom.com
---
This post was written in good fun but the premise is serious.
Mom life has tons of challenges that require an abundance of parenting skills that can easily translate to useful skills in the workplace outside of the home.
While most of these parenting skills will never be found on a professional resume, we moms understand the talent and brilliance necessary to care for children at every level, while maintaining a happy home. 
If you have a parenting skill that deserves R.E.S.P.E.C.T, complete this form and I may include it an update of this post in the future. Also be sure to follow along on Pinterest today!