Sometimes, the most surprising thing about motherhood is how much effort it takes for some women trying to conceive.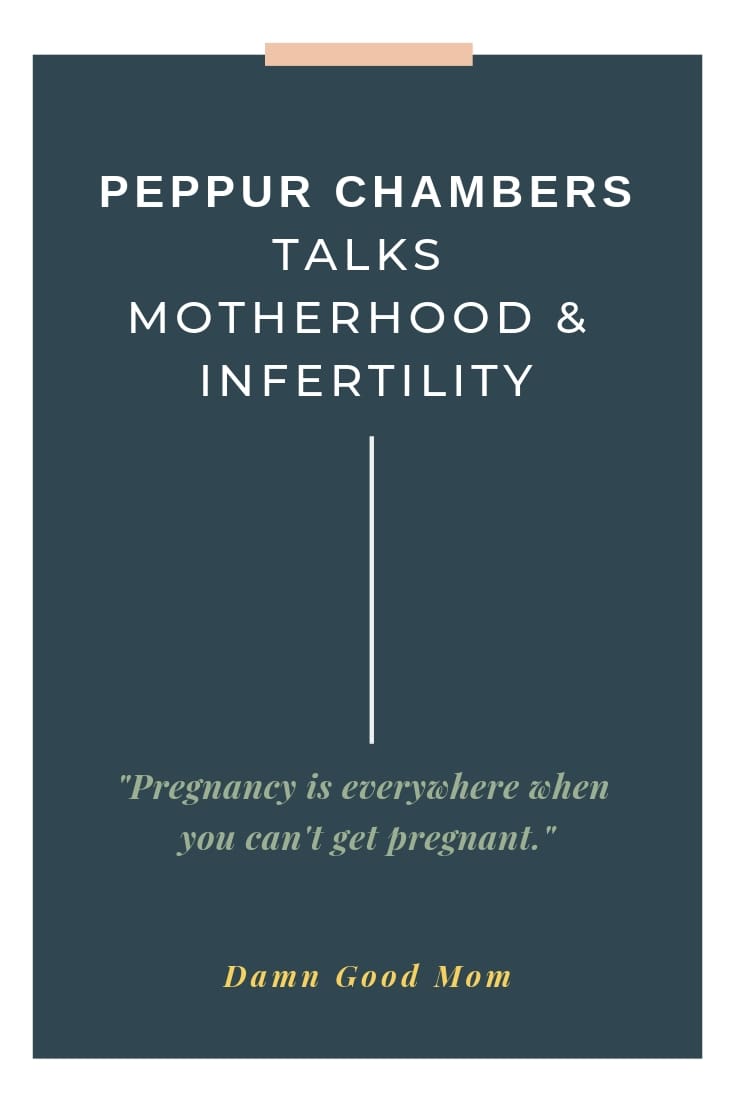 WARNING: This blog post contains references to a personal experience with infertility and pregnancy loss. Please refrain from reading this post if it could be triggering in any way.
Today, I have the honor of introducing you to Peppur Chambers, an LA-based writer, producer, educator, and author. Her debut novella Harlem's Awakening currently sells on Amazon and she has a blog www.penandpeppur.com where she tells stories of heroes and her journey to motherhood.
I've invited Peppur to share her journey to motherhood and what she has to say about her "journey to getting knocked up" may surprise and/or inspire you.
WHAT DOES MOTHERHOOD MEAN TO YOU?
Being there for your kids. As I've grown and seen more of my friends learn to navigate through motherhood, I realize that for me, motherhood simply means being there. And the "being there" is non-stop. It is no joke.
IS THERE ONE THING OR EVENT THAT MADE YOU WANT TO BE A MOM?
Good question. Not that I can pinpoint or remember. I'm the oldest of three, and I think I've always been a nurturer. That nurturing turned into wanting to be a mom around age 25? 26? Where one starts to think about "What will my life be like?"…that life always included having my own family.
WHEN DID YOU LEARN THAT GROWING YOUR FAMILY WOULD BE CHALLENGING?
First, it was when I couldn't find a boyfriend! Ha! I thought, how will I have a kid without first having a guy who wants to have a kid with me! Later, it really struck when I looked into doing IUI and the cost seemed a bit prohibitive and then when I started to feel like a mad scientist designing a child, I abandoned that idea.
The challenge really came when I was 46 and I was living in the Czech Republic and a fertility doctor bluntly told me she didn't know if I was still ovulating. And finally, the real blow came after I miscarried in 2017. And the new reality has come this past full year of trying with no luck or favorable results. So there have been many moments.
WHAT HAS BEEN YOUR INFERTILITY JOURNEY?
I don't know that I'd call it an 'infertility' journey…not just yet. I don't want to accept those words; I don't want to believe I'm "infertile". Yuck. So, I call it a journey to getting knocked up successfully. (Ha!)
"I call it a journey to getting knocked up successfully."
The journey has not involved a lot to doctors or procedures (primarily due to lack of crazy funds and amazing insurance to cover the $50,000 USD price tag. It has involved me having faith, doing a ton of research, taking every vitamin prescribed, meditating, visualizing and staying as healthy as possible and having my tarot cards read. This hasn't exactly worked, as we can see, and now I'm at a point where I will call in the doctors and find the money, or I will call it a day and become a mom another way.
WHAT FEELINGS OR EMOTIONS RING LOUDEST WHEN YOU THINK OF PREGNANCY AFTER YOUR EXPERIENCES?
Failure. Sadness. Exasperation. Defeat. Lonesomeness. Regret.
MANY WOMEN EXPERIENCE PREGNANCY LOSS BUT DON'T TALK ABOUT IT OR SHARE OPENLY AS YOU DID IN YOUR "WHY I NO LONGER GIVE A SHIT ABOUT SPINACH ". WHERE DO YOU GET YOUR STRENGTH TO BE VULNERABLE AND OPEN WITH YOUR STORY?
I'm a writer. I express myself through my words. When I started the post, I was just so _sad_, and so hurt and writing was the only way to release some of that. And then I hoped, like I always do, that I could maybe help someone who was feeling the same way. I get my strength from knowing that someone out there can benefit from hearing my words; this goes for sadness or joy.
WHERE ARE YOU NOW IN YOUR JOURNEY?
I think I'm in the 7th Stage of Grief – Acceptance and Hope (Ha!). I've accepted that it may not happen; I don't want* to accept this, because I'm a person who believes in the power of belief, but it makes each month much more manageable for me emotionally. It is a coping strategy. I've also spent more time listening to my body. This past year, I paid a lot of attention to the cycle within my cycle and made sense of my hormones and worked to determine holistically if I was ovulating or not and/or if my hormones were out of balance, thus making it harder for me to get pregnant. I found a real pattern that lead to me realizing my emotions were going insane based on my hormones.
"I'm a person who believes in the power of belief"
I wrote about this primarily because I really felt myself going to a dark, deep scary place and figured that if I shared this with other women, it might help. I called this post, Beware of Hormone Rita. Again, I need to call in the doctors, but my self-diagnosis based on listening to the signals my body was giving me is that my hormones _have_ been out of whack, and in my research, found Raspberry Leaf Tea and Dandelion Root Tea. I don't know if this will get me knocked up, but I know I have felt a shit-ton better these last two months having had more of these teas. (Thank you, Jesus!)
WHAT DO YOU WISH OTHER WOMEN/PEOPLE/FRIENDS KNEW ABOUT INFERTILITY?
Welp. I am on a huge bandwagon and mission to tell every woman to think about her fertility soon and "now". Waiting to even think about it, is not a good idea emotionally. It is not fun in any way to be in this position. It can be debilitating. So whatever bullhorn I can use to tell women to plan early, is my mission.
"Fertility education should be added to sex education"
I also think fertility education should be added to sex education and that young girls (and boys) should be told about how many years they have to be fertile so that they can be prepared; it might even help them to know they don't want kids, you know? And if that decision is made early, then they can make proper choices to live a life that involves kids or doesn't. The narrative will change from fear (avoiding pregnancy at all costs) to empowerment. The narrative that says you must have children in order to be happy and fulfilled might also change. Knowledge is power.
WHAT'S THE BEST WAY TO SUPPORT A FRIEND OR LOVED ONE EXPERIENCING INFERTILITY?
Oh man. Pregnancy is everywhere when you can't get pregnant. Every commercial has a mom. Every sitcom has a positive pregnancy test. Every movie has a pregnant woman. If friends and family can have this awareness — that it is so hard for a woman TTC to avoid the pregnancy topic, this will help to understand her better. Meaning, because it is everywhere, it can be hard for her to just "get over it".
"Pregnancy is everywhere when you can't get pregnant."
Also, this little thing to remember: There's really only about three days (+/-) in the entire month when a TTC woman doesn't think about becoming pregnant, and that's when she's bleeding. So, uh, the baby thought is there just about every.single.day whether she is saying something or not. If friends and family can understand that she's often hurting silently, then they will be that much closer to giving her a hug, switching the channel, changing the topic or throwing a jacket over her head when a pregnant woman pushing a stroller with twins comes walking down the street.
IS THERE ANYTHING YOU'D DO DIFFERENTLY AT THE START OF YOUR JOURNEY, KNOWING WHAT YOU KNOW NOW?
My friends and I talk a lot about abortion; that having that choice early on in your twenties/thirties has some major emotional repercussions that no one talks about.

I would have prioritized children differently.

I would have spent more time on loving myself in my twenties to welcome a healthy relationship in my thirties that would have been open to producing a child earlier.
"Fate is fate, life is life"
I think this is where I failed myself. However, fate is fate, life is life and I'm in a loving relationship now…it just came in my late forties and we'll have to wait and see what comes. I know someone will call me 'mom' at some point or another in my life; how I get there may no longer fully be in my control.
---
Connect with Peppur:
IG/Twitter: @peppurthehotone
Web: www.penandpeppur.com