A picky eating toddler can make for eventful and frustrating meal times.
For the first year of my daughter's life, I thought I was one of the lucky moms. My little one ate every food I pureed and did not really question any thing, she just ate.
Then it all changed (Ugh).
She started scrutinizing each item I put on her plate and inspected each spoonful like she was a paid food inspector.
I quickly found myself making several meals and snacks each day, in a desperate attempt to get a well-rounded group of fruit, veggies, and protein in her diet. It worked for a bit but making ten mini-meals a day wasn't sustainable.
Here are some things that did make a huge difference.
Related:
How To Get Your Child To Eat Better
Photo by Ketut Subiyanto / Pexels
1. ADD NUTRITIOUS INGREDIENTS TO FOODS THEY DO LOVE
Even the pickiest of picky toddlers have food choices they never turn down. Find ways to boost the nutritional value of those foods. This can help you feel less stressed about ensuring your child is getting the nutrients he or she needs.
My daughter eats her oatmeal without much fuss so I add fruits, vegetables, nut butters, chia seeds, and hemp seeds to the oatmeal (not all in the same meal). She doesn't notice the difference with the seeds and she enjoys the fruits.
2. MAKE FOODS WITH SIMILAR TEXTURES
If your toddler enjoys firm-textured foods make more of that. If he or she enjoys things whipped and cool, try to find ways to include more of those foods.
Take cookies and muffins for example. Cookies can have similar textures but a variety of different ingredients and the same is true for muffins AND both can be made healthy. This may sound intimidating but it's easy and doesn't require tons of extra time.
I make my daughter oatmeal breakfast cookies and muffins with chopped up veggies. She thinks she is getting a treat and I'm a happy mom because she eats.
3. CHANGE THE BASE
Many picky eating toddlers like pasta with sauces like marinara or cheese. I switched the basic white pasta to lentil pasta, zucchini noodles, and other whole grain kinds of pasta with interesting shapes.
I still use the sauces she likes and she eats up the pasta – even with the new/disguised base. Also, I use lentil and chickpea pasta boiled in veggie broth as a snack. It works because it's flavorful and the noddles have fun shapes.
4. HAVE QUICK AND EASY BACKUPS
I often have self-serve snacks ready for backup. Yep. Sometimes, as parents, we lose some food battles. BUT it's not losing if you have some healthy self-serve snacks in your back pocket. I often have frozen fruits and veggies in the freezer for smoothies, just for these occasions.
5. EAT FROM THE SAME BOWL OR PLATE
It may sound strange but in many cultures, families eat from the same plate. I started doing it because my daughter has a natural interest in knowing what I was eating so I'd share. Now, (on occasion) I put a double portion of food in a large bowl or on a large plate and we eat together. This worked extremely well for encouraging my daughter to eat salads.
Initially, I'd chop the kale or spinach finely and add toppings in a large bowl. She thinks the salad is for me but when she shows interest, I allow her to take leaves from my bowl. Now, she enjoys salad in her own bowl and seaweed as a snack (a topping I enjoy on my salads).
6. COOK FOOD TOGETHER
Some children respond well or enjoy eating food they have helped prepare. For my little one, we make our morning oats and smoothies together. It's actually fun (but messy) and I have some success in getting her to eat many (even if not all) of the ingredients used in the process.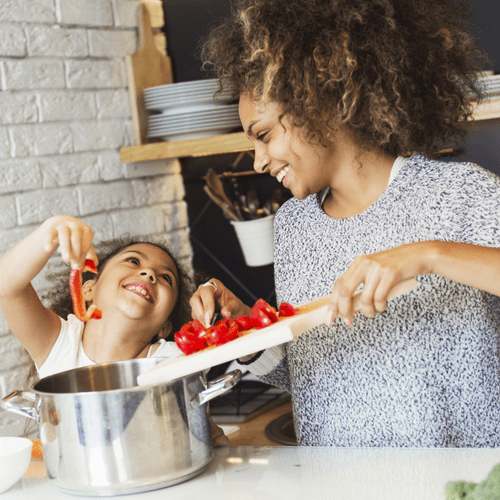 7. USE CHILD-FRIENDLY PLATING
The plates and cutlery used matters. As mentioned in my introduction, I'd find myself making separate meals for my daughter. Now, she eats what my husband and I eat, even if it's plated differently.
For example, if tacos are for dinner, I make tacos for us and leave the same ingredients out of the shell on my daughter's plate. I even go the extra mile and make sure the foods are in a dish with dividers. Otherwise, she'll make a mess picking through the foods she doesn't want.
8. RE-INTRODUCE THE SAME FOODS REPEATEDLY (NOT FORCIBLY)
Just because your toddler didn't like a food the first time you introduced it doesn't mean he or she will not warm up to it later. Toddler taste buds have mood swings. As long as there is no allergy, consider re-introducing foods without force and you may be surprised how a day, a week, or a month makes a difference.
My daughter didn't enjoy salad initially but neither did I. Instead of forcing her to eat the salad, I'd give it to her with different dressing and topping.
If she only ate the toppings, I wouldn't complain. I'd just remove the bowl when she finished.

If she only ate just a few leaves, I wouldn't fuss. I'd just remove the bowl when she finished.
Finally, as the salads began to reappear, over and over, she got more interested and now she eats salad.
9. BE PATIENT
Every part of motherhood requires patience and meal time with a toddler is no exception. Sometimes, children need time to observe and decide if a dish is to their liking.
If my little one doesn't start eating her food right away, I give her some time, especially if it's something she hasn't had before. Then, I take a small plate and take some food from her plate and put it on my own. I promptly begin eating the food I transferred from her plate and do a bit of acting to show her how much I enjoy the food.
10. DON'T FORCE FEED
Forcing feeding is uncomfortable for everyone involved. Admittedly, I tried to force-feed my daughter her food a few times. It was a mistake. Now, I think about how I would feel if someone was trying to force me to eat something I didn't want or enjoy, I wouldn't like it. I decided to take a step back and give her the respect she deserves. I don't want meal time to be a time of struggle and ultimatums.
11. MAKE MEAL TIME A POSITIVE EVENT
Some days we eat breakfast on a picnic blanket in the living room. At first, I struggled with the idea of not eating in the high chair but it has become our thing (dad is often at work). It's a simple thing but she helps me spread the blanket and grabs the cutlery from the pantry herself.
Then, without any distractions (no screens) we eat our breakfast together. After she helps put her bowl on the counter because she can't reach the sink. Then we read together on the blanket. Most days when we do this, it all smiles and quality time together.
12. APPRECIATE THE CHALLENGE
A huge part of learning and growing is being challenged. My picky eater is challenging my creativity in the kitchen right now and while some days I wish she'd just eat, I appreciate her helping me to grow as a mom and as a cook.
If you can, try to view your child's picky eating as a normal phase that will pass in time. If you believe there is a nutritional imbalance, talk with your child's pediatrician and find out if there is an appropriate vitamin or supplement you can use.
YOUR TURN
Do you have any tips and tricks your use with your picky eating toddler? If so, share below in the comments and be sure to follow along on Pinterest.
You got this mama. One day at a time!