Having a baby is exciting news but with thousands of products on the market, it can be hard knowing which ones to get, especially if you are a new mom. Use my newborn baby registry checklist as a guide.
This post contains affiliate links, see my Disclosures for more information.
If you are new here, my name is Tiffany and I recently had my first child. In the midst of all the excitement, I found myself with lots of items I didn't use or need. Money could have been saved, wasted could have been avoided.
So…
To help you avoid buying tons of stuff you probably don't need, I've created a newborn baby checklist printable that is probably more condensed than most. I hope it helps make shopping for your newborn easier.
BABY SLEEP CHECKLIST
Crib
Our crib was our first baby purchase. It was the first item in our house that shouted, 'a baby is on the way'. I love our crib and I wish my baby loved it just as much, but she prefers the pack'n'play over the crib.
Pack'n'Play
We live in a multi-level home and we initially bought the portable baby bed to have a safe space for our daughter while she was downstairs. As I mentioned earlier, she loves it more than the crib and we let her sleep in it most nights. So, it's stationed in her room – not far from the crib.
Mattress
Finding a crib mattress isn't difficult but if you want to learn more about the reasons for investing in an organic crib mattress, check out this resource.
Fitted sheets
I was one of those new moms who dressed up the crib with a cute decorative bedding set and quickly learned it was a waste. The American Academy of Pediatrics recommends a bare crib to lower the risk of Sudden Infant Death Syndrome (SIDS).
Mattress protector
Even if you have the best baby in the world, you'll likely need some protection for your mattress. The spit-up, blow out diapers, and even soaked diapers can wreak havoc on a mattress. Invest in some protection.
Receiving blankets
I love blankets and went way overboard with getting them. I learned we didn't need twenty but having a handful around is really helpful. FYI: I didn't find them to be the best for easy swaddling.
Swaddle blankets
If you have a baby that likes to be swaddled, you will definitely love having swaddle blankets. If you need help swaddling, check out the video below.
My husband and I got a quick tutorial in our newborn baby class but swaddling a motionless doll is much different than swaddling a wiggly baby. We tried this swaddle me and this swaddle wrap (I love the velcro).
Baby monitor
Honestly, this purchase will depend on your sleeping situation. We thought we would need a monitor but never bought one and not having one worked out fine for us.
Most nights, if I wasn't co-sleeping in the same bed, I slept in the same room. During the day, when my daughter napped, I was constantly checking up on her. Motherhood turns you into a mini stalker. I say do what feels best for you to keep baby safe.
---
BABY FEEDING CHECKLIST
The best way to nourish a baby is with breastmilk. The benefits of liquid gold can't be compared to any other form of nourishment. If you are planning to breastfeed, I highly recommend this breastfeeding class because just because breastfeeding is natural, it doesn't mean it'll be easy.
There are reasons you may choose not to breast milk or just can't. Perhaps you'll end up accepting donations or supplementing (like me). In that case, you'll need some bottles, formula, and perhaps some pacifiers.
Breast pump & accessories
Look into whether or not you can get your breast pump covered by your insurance before you spend your money.
I used the Medela Pump in Style Advanced Double Electric Breast Pump and it got the job done. It's the only pump I've used and it was provided by my insurance company with no out-of-pocket cost. I used the Target Breast Pump Program to order. Be sure to order breast milk bags and/or bottles for whatever pump system you choose.
Nursing bras
A nursing bra with support and easy access to the breast will be priceless when you begin breastfeeding or pumping. You don't need to spend money on an expensive nursing bra either. I found my favorite nursing bras at a discount retailer (Maybe Burlington) for less than 20 USD each.
Nursing pads
You may want to skip the nursing pads but there is nothing pleasant about leaking milk through your shirt. There are disposable nursing pads and nursing washable pads. I had a preference for the reusable nursing pads as they were soft and better shaped.
Nipple cream
You don't know you need nipple cream, until you need nipple cream. If you are breastfeeding for the first time, then you'll notice that your breast and nipples go through changes. FYI coconut oil may suffice. If this is your experience, I wrote about some helpful breastfeeding tips here.
Bottles
You'll need bottles but not dozens of bottles. Can you believe we survived with just four Comotomo bottles for over a year? We started with the 4-ounce bottles and upgraded to the 8-ounce bottles. It was easy for us keeping just four in rotation.
Pacifiers
If you are breastfeeding, be mindful of how early you introduce a pacifier. We used these pacifiers that were gifted to us along with these clips and she loved them for approximately eight months.
Formula
Finding the right formula was difficult. I mean how do you choose? We read labels and did some research and ended up choosing this formula and changed to this formula until we stop using formula altogether.
I will say if you plan to put your child in daycare, talk with your daycare provider to see what they use and find out it's to your standards. Many facilities allow breast milk but don't allow outside formula. It could be difficult on a baby's tummy to have to switch formulas.
Burp Cloths
Yes, grab a few burp cloths. Burping a baby inevitably leads to spitting up and protecting your clothes is a must.
---
BABY GEAR CHECKLIST
Car seat
This is a no-brainer. You'll need a car seat to bring baby home from the hospital or birth center. FYI: You can get a travel system that comes with a newborn car seat and stroller or you can get a convertible car seat and a stroller. Both have their pros and cons.
Backseat mirror
Some people aren't fans of the backseat mirror, but I am. I like being able to see my baby when we're driving. When it gets really quiet or loud, I like to see what's going on (personal preference).
Stroller
If you don't get a travel system, you'll probably want to invest in a stroller that can be used when you transition from baby to toddler.
Baby carrier/wrap/sling
I'm a card holding baby carrying momma and I love it. At the time of writing this, I have three carriers. Why? I love having my baby close and sometimes the only way to get anything done around the house is to have my baby right near my heart.
My first baby carrier was this one. It's nice but I wanted something soft without all the structure, so I bought a carrier like this one and it became my go-to house wrap. Then as we got into the toddler stage, this one became the preferred baby carrier for traveling. We even used it on our Euro-rail trip for tram, train, and air travel situations.
Diaper bag
Skip the fancy diaper bag and go for practical. We invested in a book bag type diaper bag with tons of pockets and it's great. It's gender-neutral and instead of packing multiple bags, we use one bag, it goes with her everywhere.
---
BABY DIAPERING CHECKLIST
Diapers (cloth or disposable)
If you plan to use cloth diapers, this is an excellent resource. There is a large selection of disposable diapers just be mindful of nasty chemicals that may be found in some diapers brands. Tip: Sign-up for freebies and when you know which brand you like, buy in bulk.
Wipes
If you are like us, you'll end up using wipes for everything. An eco-friendly alternative to wipes are rags and washcloths.
Changing pad
We skipped buying a changing table but we use our changing pad every day.
Diaper Pail
Whether you are using cloth diapers or disposable diapers, you'll need a place to throw those dirty and stinky diapers. We use this diaper pail and it's good but some smells still seep through. So a trash bin with a lid is really all you need.
Rash cream
Our rash cream was gifted to us and it's all-natural. Thankfully, it's still unopened. To date, we've only had a few minor rash situations and each cleared up in less than a day with a slabbing of coconut oil. I held on to my bottle because the reviews are awesome and it's my back-up plan.
Hamper
I'm kinda in love with organization solutions and while you could just use a basket you have hanging around for your baby's dirty clothes, we choose to use a cute collapsible hamper that's stationed near the changing pad and easily moved to the laundry room.
---
BABY CLOTHING CHECKLIST
Onesies & Clothes
I'm in love with cute baby clothes. You too? Well, try not to overdo buy in this area. Children grow and it's not uncommon to get just a few wears out of some outfits.
Socks
I used socks for the hands and feet, the mittens I purchased just didn't stay on her hands, they were cute but not practical.
---
BABY BATHING CHECKLIST
Bathtub
You could go old school and grab a sponge and bathe your baby in the sink. If you are inclined to have a baby tub, go for practical and not too fancy. We bought the inexpensive IKEA bathtub with the sponge until we started putting her our regular tub with this sponge. You don't need anything fancy, I write more on the in the baby items you don't need post.
Washcloths and towels
This is another area where you'll only need a handful. If you get low, you'll be motivated to keep the laundry moving. 😉
Soap
A soap that can be used for body and hair is great. Using non-toxic is important for everyone in the family.
Oils, Butters, & Creams
I don't use lotion on my tot. Instead, I use oils (almond and coconut) and occasionally balms (Primally Pure -where I buy my deodorant) and different kinds of butter (Shea and Coco).
CLEANING CHECKLIST
Bottlebrush
Breastfeeding and formula bottles need to be cleaned. I've found that the firm handle brushes work best. Eco-conscious mamas can use wood bottle brushes.
Washing detergent
Baby's skin is sensitive so I recommend going clean, non-toxic, and with no fragrances. If you want to know more about the product your considering looked up on the EWG's database or the Think Dirty App.
---
HEALTH CARE CHECKLIST
Baby First Aid Kit
A quality first aid kit can be a good friend when you have a sick baby or toddler.
Clippers
Babies have sharp nails. If your baby first aid kit doesn't have nail clippers, grab a pair.
Thermometer
Rectal thermometers have been shown to be the most reliable and we have one but we prefer our forehead thermometer and err on the side of caution by seeing a doctor whenever we have cause for concern. I love how easy and quick it is to use.
Nasal aspirator
It's not true love until you've sucked snot out your baby's nose. The NoseFrida is a popular option for nasal congestion but the good ol' bulb still works too.
BABY COMFORT CHECKLIST
Nursing pillow
Whether you're breastfeeding or bottle-feeding, you may need some extra support. This Boppy Pillow we were gifted still gets used now, even months after I finished breastfeeding. But don't feel compelled to purchase nursing-specific pillows. There are regular pillows that can do serve the same purpose.
Sound machine
Many moms use sound machines for ambient noise. I didn't buy one because we had an old phone and it was easy to download white noise and lullaby sounds. Do what works for you. Don't worry. We didn't keep it near your sleeping area is was far across the room and for a month or two it worked well and then it didn't. I'm starting to realize that everything that works for babies is kinda seasonal and some seasons don't last as long as we'd like.
Humidifier
The air in our home is super dry. After buying a humidifier, we noticed a positive change in how long my daughter was sleeping before waking. It was a huge win for everyone's sleep regimen!
---
BABY PLAY & LEARNING CHECKLIST
Books
It's never too early to start reading to your baby. It helps with bonding and early literacy. In fact, you can start now even if you're still pregnant. Research suggests that many babies can recognize their mom's voice even before they are born. Amazing right?!
Want free books? Check out this post.
Toys & Stuffed animals
Newborns don't need tons of toys but if you do invest in some, remember to focus on simple and age-appropriate toys. I lean toward toys that are wood and don't require batteries but the grandparents seem to ignore my preferences.
Play Mat | Activity Mat
When purchasing a play mat remember that newborns primarily focus on objects 8-10 inches away from their faces and because the retina isn't fully developed at birth, it's best to stimulate babies with high contrasting colors like black and white.
FREE NEWBORN MUST-HAVES PRINTABLE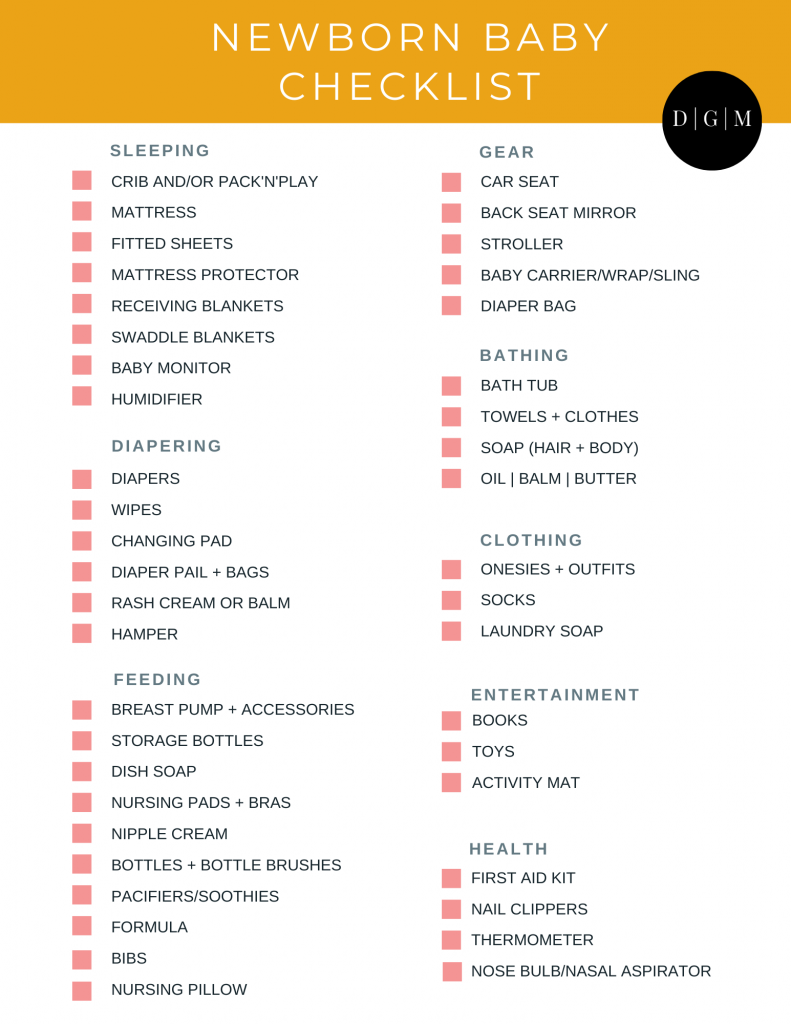 ---
You don't need tons of stuff to have a happy baby, just tons of love! This is a list of baby items I recommend.
Next, check out baby items you probably don't need but you'll be tempted to buy them anyway.