Giving birth with no medication tops my list of painful experiences; breastfeeding with sore and cracked nipples probably comes in second place.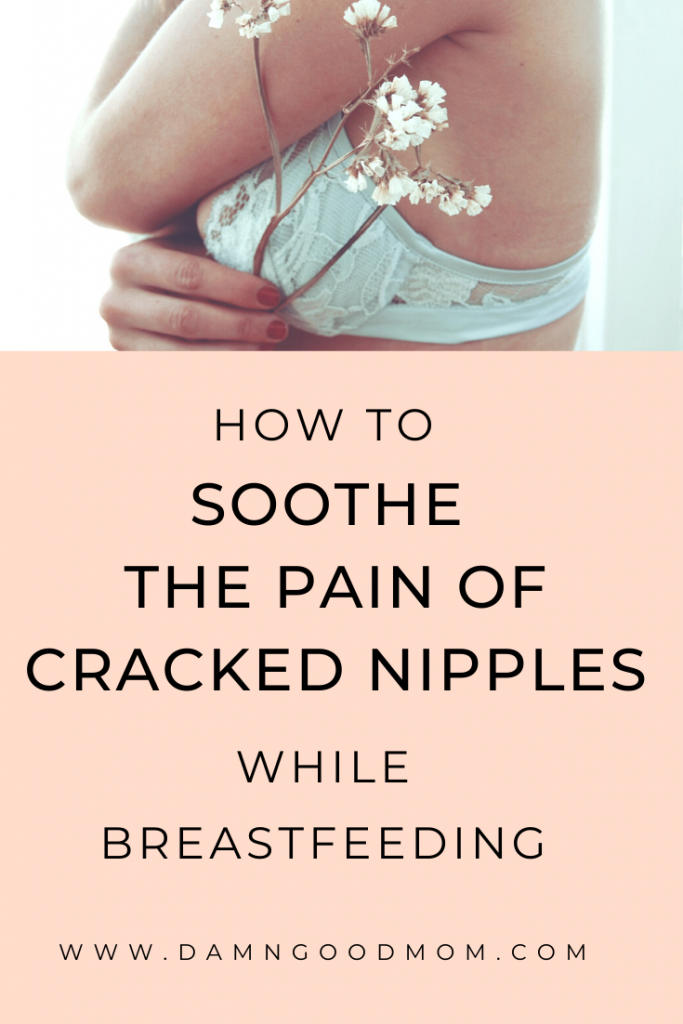 This post contains affiliate links. For more information, see my disclosures here.
In my mind, breastfeeding was going to be blissful and easy.
I was wrong!
The first latch and the many that followed were painful AF.
For the first time ever, I got front seat tickets to a show of my breast inflating, deflating, and getting tender and raw (on repeat). Most frustrating was the sore and cracked nipples.
If you are having a similar experience, these tips can help.
GET TO THE ROOT CAUSE
Often times, the reason for painful cracked nipples is related to improper latching. At the beginning of my breastfeeding journey, I was unknowingly allowing my daughter to suckle at the breast without a great latch. As a result, my nipples suffered.
My nips looked like they had spent months in the desert with no water. After connecting with a lactation consultant and learning how to get a better latch the nipple pain improved and breastfeeding slowly became more enjoyable.
If you are experiencing sore, bleeding, and cracked nipples, reach out to a lactation consultant for support. You want to know that the issue isn't the latch or something else like thrush, eczema, or tongue-tie–all of which can impact your nipples while breastfeeding.
EXPERIMENT
If you are only trying a couple of positions to try and get the best latch, branch out and try a few more. After much trial and error, I learned the best position for my daughter and I was at a 90-degree angle with a Boppy Pillow slightly propped to my right side near a West facing window. Okay, it wasn't that specific but once I learned what worked I kept at it until it didn't work anymore.
What works for one mama doesn't work for every mama. So, it's great to get support and advice from our mom community but sometimes the answer comes from experimentation.
PROTECT
When our nipples are cracked and bleeding, we are at risk of infection and it's necessary to take precautions. You'll need to make sure to keep the area clean and dry as possible. Also, be mindful not to use products that contain fragrances or toxins.
Related: 19 Breastfeeding Tips for First-Time Moms
WAYS TO SOOTHE CRACKED NIPPLES
Breast Milk
You can apply your own breast milk to your nipples. Our liquid gold contains antibacterial and healing properties. Use fresh breast milk when possible.
Breast/Nipple Shields
Sometimes, a nipple shield can offer relief while you and your baby get accustomed to breastfeeding.
Gel Pads
Gel pads offer a relieving coolness that might be just what you need when you're sore. The hospital may offer some to take home with you or you may be able to get samples from your doctor.


Coconut Oil
Room temperature coconut oil, a natural oil with antibacterial properties, can be chilled and used to soothe your pain. It'll turn to liquid quick so a little goes a long way.
*The following products are ointments and creams, that other moms found useful for healing their nipples. Check out the reviews and consult with a lactation consultant to assist with your purchasing decision.
Lansinoh Lanolin Ointment
Earth Mama Nipple Cream
Honest Company Organic Nipple Balm
Boob Ease Nipple Balm
More Tips For Dealing With Cracked Nipples:
Go for the sturdy
I lived in sturdy bras post-pregnancy and many of them were nursing bras and sports bras. The soft fabric was comfortable and provided optimum support while allowing me to feed on demand. My favorite bras weren't even the pricey ones. They were random buys from TJMaxx and Burlington. Go figure.
Get it wet
Wear a light-weight bra in the shower while you are healing. Yep. Don't be afraid of getting your bras wet; letting the water hit your raw and cracked nipples can be liking adding salt to a wound. A protective covering while you shower can help. Gently wash and replace the fabric.
Pat dry or air dry
The last thing you want to do to sore and tender breast is rub them. You can pat dry or air dry to avoid friction.
---
If you are dealing with cracked nipples, I get it. It's hard.
Don't get discouraged, it happens to many of us but it doesn't last forever. Our first few weeks or months adjusting to the physical challenges of breastfeeding are the hardest.
Good news, mama. It gets easier.
If you haven't taken a breastfeeding class yet, I highly recommend this one. I wrote a detailed review of the course so that new moms understand the value of breastfeeding education.
Breastfeeding is natural and the benefits are amazing but it's hard work from start to finish. This mama shares how the last latch is just as hard an emotional journey as the first.
P.S. Talk with a lactation consultant to determine how you can continue breastfeeding through whatever challenge you have. Challenges don't need to be the end of your breastfeeding journey; however, if you decide to end your breastfeeding journey, don't allow your decision to mean something negative about yourself. If you breastfeed for one day or three years, you are a Rockstar!
References: