Gasp. How could motherhood not spark joy and who would even admit that out loud?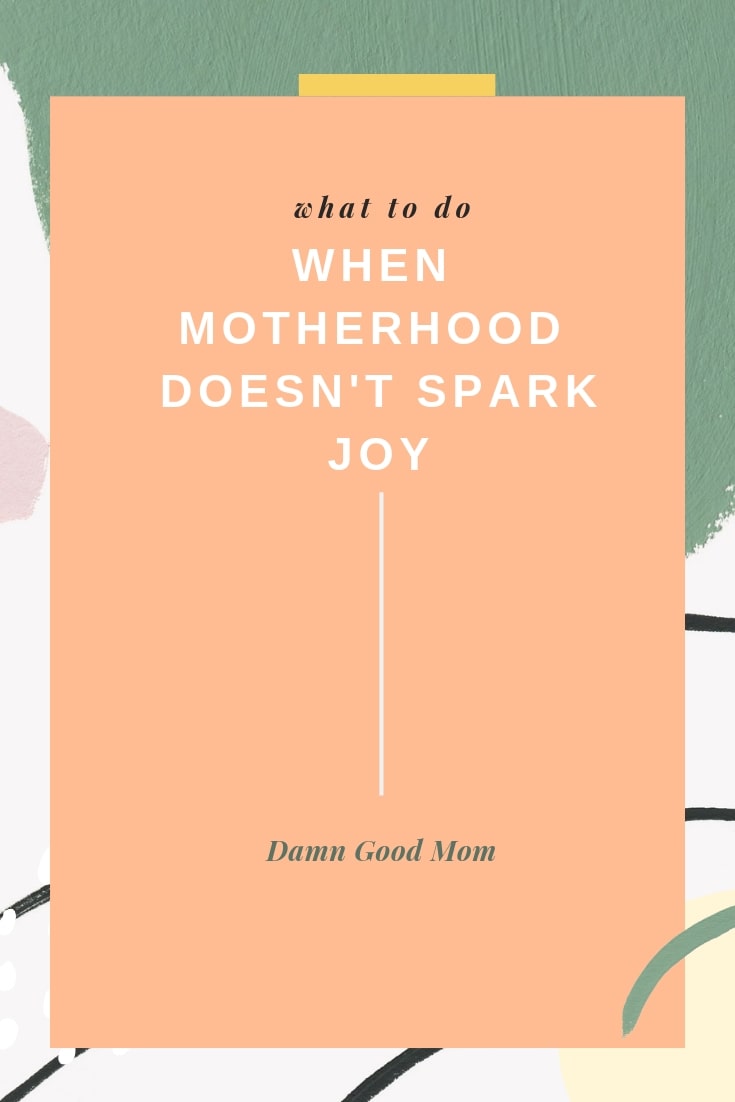 Seriously. Every mom knows that when we are asked about being a mom the socially acceptable answers include:
It's amazing.

It's perfect.

It's wonderful.
And if you are struggling you never say the actual word 'struggle'. Instead, we say:
It's challenging.

Some days are better than others.

I'm exhausted.
But…
What if you are a mom and motherhood doesn't spark joy?
What can be done when parenting feels overwhelming and underwhelming all at the same time.
I have a few ideas.
WHAT TO DO WHEN MOTHERHOOD DOESN'T SPARK JOY
Find out if the lack of joy is a serious condition
It's common for women to feel sad, anxious, or depressed after giving birth and at other times in life. Sometimes, it is the baby blues; however, there are times when it is something more. If we aren't informed, we may miss the signs that point to serious conditions like anxiety and depression.
There are distinct differences between sadness, anxiety, and depression.
You could try to figure it all out yourself but seeking the assistance of a medical professional is a better option. It can be hard making the first call to a professional, especially if you come from a background where needing therapy is seen as a weakness or 'not for people like you'. But your well-being is more important than what anyone thinks of you and the faster you seek assistance, the more likely you are to get on track to feeling the joy that motherhood can provide.
Get a hobby
Seriously. You could easily spend days, weeks, or months in the house with children or just going between your work and your home. The monotony and lack of stimulation can make you feel closed in, isolated, and bored.
This means your lack of joy may not have anything to do with your child and everything to do with you getting reconnected with positive energy.
What hobbies can you do?
Take an art class.

Take a photography class.

Join a cooking class.

Seek out a book club.
I'd personally avoid retail therapy but the point is to find something you'd like to do and do it.
As moms, we are constantly surrounded by people who need us for something; a hobby is our chance to get a mental break and do something different and fun.
Tip: You don't have to be an expert to enjoy doing something new – just try. My first painting was horrible but I still have it hanging on the wall. I now allow my daughter to paint as many ugly creative pictures she likes. We enjoy it together.
Mama, I promise there is still a world outside your windows and walls.
Meditate
Sometimes, it not physical walls we are dealing with. And if that is the case then we can benefit from meditation.
Now…
Before you skip this section because "you're not a yogi" or you don't believe in "chanting" (Think Tina Turner in What's Love Got to Do With It. Let me stop you.
Mediation is a great tool for awareness that doesn't require any special skills and you don't have to chant. There are practical ways of meditating that involve just focusing on your breath or doing something simple that quiets the noise in your head. For me, puzzles do the trick.
When the noise is your head quiets, you can ask yourself important questions:
Why isn't motherhood sparking joy right now?
Is it a lack of assistance?

Is it dissatisfaction with other issues unrelated to parenting.

Is it financial stress?

Are there ways to outsource some of the overwhelming tasks?

Can you and your partner create a new work/family arrangement?
Mediation can lead to more questions but more importantly, it may also provide the silence needed to get to a meaningful solution to the current lack of joy.
FYI: I think it is possible to love our children whole-heartily and not love some of the tasks that go along with parenting.
Exercise
Put on some comfortable yoga pants and sit on the sofa. Did I write that?
What I meant is…
Talk with your medical provider about any new exercise routine/regimen that you are interested in starting and start putting those cute yoga pants to use.
When I start my day with even thirty minutes of exercise, I feel so much better inside and out.
Why?
Exercise can increase dopamine levels, the happy hormone, or a neurotransmitter that contributes to our feelings of pleasure.
And…
It personally set's my day up for success.
I don't want to eat crappy food after I've exercised.

I have the energy to put into play and active time with my kid.

I feel better about myself.
And, let's face it. When we feel good about ourselves, we are more enjoyable to be around and that can spark joy in others which can be contagious.
Reconnect with old friends
If motherhood has caused you to neglect friendships, now is a great time to reach out to old friends and let them know that you still love them.
True friendships can survive months without communication and a phone call can rekindle the flames of valued friendships.
Tip: Start the conversation with honesty about why you've been missing in action. Don't just ignore the fact that you haven't called in six months. Then if the location isn't an issue, try to connect in-person.
Mom friendships are important and the popular saying that 'It takes a village…" to raise children is true. We weren't meant to mom alone and friends can provide an objective opinion on some of the challenges we face as women and moms.
Go out (alone)
Going out into a social setting alone can be taboo. I mean who eats out at restaurants or goes to movies alone?? (I'm raising my hand.)
It doesn't mean you are friendless or lonely if you go out alone. It means you know how to enjoy your own company.
Go out alone and enjoy the beautiful person staring at you in the mirror.
The first few times I went out to a restaurant alone. It was intimidating! But now after several solo travel adventures, I know how to enjoy my own company.
I no longer say "Just one" when the hostess asks "How many are dining?"

I say "It's me today/this afternoon/this evening." – because I'm enough.

I get dressed up.

I deserve to look good for myself.

I take my phone.

I bring the phone but I don't scroll. I focus on being present and enjoying myself.
I've learned that I like myself and I deserve to have joy.
If you going out alone to a fine dining restaurant isn't your thing, consider sitting a coffee shop or a bookstore. Finding time to get in tune with our own thoughts can help us figure out what it is that we truly want and what we need to fill our cups with abundant joy.
---
OK. Those are my tips for finding what sparks joy in motherhood. You may have noticed that the tips involve finding what sparks joy in you.
Why?
Well, joy comes from within. We shouldn't expect our children or our mates to provide us the joy we are seeking. That's not fair.
We have to find our joy and then spread it like peanut butter all over our lives.
I wish you wellness and joy on your journey.