If you've ever wondered what happens at the first prenatal appointment with your provider, this post is for you.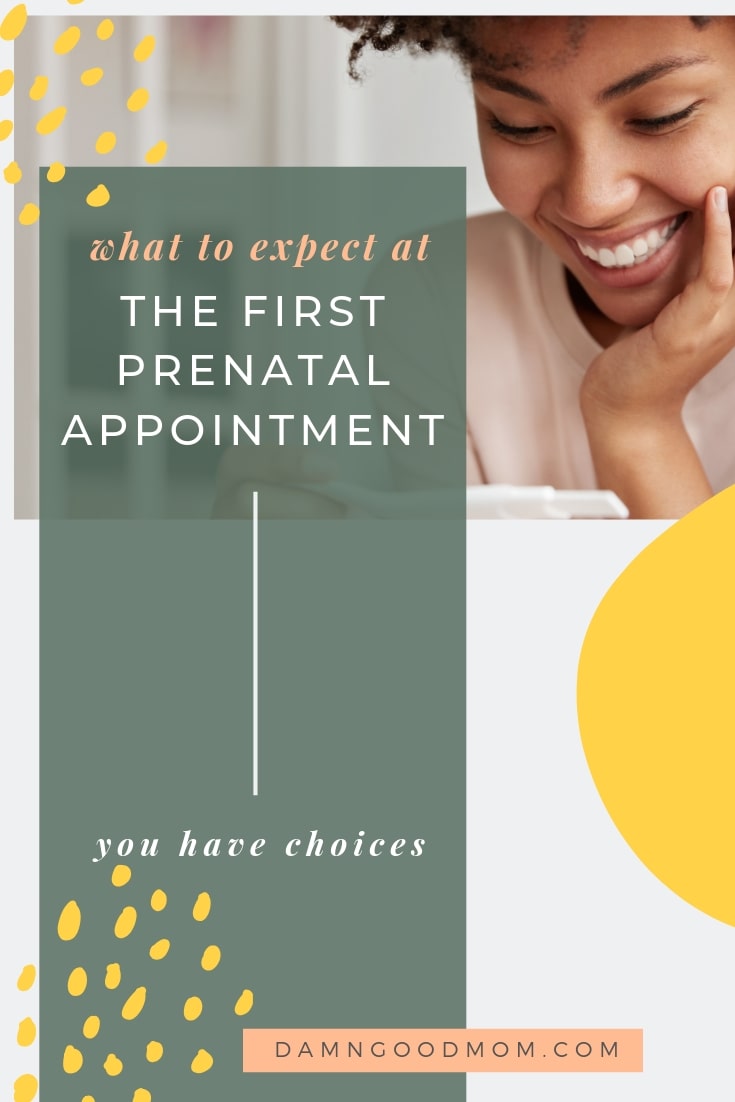 First, you may be wondering when you should visit your doctor to confirm your pregnancy. Many resources suggest 8 weeks; however, in my opinion, there is nothing wrong with scheduling an appointment as soon as you think you may be pregnant.
Once you have your first appointment you'll have a connection with a prenatal team that can continue to serve you along your journey with valuable information and care.
If you have no idea what happens at the first prenatal appointment, I'm sharing exactly how my first prenatal appointment went down.
There may be differences in how your first appointment goes, depending on your provider and individual circumstances. However, my first prenatal appointment for both pregnancies mostly mirror each other.
Related Posts:
WHAT TO EXPECT AT THE FIRST PRENATAL APPOINTMENT
Identification and Insurance
I made my prenatal appointment over the telephone and before disconnecting, the receptionist reminded me to show up with my ID and insurance card. Yep. Your provider wants to make sure you can pay for the services rendered.
Just out of curiosity, I did ask if there was a self-pay option for prenatal care services and there was one available. So, if this is an option you want to learn more about, be sure to inquire with your provider.
When I arrived at my prenatal appointment, I was checked in by a receptionist.
She made a photocopy of my ID and insurance card.

She also asked if I'd like to take a photo (on the spot) for the internal records. I declined.

Finally, I was asked to sign a consent to treatment contract electronically. Literally, there was a signing pad in front of me to sign yet no document. I declined to sign electronically because I prefer not to sign documents I haven't read and instead requested the paper copy. I read the contract, signed it, and requested a copy for my own records.
This was the check-in process.
Urine Sample
After I was checked in, I was provided with labels with my name. I was instructed to go to the restroom where there was a supply of cups and wet wipes. The label was to be placed on the cup and I had to urinate in the cup. In case, this isn't obvious, there were instructions framed in the restroom. I provided a urine sample and placed it in a stainless steel cabinet with two-way access. The nurse was able to grab the sample without entering the bathroom.
My urine was tested and my pregnancy was confirmed (Ah-mazing!).
Measurements
After the pregnancy test, I was weighed. This was a quick process that happened in a hallway on the way to a patient room. I didn't remove my shoes and I weighed in at approximately 139 pounds or 63 kilos. Once inside the room, the nurse took my blood pressure and explained that she'd be asking several questions about my medical history.
Medical History
If you've never had to provide your medical history, you may find this part of the appointment intrusive, just remember that the information is collected to determine if there are risks factors that should be monitored during pregnancy- so… be honest.
We began the questionnaire with the one question every pregnant mama gets asked, "What was the first day of your last menstrual period (LMP)?". This date is used to determine our estimated due date. If you don't know how due dates are calculated this post can help or you can check out this post with a list of popular pregnancy calculators.
After I was given my due date and shared a smile with my husband who was sitting across the room entertaining our daughter. We moved on to more questions about diseases, disorders, and medical conditions.
I was asked about my family history with diabetes, cancer, and other serious conditions.

I was asked about

past pap smear results.

I was questioned about domestic violence concerns and drug and alcohol use.
The nurse was efficient and quickly read through all the questions and as I responded, she entered the information into an electronic chart on her laptop.
The questions the nurse asked helped her to determine if I'd need any additional tests that may help with monitoring me throughout my pregnancy. She informed me there was nothing concerning and I'd just get the basic blood tests that they give every pregnant mama.
Urine & Blood Tests
After the medical history questionnaire, another nurse or technician (I didn't ask) came in to draw my blood. She collected four vials of blood for the following tests:
I don't like needles or watching blood leave my body, so I didn't watch after she got the needle in but thankfully she found my vein on the first try!
Genetic Screenings
After explaining which blood tests would be performed, the nurse informed me that I had the option for genetic screening for Cystic Fibrosis, Spinal Muscular Atrophy, and Fragile X Syndrome using the NxGen technology.
I declined the testing (personal choice).
If you are interested in the genetic screening, you can inquire with your insurance to find out if the service is covered.
Pap Smear
Some women are given a pap smear at their first appointment if one has not been completed in the last three years or the provider finds it necessary.
My nurse asked if I'd had one in the last three years and because I gave birth approximately two years ago, I'm pretty sure I have had one and therefore I wasn't given one during this appointment which is great because I prefer to limit unnecessary examinations.
Education
My nurse at this appointment was very thorough at explaining what to expect going forward with my appointments.
We went over the pregnancy timeline and when I could expect the big milestones (like gender).

She informed me about safe medications during pregnancy.

I was provided a pamphlet of information about pregnancy and a goody bag.

I was given information and explained the procedure to contact the on-call nurses and doctors if I feel the need.
I don't remember going over all this information in the same amount of detail during my first appointment with my first child but I really appreciate the nurse for taking her time and explaining everything. I didn't feel rushed at all and that always a good sign when seeing a medical provider.
Flu Shot
Finally, after all the procedures listed above were completed and we had gone over the education portion of the appointment, I was offered the flu shot. I choose to decline that offer. I'm not suggesting that anyone decline the flu shot if they feel that is what is right for their situation; however, during my first pregnancy I declined the vaccine for all nine months and intend to do the same again.
Overall, the first prenatal appointment was informative and comprehensive. My next appointment was scheduled four weeks out which means, I'll be ten weeks at the next appointment if all goes well.
Tips for your first prenatal appointment
Your first prenatal appointment doesn't need to be nerve-wracking. Here are my best tips if you are headed to your first appointment.
Show up prepared with your ID and insurance documentation.

Read contracts and paperwork before signing.

If you are nervous, considering finding ways to relax. I find that deep breathing is great for calming the nerves.

If you have any questions before your appointment, don't be afraid to call your provider and get them answered before your appointment.

If it's your first time meeting your provider, put together a list of questions to help you determine if they have the values and experience you expect.
Know that not all testing offered is mandatory. You have a choice and a voice. If you don't understand a test or want more information before accepting it, it's OK to say so.
Seek a provider-to-patient relationship that is team-oriented, where your doctor or midwife provides you their best recommendations (based on experience, best practices, and research) and you use that information to make the best-informed decision. It shouldn't be a dictatorship where you do exactly as a provider says without understanding.
Above all, pregnancy is an amazing learning experience that can be enhanced with the right prenatal medical team.
If you just found out you're pregnant, CONGRATS!! I wish you love, health, and light on your journey. I'd also like to share a FREE printable with you. You don't need to provide your email, just click below to download.
DOWNLOAD PRENATAL APPOINTMENT CHECKLIST
If you haven't already, join me on Pinterest for more pregnancy information.