If self-care has taken a back seat in your life, this post is for you because self-care isn't selfish.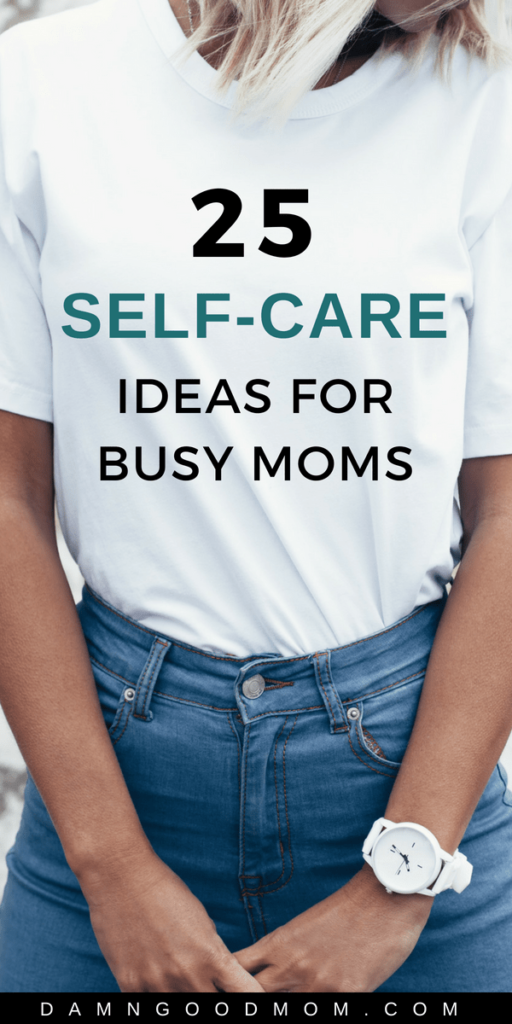 Everywhere we turn there are recommendations for moms to practice self-care. It sounds good but finding the time can be difficult.
I value self-care and I want you to know that even if you are super busy, there are minutes in the day that you should claim for yourself.
Here, I have put together a list of practical and easy ideas to help you take advantage of your 'me' time.
25 SELF-CARE IDEAS FOR BUSY MOMS
The tips can take as little as 15 minutes or as much time as you can manage to fit in. 😉
1. START A GRATITUDE JOURNAL
I never used to journal but recently, I purchased a bullet journal and while I haven't found the time to write. I have found that it's a great place to write down all the things I'm grateful for and it only takes a few minutes to jot them down. 
Try it. You'll love looking back at your thoughts and noticing how they evolve as your children age.
2. READ SHORT STORIES
After becoming a mom, reading a novel from cover-to-cover became more difficult. I'd get to a point in a book and before I had time to get back to reading, I'd forget some of what I read. It was a struggle.
Instead of choosing long novels, consider reading short stories, biographies, and poems. Odds of actually finishing the read increases exponentially. Also, audiobooks and podcasts are great alternatives.
3.WATCH INSPIRATIONAL SHORTS
My husband and I enjoy movies but every time I consider watching a movie, I check the runtime (a side-effect of motherhood). If it's more than 1.5 hours I have to check in on what the baby is doing. If she is napping, playing, or breathing, I probably only have 30 minutes to watch anything without being interrupted.
Instead of choosing that 2-hour movie, consider watching inspirational shorts. I have found that many of the international ones are thought-provoking and sweet. 
4. TAKE A WALK
Walking is such a good way to get out of our own heads and find new scenery. The added benefit is that walking is great for your overall health.
A walk around your neighborhood is a great way to step away from the chaos happening in the house and it only takes a few moments. Let your partner take over for a few minutes and enjoy.
5. CREATE A MOM CRAFT
Crafts aren't just for kids. A quick scroll through Pinterest and you'll find quick and easy craft ideas that are beautiful and inspiring. 
Find your inner creative and make something that you'd be proud to showcase. 
6. GO OUT TO EAT ALONE
I truly believe in dating yourself. Mom life can get monotonous and sometimes it is difficult for both partners to get out together (even if it's not), I encourage you to take yourself on a date. Yes. Put on the pretty dress and some makeup and treat yourself to a good meal. 
Some of us can't bear the idea of sitting down alone at a restaurant but just imagine…silence, no cutting up food for a little person or trying to keep anyone else happy. Everything is on your time. Oh, the thought is making me smile right now. (I used to travel solo and getting comfortable with spending time alone was a must).
When the hostess asks "how many?" say "I'll be enjoying my own company this evening, thankful". It's much better than saying "Just me". You are enough!
7. CREATE A PLAYLIST
Music is good for the heart. Sometimes, when I step away from music, I feel like age myself. Why? Music is like technology is always moving and changing. 
Creating a playlist of the classic staples and some new jamz can give you the best of both worlds. Ask the kids in your life what songs they like and find the time to take a listen. It's a great way to spend time away from the kiddos but keep them around at the same time. 😉
8. BAKE A YUMMY DESSERT
I am a baker at heart. I bake everything. It's the easy and often healthy way to prepare food. Also, putting things in the oven with a timer gives us time to walk away and get other things done.
Find a recipe and try it. Enjoy the process. Savor the creation. 
9. DECLUTTER YOUR FAVORITE ROOM
One of my favorite rooms in the house is my closet. When my closet has been decluttered and organized, I enjoy sitting in the space and relaxing. Everything is just how I want it to be and it's a space that is filled with handpicked items I value.
While I'm not in love with the process, I love the result of decluttering. It's cathartic in a way. Let me know if you feel the same.
10. BUY FRESH FLOWERS
Farmer's markets and Trader Joe's are great places to find seasonal inexpensive flowers. I believe in the power of plants to add positive energy to spaces.  Also, some plants have been shown to have air cleaning properties. 
Brighten your days with pretty flowers. If you have a black thumb, chose flowers that require little maintenance. 
11. EXERCISE
I'd love to not have time to exercise but the truth is…an effective exercise habit only takes 30 minutes a day. Most times I can accomplish this while my baby eats her breakfast. Recently, I've been doing yoga Tabata to increase strength and improve my cardio. 
If you are looking to add an exercise routine to your daily routine, consider routines that can easily be completed at-home. Your body and your mind will thank you.
12. GET A MANICURE & PEDICURE
Taking care of your fingers and toes shouldn't be seasonal. Plus, no matter what time a year, having soft pretty toes and smooth cuticles feels nice.
I stopped taking trips to the salon because of the smell, the price, and my interest in finding cleaner products but I've found that a DIY mani/pedi can be just as lush yet cost-effective. 
13. GET SOME VITAMIN D
I'm not talking about drinking milk. I mean spend some time with the sun. Be sure to wear your sunscreen and take advantage of the season. Not only does vitamin D help improve your mood, it increases the melanin in the skin. Enjoy!
14.  TAKE A BATH
How many of us love beautiful bathrooms with garden tubs and separate showers (my hand is raised). I bet it was one of the reasons you chose your house/flat/condo/apt yet we really make time to soak.
Find time to take a relaxing bath and don't be coy plan it. Grab the flower petals, essential oils, and your best robe. Dim the lights hide the kid toys and enjoy.
15. RELAX OUTDOORS
Getting outdoors with the entire family takes effort, patience, and sometimes a whole hour. Find time to step outside alone and enjoy time on the porch.
If you are feeling more adventurous, take a very slow stroll to the mailbox, make every step count and when you get there, admire the mailbox before you return back inside. The fresh air will do you well, so be sure to breathe deeply.
16. BUY YOURSELF SOMETHING NEW
New things can be intriguing and what you buy doesn't need to be expensive. If you enjoy tea or coffee, consider purchasing a new flavor/blend or a new coffee mug.
The idea is to buy something that isn't costly but still offers a bit of fun and adventure.
17. LOOK THROUGH OLD PHOTO ALBUMS
We take photos of enjoyable moments we want to remember. Take time to either scroll through old photos or flip through photo books. A trip down memory lane is a great way to remind yourself of the sweet moments that have led to your current state. 
I love looking back at the first few months of my daughter's life. I can't believe the transformation. It feels like it happened overnight.
18. CREATE NEW PHOTO ALBUMS
Children are a great reminder that time is fleeting. Creating an organized photo album is a great way to keep up with changes and growth of our entire family. 
If all your photos are digital, I highly recommend getting print books or an external hard drive to keep all your photos stored safely.
19. DANCE TO YOUR FAVORITE SONG
Songs have the ability to make you feel good from the inside out. Turn on your favorite dance song (not that slow love song) and dance it out like no one is watching (cause no one will be watching).
You get to feel good and get exercise. It's a self-care win!
20. CATCH UP WITH OLD FRIENDS
If we aren't careful, motherhood can be isolating especially if many of our friends aren't moms. Making time for friends has to be intentional but it's worth the time.
Many of our friends know the woman and not just the mom which means conversations can steer away from mommy talk and that can be refreshing.
21. TAKE A RANDOM CLASS
Learn how to make cheese.
Take a new language course.
Learn how to code.
Do these ideas sound wild? If so, good. Take a walk on the wild side and surprise yourself. Mama, you have so many untapped skills and interests and all it takes is a class to get you passionate about a new subject. 
I took a language course and that led to my service in AmeriCorps and that led to my teaching in Prague. You never know how a class will inspire you. If you are hesitant to take a class outside of the home, due to a hectic schedule, consider online classes…there are tons!
22. PLAY WITH A PET
Animals can bring joy. If you have a pet then you already know the benefits of spending time with furballs and even scaly creatures.
Instead of doing the normal routine, take time to notice how your pet lights up when he/she sees you. It's because you are awesome. Return the favor and take your free time and go all in with a pet play session. You are guaranteed a few laughs.
Animals can remind us that it's the simple things that will make you smile. 
23. MEDITATE
Meditation is great for mindfulness. It only takes minutes each day and the benefits are countless. You don't need to be on a mountain or spa retreat to meditate. Just find a safe space where you can close your eyes and commit to meditating each day. 
There are apps that can assist with self-care through meditation. 
24. HELP A STRANGER IN NEED
Giving feels good and it's good for the soul. You probably don't have to look far to find someone in need. There are soup kitchens, donation centers, and volunteer opportunities where you can provide someone in need a helping hand.
To whom much is given, much is required and as moms, we have been given a lot. 
25. EAT MORE CHOCOLATE
Did you know that dark chocolate is anti-oxidant rich, improves heart health, and cognitive function? Yep. Chocolate is what you need in your life. It only takes a few seconds to throw a good piece of chocolate in your mouth and the benefits are delicious. 
Next time you need some self-care, eat a piece of chocolate. Your body will thank you!
OK. This is my list of self-care tips for busy moms. Each of the tips are practical and can be accomplished in small amounts of time and mama you are worth making time for. 
Have you tried any of these self-care tips? Do you have a few self-care tips that didn't make this list? Share below.
For more self-care and mom content, follow along on Pinterest.