Natural birth or childbirth without medical interventions is often at the forefront of the minds of many pregnant women.
There may be several reasons for interest in natural birth including: 
It may be the loudening voices of natural childbirth educators.

It may be a renewed trust in natural physiological processes and less dependence on unnecessary medical interventions.
Whatever your reason for pursuing an unmedicated or natural birth, there are some things you can do to help you prepare.
Related:
HOW TO PREPARE FOR NATURAL BIRTH
1. Be selective when choosing your prenatal healthcare provider(s).
Having a trusted prenatal healthcare team that has a birth philosophy similar to your own is essential for pursuing natural birth. Not only will they monitor your pregnancy, often they are a source of reliable pregnancy information and can help you determine your risk factors as you progress.
Doing a bit of research on medical providers and getting information and recommendations from people you trust can help guide your decision.
Tip: The earlier in your pregnancy you find your provider the better, this gives you time to make a switch in prenatal care providers, if necessary. Some providers will not accept patients after a certain point in pregnancy.
2. Investigate the hospital or birth center where you intend to give birth
Unfortunately, all hospitals don't offer the same level of care and where you decide to give birth can influence the outcome of your birth.
I know it's possible to have an unmedicated birth in a hospital (personal experience); however, doing your homework to learn about the staff and the facility is good practice.
One thing to look for is your hospital's cesarean or C-section birth rate. While it is medically necessary for some women to have C-sections, this source reports that the procedure is being performed excessively.
For more data on C-section rates by state, see this resource.
For more data on C-Section rates by hospital, see this resource.
3. Get informed
Educate yourself on the process of pregnancy and birth.
Did you know that most women don't give birth on their due date because it's just an estimate? 

Did you know that you can agree to or decline common pregnancy tests?

Do you know about the different stages of labor?

Do you know about dilation and effacement?

Do you know valid reasons that make natural birth risky?
For most of us, who don't work directly in healthcare or study maternal and child health, we don't learn about pregnancy, until we get pregnant.
Even so, you have the right to know what is happening in your body, and having the proper education can help you make informed decisions that support the best outcome for you and your child.
If you are open to taking an online course, consider Birth It Up by Liesel Teen (affiliate link) a labor and delivery nurse who is passionate about educating pregnant mamas. She has a course for mamas aiming for a natural birth and another for those who know that they'd prefer an epidural. You have options!
4. Create a pregnancy plan and a birth plan
Many women create birth plans but fail to create pregnancy plans but, they work well together. Here is why you should consider preparing both:
Preparing for a natural birth requires a healthy pregnancy. (Pregnancy plan)
Pregnancy will last nine months, labor and birth will likely last less than 24 hours. (Pregnancy plan)
During pregnancy, there are more things you can control when compared to birth. (Pregnancy plan)
Birth is more about preparation and letting the process happen; however, in putting together a list of things you do and don't want you're educating yourself. (Birth plan)
Birth plans often include what you want to happen immediately after your baby is born. (Birth plan)
Plan your pregnancy and prepare for your birth with the understanding that flexibility may be required for the best possible outcome.
5. Recruit a support system
A solid support team can help you have a positive birthing experience. Having someone in the room to hold your hand, guide your transition through the different stages of labor, and remind you of the desires outlined on your birth plan in the midst of contractions is invaluable. 
Your support person can be your family, friends, a doula, or any combination of people who have you and your child's best interest in mind.
If you are unfamiliar with the role of doulas, or women (typically) who are trained to offer non-medical support through birth and the postpartum period, this is an excellent resource to learn more.  
6. Prepare yourself mentally for labor
Labor and birth will likely be painful but that doesn't mean it can't be a positive experience, I write more about that here. Instead of focusing on the pain, learn techniques that can help you cope. 
Learn breathing techniques

Learn the benefits of  different positions

Use affirmations
A pregnancy class or an in-person Lamaze class can be effective resources to help you learn different ways to manage your breathing, engage different positions to support the process, and ways to relax in-between contractions.  
7. Learn what relaxes you
Stress is not just a mental affliction. Stress can have a negative effect on your entire body. Find ways to relax and avoid stress throughout your pregnancy and during your labor.
This varies from person to person. But things that I found to be beneficial include:
Music

Baths

Showers

Massages
Your body language changes when you are tensed and tight, so go for loose and relaxed whenever possible, especially during birth. 
8. Prepare to labor at home mindfully
When a contraction or surge hits, it is easy to feel the pain and immediately rush to the hospital. If you have a health concern, this is understandable. However, if everything is normal, consider laboring at home as long as possible. 
If you get to the hospital too soon (as determined by your medical providers), you may be asked to return home and car rides during contractions are absolutely no fun.
Tip: Take into consideration distance from your birthing center and any specific personal care needs you may have.
9. Focus on labor in the present
Plan to focus on the present while you are in labor. Don't think about previous contractions or the next contraction. Focus on the current contraction. When a contraction is finished, mentally reward yourself for making it through another contraction. 
Don't try to anticipate the next contraction, think about it only when it arrives.
Also…
Try to remember that your contractions will not last forever and the pain will not last forever, even if it feels like it in the moment. You will eventually get relief and when you do, you'll experience the greatest joy of birthing your child.
10.

Commit and put safety first
Without commitment, it's difficult to follow through when labor gets challenging (and it will). Be determined in your pursuit of natural birth but not to the extent that you wouldn't listen to reason and wisdom if your plans have to change for the safety of you or your child.
There are benefits to having a natural birth but if you end up needing an intervention, that doesn't mean you've failed in any way! We make plans but our children determine what ultimately happens.
---
Final Thought
Birth is a natural process and for many low-risk pregnant women, birth without medical interventions is can be accomplished safely for both mom and baby.
In your pursuit of natural birth, it is necessary to be mindful that some interventions in specific circumstances can be helpful and or life-saving. Surround yourself with trusted care providers so that you are aware and open to changes that become necessary during labor and delivery.  
Before you go…
If you are pregnant, CONGRATS!! I wish you love, health, and light on your journey. Also, I invite you to download a free copy of The Pregnancy Checklist. It's 25 steps you can take to prepare for birth intentionally.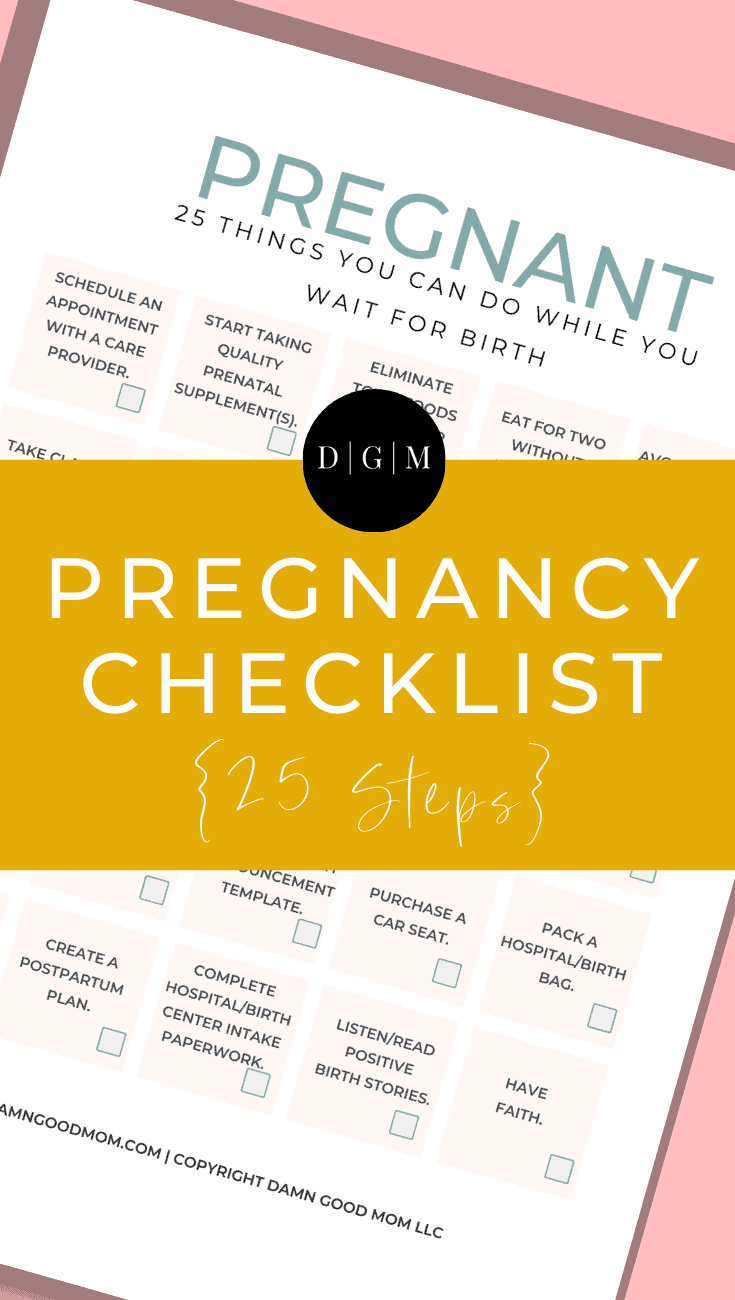 GET MY FREE DOWNLOAD NOW ↠ 
For more pregnancy content, be sure to follow along on Pinterest.