Babies get their teeth at different times but the one thing that remains the same is the physical pain for the baby and mental anguish for the parents who can't bear to see their child suffering.
If you have a teething baby right now, I'm sending you positive vibes because I know you need them.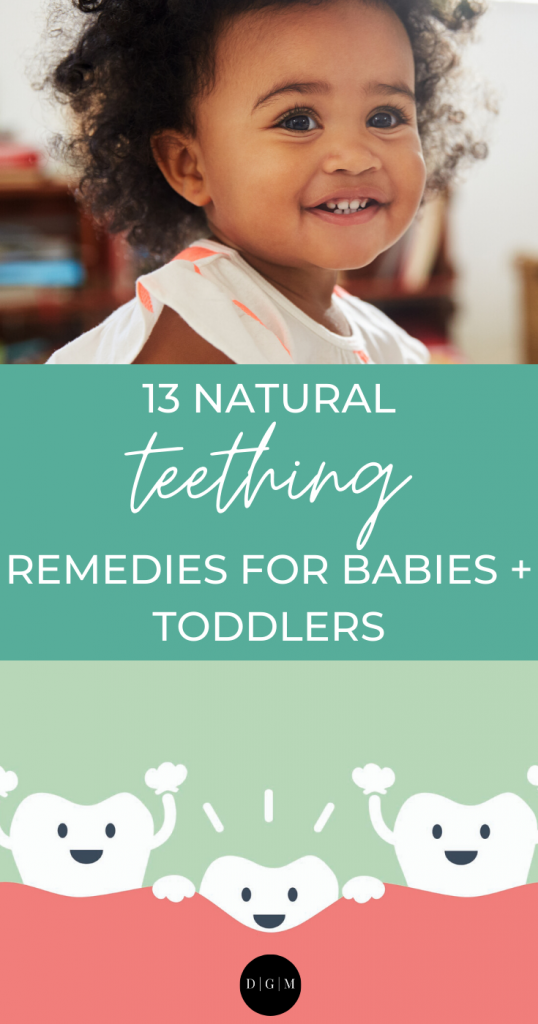 This post contains affiliate links, please see the Disclosures for more information.
Here are some natural teething methods you can learn more about that may help you and your baby during the teething phase. 
13 Natural Remedies to Soothe Your Teething Baby
1. Frozen Breast Milk
Breastmilk has amazing health qualities and freezing it for your little one may provide the relief he or she needs from teething pain. The great thing about this remedy is that you already know that the milk is safe and nourishing. You can use a baby popsicle mold or popsicle mesh to making serving it to your baby easier.
2. Frozen Popsicles
You can make popsicles with other ingredients, even if breastmilk isn't available. 
Recipes:
Water and fruit

Coconut water and fruit 

Juice 
As long as the ingredients are safe, you can get creative with what you choose to make your DIY popsicles. Use kid-friendly popsicle molds and you are good to go.
3. Frozen Fruits & Veggies
There are several fruits and vegetables that you can serve to your baby frozen or chilled to help with teething. Some of my daughter's chilled favorites include:
Bananas

Pineapples

Strawberries

Carrots

Apple slices 

Applesauce (Homemade is really easy and faster than you think)
A tool to consider when serving these chilled fruits and vegetables to your baby is the Baby Fruit Feeder Pacifier by Ashtonbee.
4. Chilled Washcloth
Sometimes, a washcloth partially dipped in water and placed in the freezer can provide the relief your baby needs. Be sure to use a protective covering during freezing and voila! You have a cloth that your baby can chew.
5. Teething Biscuits
You can buy teething biscuits online or in your local grocery but there are tons of great homemade teething recipes try too. This ensures you are happy with every ingredient.
Teething Biscuit Recipes:
6. Apple Teething Rings
They may be called teethers but they are simply sliced and baked apples. The pressure on the gums can be soothing. If your little one is old enough, you can add cinnamon for flavor. PS, don't be afraid to eat a few of these treats yourself. Teething or not, apples are good and good for you. 
7. Silicone, Rubber, and Wood Teethers
There are tons of teethers on the market but your baby will decide which one he or she likes the best. Here are a few options for silicone, rubber, and wood teethers to consider. 
Raz-Berry Teether (Silicone)
CaaOcho 100% Pure Rubber | Sola the Goat
Find them on Amazon and check out this cute tutorial for making your own wood teether.
8. Boiron Camilia
Boiron Camilia is described as teething drops for painful gums. Many parents like this as an alternative to over-the-counter drugs and a quick glance at the more than one thousand reviews is encouraging for any parent searching for teething relief for their baby. 
9. Earthley Teeth Tamer
If your child is four months or older, you can look into the Earthley Teeth Tamer product. The product list is short and the said to be fully organic without any essential oils and alcohols. It claims to offer relief from pain, irritability and drooling as a result of teething or toothaches. 
10. Gum Massages
The Mayo Clinic website suggests simply massing your babies gum as the pressure can help with the teething discomfort. If your child allows it, you can massage the gums with a clean finger, a moistened gauze pad, or a massager like this one. 
11. Essential Oils
I did some research in preparation for this post and found that some parents claim to have success using essential oils like copaiba directly on their babies gums. 
Using essential oils on babies should be done with extreme caution as they are most often highly concentrated. For this reason, ensuring purity, proper dilutions, ratios, and overall safety should be a priority before using any essential oil. 
If you choose this route, it's highly recommended that you talk with a trusted medical provider and someone well educated about essential oils. I'd also direct you to this resource to read more about essential oils and baby safety. 
12. Amber Teething Necklaces
Proponents of amber teething necklaces believe that the amber in the necklace releases small amounts of a pain-reliever or anti-inflammatory that is absorbed by the skin and into the bloodstream that helps soothe and calm teething babies. 
Although many parents swear by the effectiveness of the amber, there are medical and public health professionals who disagree with the product claims and discredit them for lacking scientific evidence. Health professionals also warn parents that the amber necklaces present a safety (choking and strangulation) hazard. 
Things you should know if you choose to use amber teething necklaces:
Amber necklaces are meant to be worn while your baby is awake and supervised.

The necklaces are not for chewing or gumming.

The pain reliever believed to be responsible for the soothing is called succinic acid but is present in very small amounts.

There are tons of low-quality amber necklaces on the market.

To avoid the choking hazard, some parents use the necklaces around the ankle and wrist.
Also for more information, take a look at  The Natural Mama's Guide to Amber Teething Necklaces and HealthyChildren.org, Amber Teething Necklaces: A Caution for Parents. It's good to have input from both sides to make the best-informed decision.
13. Mom Teething Necklace
If you are concerned about the amber teething necklaces for baby to wear, or just want another option, there are teething necklaces for moms to wear. This one below is BPA-free and FDA approved. 
Another popular option for moms is this silicone teether. 
---
Alright mama, I hope at least one of these teething remedies bring you and your baby some relief. You may decide to try more than one remedy just remember that all the options listed here require the child to be supervised. Teething can be a difficult time for any family and it may not seem like it right now, but this phase will not last forever. 
If you have a teething remedy that has worked for you, share below in the comments and be sure to follow along on Pinterest.