Sometimes, grandparents give their grandchildren interesting gifts – The Happy Grand Piano by Hape is on that list.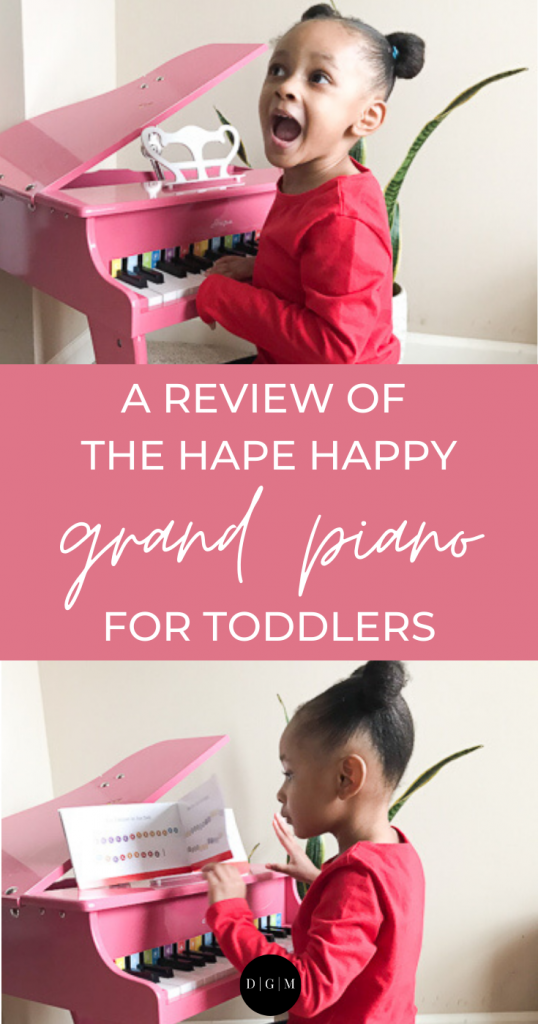 On one random weekday, my mom dropped the Hape Piano off at our front door and disappeared. She wasn't there to see her granddaughter's reaction when it was set up and she has since found a reason to get off the phone while my daughter plays her tunes for more than a few minutes.
I call it an interesting gift because would she buy it for her house? Is this payback? Punishment? I don't know.
And…
If I'm being completely honest I love to hate the darn thing.
A Review of The Hape Happy Grand Piano for Kids
THE TODDLER PIANO IS BEAUTIFUL
I can't deny that the piano is beautiful. Our Happy Piano is the color of a beautiful pink flower and the glossy finish makes the piece difficult to ignore in any space. I can't help but smile when I see her sitting at the toddler size piano.
THE FRAME QUALITY IS DECENT
The piano frame quality is decent. What do I mean? It's not a heavy product and the current placement on carpet definitely helps keep it feeling sturdy enough for my daughter to sit and play. It's what I would expect of a toy piano for toddlers. It wouldn't be acceptable for an investment piano you'd want to last for years and years.
IT'S THE RIGHT SIZE
My daughter is tall and finding things that are age-appropriate and size-appropriate can be challenging. She outgrew many of the products for two-year-olds a long time ago. But this cute little piano is the perfect fit. She can be comfortable when she plays – even if I'm not comfortable hearing it.
THE SOUND QUALITY ISN'T GOING TO IMPRESS
If you're expecting beautiful sounding keys, you'll be disappointed. I don't have a piano and I don't get to hear them often (on their own) but I know this thing is off-key. Am I okay with it? Yes. My kid just wants to make noise and I'm glad she can continue to develop her interest in making music and learning how to read music a bit.
IT COMES WITH A MUSIC BOOK AND A KEY STRIP FOR LEARNING
I don't currently play any instruments but when I was in middle school, I played the clarinet. The only thing I remember is elephant's got big dirty feet. So. The idea of my daughter being interested in music is exciting. Plus with my background in psychology and youth development education, I'm aware that music is a valuable way to support a child's processing skills and other cognitive abilities.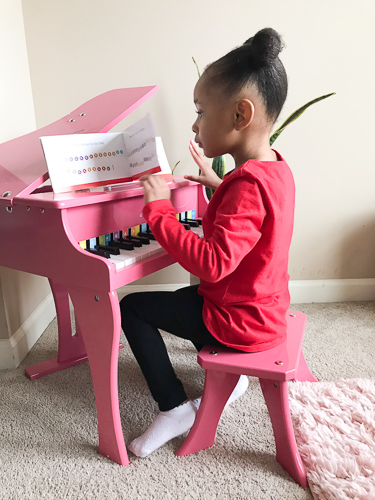 IT'S FUN
I don't always love the sounds that this little piano makes but I love that it's fun. So. While it's not the perfect piano, it is a great toy piano for my toddler.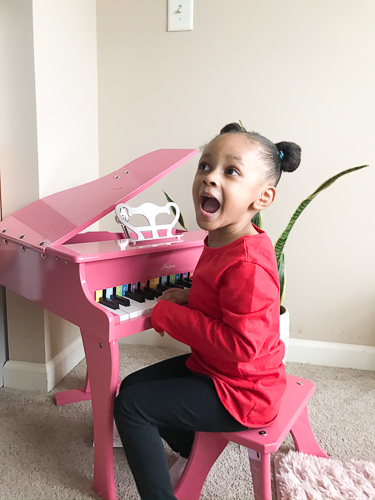 If you are looking at getting this piano, I'd recommend it. Not because of the price (mine was a gift), or because it's the best-crafted product (it's not), or because it's pretty (it's so darn pretty) but because I want other children to know the joy that my daughter experiences each time she plays.
Interested in purchasing The Hape Toddler Piano? Use my affiliate link below to buy it on Amazon.
Do you have a Happy Grand Piano? What has been your experience? Do you love to hate it too?