Who says learning the alphabet has to be boring?
Honestly, I never thought of school as fun. I remember sitting at a desk feeling antsy and bored. I'm sure that wasn't the case for pre-k or kindergarten but I don't remember that time.
So…
My adult self has committed to helping keep my kid learning in the most engaging ways possible – especially during the early years. That means lots of play, lots of manipulatives, and a bit of online shopping.
Keep scrolling for a list of the products I've used to teach my toddler the alphabet and the corresponding alphabet sounds.
Related:
The Best ABC Learning Toys
This Melissa & Doug learning puzzle checks all the boxes: It's wood, the pieces are the right size (easy to grasp), and the pictures on each piece are a great way to introduce letter sounds to corresponding nouns.
This may be my favorite type of puzzle. It doesn't look like much but the colors are vibrant, the wood pieces are thick, and it was one of the most used tools I used to help my daughter learn the alphabet, spell her name, and become the best little scavenger hunter.
If your kid is ready for tracing this workbook is a great product. The only downside is that once the pages are completed, it can't be used again even though more practice is needed. I could have put the tracing pages in protective covers and use dry erase markers; instead, I created my own tracing printables for more practice learning to write. 
This product was gifted to my daughter and it has helped us practice fine motor movements, word-to-letter associations, and critcal thinking skills. This puzzle is a great addition to any classroom or homeschool room.
Blocks are great toys and when you want learning to feel like play, toys are key. These blocks are colorful, stackable, and have pictures. At first, my girl just enjoyed pulling the wagon, now the blocks are useful for spelling CVC words or matching letter sound activities. 
Flashcards are useful for several games and activities and that's why they made it to the list.
Tip: If you have a Dollar Store near you, check the education section. You may be able to get some alphabet learning flashcards for one dollar!
At first, I thought this game would be a dub and it was with just the fishing poles; however, there is also a magnetic cat that can be used to drag the letter fish outside of the fishing board. My little one loves the cat feature and I love that the board is wood. 
Tip: The fish letters aren't large but they can be used for spelling and matching activities.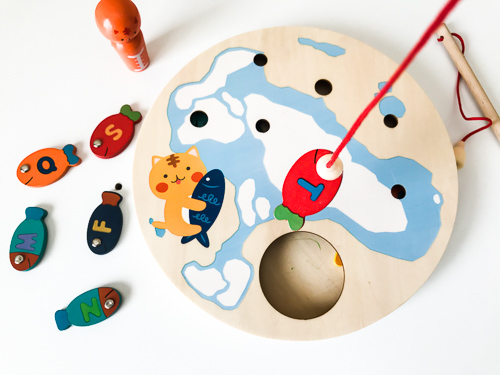 Puzzles of any type are great for working on critical thinking and problem-solving skills. 
This was a favorite in our household beginning when my daughter was three. 
Tip: The letters in this puzzle aren't large but they are all lowercase and can be used with a uppercase/capital printable for matching practice. 
I call these the old school alphabet magnetics. They've been around for ages and are great for all kinds of alphabet lessons.
Tip: Be careful of magnet falling out, especially if you have younger children in the household.
The best thing about the alphabet floor puzzle is the size of the pieces. Although the puzzle can be constructed as a large square it can also be put together in a long line or in various shapes. We love it.
Tip: Have you kid jump to the letters in their name or pair a deck of photos with this puzzle for matching sounds to letters. 
I could not end this post without including the alphabet abacus. It was one of our first letter learning purchases because the pieces could disappear on you. There are many different versions of the abc abacus but I enjoyed having a wooden one.
---
Learning happens through play and this list of alphabet learning toys should be a great start for finding products that make your classroom or home a place for education and fun!