After months of 90+ degree days, I'm excited we get to enjoy milder weather and chunky sweaters. Ice-cold lemonade is being replaced with comfort foods and I want to share some nourishing dinner ideas.
So…
Whether you are growing a baby and an organ (the placenta) or just in search of easy plant-based meals your entire family can enjoy, you're in the right place.
The best thing about these recipes is that they are nourishing and easy to prepare.
Don't worry, you will not have to source your ingredients from a rural corner of Morocco or spend hours in the kitchen. Don't you hate those recipes?
Let's get right to it.
1. Chickpea Curry
Approximate Cook Time: 10 Minutes
I'm not a picky eater but I have standards. Which is why most curry dishes are my best friend. I can keep the same base and change the sauce and voila! I have a 'new' meal. No complaints from the husband about eating the same meal over and over. An added perk is that meals like this one will make your family think you spend ages in the kitchen when you only need 10-minutes!!
The beauty of this super quick meal is that it has protein-packed chickpeas, folate because of the spinach, and healthy fats are included via the coconut milk. Added spices like turmeric offer nice fragrance, color, and flavor. Can you tell I'm a visual eater?
This recipe is great as-is; however, I often replace white rice options with brown rice. Do what pleases you. Now is a great time to indulge in this creamy curry dish.
2. Lentil Soup
Approximate Cook Time: 50 minutes (faster if you used pre-soaked lentils)

This soup is packed with protein (lentils), vegetables (carrots, mushrooms, celery), and even boosts a bit more nourishment with a base of coconut milk and vegetable broth. And just for a pinch of more goodness*, it's topped with fresh parsley.
*If you are pregnant, please be mindful of your parsley consumption as it has been known to cause undesirable outcomes when consumed in large amounts.
You can switch parsley for another leafy green to boost the nourishment. I love grabbing handfuls of leafy greens and adding them to warm dishes because they wilt easily and help me consume more green vegetables!
3. Carrot Soup
Approximate Cook Time: <10 Minutes
FOUND ON RECIPES FROM A PANTRY
I'm the kind of girl that eats soup in the Summer. If that's not your thing and you've been waiting for cool weather to indulge in soup, this may be the one!
Carrots are often celebrated for their beta-carotene which gets converted to Vitamin A in the body; however, carrots offer more vitamins and minerals than many people realize. If you want to know more about the awesomeness of carrots, this is your resource.
If you're pregnant, you'll be pleased to know that Vitamin A benefits your baby's eye, bone, and skin development. Slurp this Fall dinner recipe slowly. 😉
4. Spicy Vegan Chili
Approximate Cook Time: 30 Minutes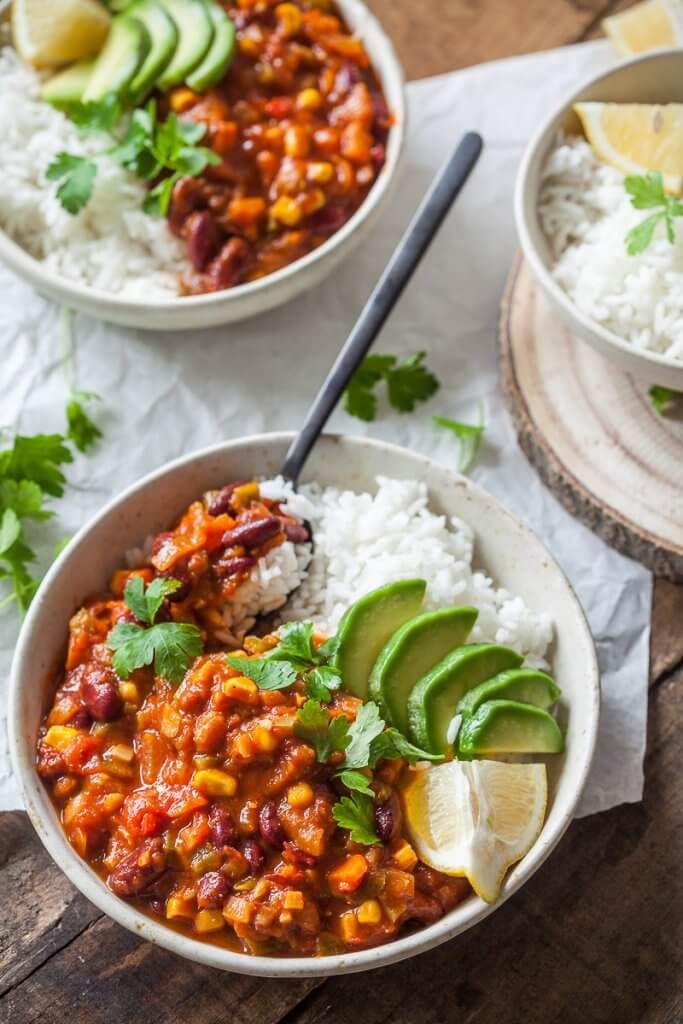 Finding a good plant-based chili recipe isn't an easy task but this appears to have all the goods. Beans (check), tomatoes (check), avocado (check).
This dish is serving up the macronutrients like it's nobody's business. Protein (check). Carbs (check). Fats (check). And to add goodness to goodness there is spice. If you don't like spicy food you can skip the red chili. Also if you prefer (I do), you can use wild rice or brown rice.
These Fall dinner ideas are plant-based and easily customized to your taste. That means once you know what you like (or don't like) you can make them your own which is the fun part!
Bonus: Each meal is meal prep and freezer-friendly which is perfect for anyone needing meals for the postpartum period.
Enjoy!