Are you worried about pregnancy stretch marks?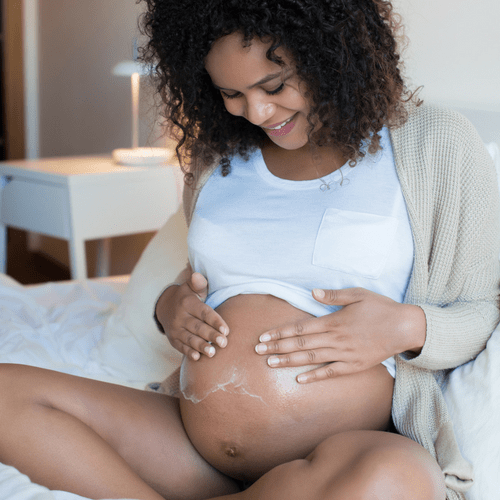 This post contains affiliate links. Please see the disclosure page for more information.
Stretch marks are a common concern for pregnant women.
While stretch marks can represent an amazing transformation that has happened in our lives, you may not view them as pretty.
In my experience, getting rid of stretch marks or minimizing their appearance completely isn't easy, so a good plan of action is focusing on prevention first and treatment second.
THINGS YOU CAN DO TO TRY TO PREVENT PREGNANCY STRETCH MARKS
1. STAY HYDRATED
Drinking adequate amounts of water has many benefits, especially during pregnancy.
Nine months isn't a long time and your baby and your belly will be growing rapidly. Taking the steps to avoid dehydration will help maintain your skin's elasticity.
2. EAT WELL
There are foods that help boost collagen and improve skin health.
Beans, lentils, raisins, and bananas are great sources of zinc which are known to support collagen formation

Carrots sweet potatoes and pumpkin are great sources of vitamin A.

Oats, nuts and seeds, and avocados can boost vitamin E.
A balanced diet is not just great for the skin, it's great for your entire body. Check out a list of 38 nutrient-rich foods to support your pregnancy.
3. KEEP MOVING
Staying active increases blood circulation which is how all the good stuff (water and nutrients) you eat gets shared throughout the body.
I worked until two weeks before my due date and stayed active by walking the parking lot and taking the stairs (and there were lots of stairs). I believe it helped.
You will want to check with your medical provider before starting an exercise routine.
4. STAY MOISTURIZED
Letting the skin get dry may be asking for trouble. Find products to keep your skin moisturized and supple. Check out the list below.
---
7 BEST PREGNANCY STRETCH MARK PRODUCTS
Bio Oil– Some women swear by bio-oil. According to Amazon, it's the "#1 selling scar and stretch mark product in 18 countries and winner of 224 skincare awards".
Mederma Stretch Marks Therapy– It's a paraben-free product that claims to perform in 4 weeks.
Palmer's Products – A well-known brand that offers a Tummy Butter and a Massage Lotion for stretch marks.
Body Merry Stretch Marks & Scars Defense Cream– It's a cruelty-free and safe body butter that is unscented and full of anti-oxidant rich ingredients.
The Spoiled Mama Tummy Butter for Stretch Marks– It's vegan, organic, and toxin-free. It claims to prevent new stretch marks, fade they old ones, and soothe the skin.
Basq Advanced Stretch Mark Butter– It has a 2018 award from The Bump for being "A stretch mark cream that actually works". The website also reports that it is "Free From Parabens, Phthalates, Mineral Oils, Sulfates, and Artificial Colors. Allergy and Irritant Free".
OY-L Body Butter– This product isn't specifically targeted to stretch marks; however, it is a butter with all-natural, non-toxic ingredients that are 'ultra-hydrating'.
ANOTHER NATURAL WAY OF MOISTURIZING TO PREVENT PREGNANCY STRETCH MARKS
Coconut oil from your kitchen can be used as a moisturizer. I slather coconut oil on everything. When I want something heavier, I will add raw shea butter. Both products can be found in raw and organic forms.
No matter what you choose, be sure to pay attention to the ingredients. The skin absorbs what we slather on our bodies, so it is better to choose products that are non-toxic and safe for your growing baby.
WHAT TO DO IF YOU GET STRETCH MARKS (EVEN WHEN USING STRETCH MARK CREAM)
Every woman has a different set of genetics and environmental factors that make it impossible to know whether or not stretch marks can be completely avoided. I moisturized, stayed hydrated, and ate well during pregnancy and had the experience of getting some stretch marks.
Here are my two tips for you, if this happens to you too.
1. BE PATIENT
Many of the stretch marks faded a few months after giving birth. But as my stomach deflated so did the marks. and The ones that remain, well…they are barely visible and they are now part of my journey.
2. DON'T SWEAT IT
I had to learn how to fall in love with my postpartum body and heck, this body grew a baby! There is no reason for me not to love it.
If you are growing baby, your body is working extra hard and it deserves love and not criticism. Your body is beautiful, stretch marks will not change that. Do what you can to prevent and treat stretch marks but fall in love with the body that grew your family.
For more pregnancy and new mom life content, follow along on Pinterest.