If it's time to start baby-proofing, that likely means your baby is on the move. Congratulations and good luck!
It's an exciting time but it can also be scary. Everything can seem like a safety hazard but hopefully, this post will help you get your home safely childproofed on a budget.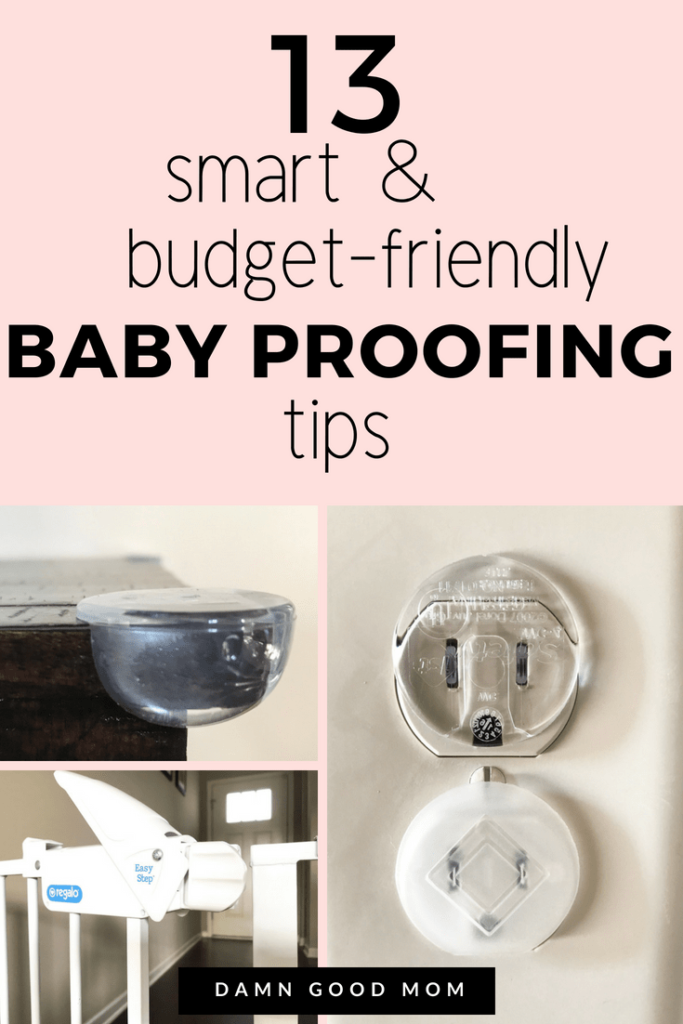 This post contains affiliate links, please see the Disclosures page for more information.
13 SMART & BUDGET-FRIENDLY BABY-PROOFING TIPS
1. USE NATURAL CLEANING PRODUCTS
Many cleaners contain chemicals that are dangerous for children and adults. Opting to use natural cleaners can help reduce the chance of children getting access to dangerous products (Although too much of any product can be a hazard).
Natural Cleaners:
Vinegar

Baking Soda

Lemons (juice)
2. STORE DANGEROUS PRODUCTS ON UNREACHABLE SHELVES AND CABINETS
Many people including myself keep cleaning products, sprays, and candles in easy to reach cabinets. Before having my baby, I kept my cleaners and random household items under the kitchen sink. I've since moved all these products to high unreachable cabinets. I know I could have just used locks but it gives me peace of mind have them up on high.
3. PREPARE FOR ACTIVITIES
It's a no-brainer to prep for outings but it's important to prep for at-home activities too.
Planning for bath time? Make sure you have towels, toys, non-slip bath mat and anything you need so you never need to leave your child unattended.

Planning for playtime? Grab everything you need for the activity. Needing to search for pieces, parts, batteries or gadgets may result in less attention on your child.
4. VACUUM & SWEEP OFTEN
Parenting means lots of straightening up and cleaning because children find any and everything on the floors and in the carpet. Vacuuming and sweeping can help you keep a clean home and small items you may not notice from your curious child.
5. BE AWARE
Keeping children safe can be a mental job, meaning that parents often require a keen awareness of environment, toys, products, and sometimes other people and children. It can be mentally exhausting but awareness is one of the main things that keep our children most safe.
Is that hair bow a potential hazard?

Can the baby reach the drawer?

Is that cracked or broken toy harmful?

Is there lead in the environment?

Is that other child able to cause injury?

Can that shoe get caught on anything??
6. USE OUTLET PLUGS
We use two types of outlet plugs. There are these really inexpensive plastic outlet plugs and these sleek looking ultra clear outlet plugs. Both serve the same purpose and work well but you may like the look of one over the other.
7. INVEST IN QUALITY BABY GATES
We use two different types of baby gates. My absolute favorite is the Regalo Easy Step Walk Thru Gate. We have one separating the living and dining room area of our home, which prevents the baby from getting to the front door.
We purchased another to put at the end of our upstairs hallway, this one prevents the baby from getting to the top of the stairs.
Most babyproofing stuff tends to mommy-proof me out too, but not these gates. They are easy to use, we didn't have to put holes in the wall, and even when my daughter gets to them, there is no worry about her smashing her fingers.
Another style of baby gate we use is this one. It's not as sturdy as the Regalo but it's perfect for keeping my daughter from climbing the stairs unattended.
8. USE CORNER PROTECTORS
When little people are walking around the corners of everything can be an issue, especially when speed is involved. For our square tables and desks, we use corner protectors. I opted for the ultra clear but they are bulky and easy to see but they get the job done.
9. USE CHILDPROOF CABINET LOCKS
We purchased magnetic childproof cabinet locks. Honestly, this was a purchase I wasn't sure of because who wants to need a magnet to get in each cabinet?
We use the magnetic locks and here is what you want to know:
If installed correctly, the magnetic locks work well.

You will need to not lose the magnets that come with the locks, which is easy to do.

If you drop the magnets, they easily come apart. We used nail glue to keep them together permanently. 😉

Before you get used to them, you may find yourself moving the magnet around to find the latch, which can be super annoying. But, once you get used to it, it's fine.

Your guests will dislike them.

You may forget about them on occasion and pull too hard on your cabinet. When this happens, we just reinstall.

It's nice that you can't visually see the lock from the outside.
If magnetic locks aren't your thing, there are multi-use childproof safety locks that you can use.
10. TRY TOILET LOCKS
If keeping your kid away from the toilet bowl is an issue, there are these childproof safety locks that can be used on toilets, cabinets or doors.
11. CONSIDER NIGHT LIGHTS
The things about being a new parent is that you'll be up frequently during the night. It's dark and you may not want to turn on the room lights. For these instances, we use night lights. We purchased ours from IKEA but there are tons of places to find inexpensive LED lights.
I like that I can peek in on my daughter and watch her breathing (yes, I do this because I'm a mommy weirdo) without her waking up.
Also, some of the night lights provide just enough light for me to change a dirty diaper/nappy without turning on the main light and fully waking the baby. Tip: If possible place the lights near the baby gates to avoid tripping.
12. USE DOOR STOPPERS
Door stoppers help prevent little people from smashing their fingers and toes. I've seen mommy hacks where people use cut swimming noodles but if you are looking for a less colorful option, these white door stoppers can do the job.
Currently, we don't use door stoppers. For now, I just keep doors closed. I'm sure this will not work for long, so these will be in my cart soon.
13. USE DOOR KNOB COVERS
These doorknob covers are inexpensive and extremely well rated on Amazon. They prevent children from being able to open the doors, while still providing parents easy access to the doorknob.
---
WHEN DO YOU NEED TO BEGIN BABY-PROOFING?
Childproofing your home can be a gradual process. I do everything I can to avoid clutter and prefer to buy things as I need them. For example, there is no need to have cabinet locks for a newborn but as soon as my baby started crawling, I started using plug protectors. Then, when she started walking, baby gates and corner protectors went up.
Each child develops mobility at different times, so, parents are the best judge of when each babyproofing measure needs to be taken.
Are you at the stage where you are childproofing everything?
What products do you love?
Follow along on Pinterest for more new mom and baby content.