Mint Mobile is a budget cell phone carrier that offers great features and affordable plans. But… Are phone bills less than twenty dollars a month too good to be true?
Let's talk about it. 
For too long, the cell phone bill for my family was often the second highest bill we paid each month.
Over the years, we had considered less expensive phone service options but for various reasons nothing was ever good enough to motivate us to switch providers. 
How is that possible? 
Well…We had been with our provider for more than a decade and were consistently grandfathered into a plan that was lower than the other big competitors but high enough to still be uncomfortable for our amount of usage.
Then, we learned about Mint Mobile. Initially, it was exciting to find a company that could help us save money on our phone bill but the prices seem too good to be true. I mean $15/month in a market space where hundred dollar bills are normal feels a bit suspicious, right? So, we ignored the opportunity to give Mint Mobile a try.
Fast forward some months and Mint Mobile was on our radar again. How? Only the internet algorithm know. But, this time, we decided to sign up via a trial offer that required no commitment.
If you are curious or seriously thinking about making the switch, this post is for you.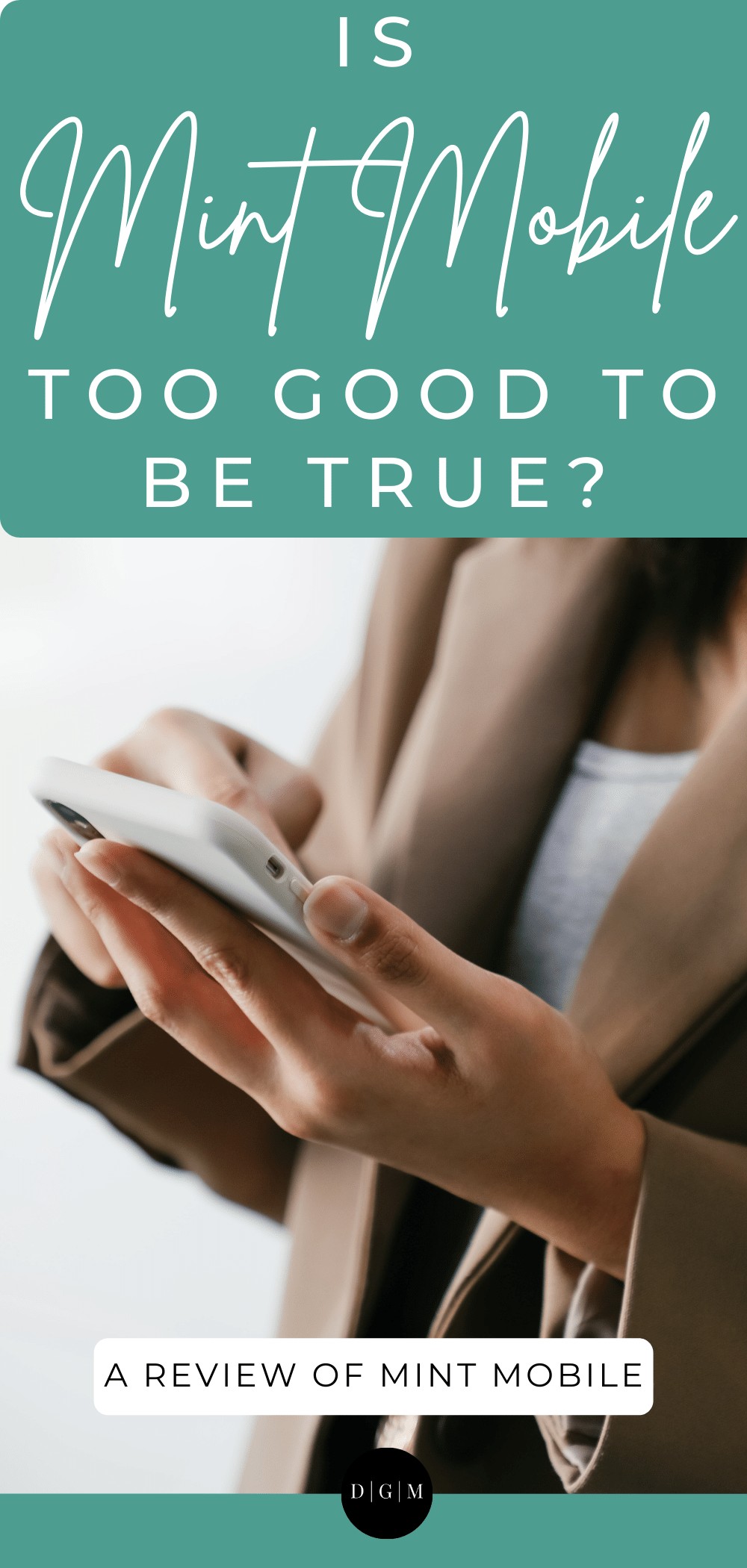 This post contains affiliate links, please see our disclosure policy for more information.
Related: 15 Best Stay At Home Mom Jobs That Actually Make Money
A MINT MOBILE REVIEW: ARE THE PRICES TOO GOOD TO BE TRUE?
WHAT IS MINT MOBILE?
No, it's not a peppermint air-freshner for your car. That's what I think about. Mint Mobile is a prepaid wireless cellular service provider that operates using the T-Mobile network. 
ARE THERE SERVICE CONTRACTS?
Nope. Mint Mobile operates without requiring service contracts. 
WHAT SERVICE PLANS ARE OFFERED?
The service plan you choose will be based on the amount of data you use. The lowest tier offers 4GB of data for $15/month. 
If you require more data, expect to pay more per month. The upfront cost of the unlimited data plan is $30/month.
IS PAYMENT MONTH-TO-MONTH?
Payments are available in three month, six month, and twelve month increments AND after the initial (new customer) offer, committing to more months is how to get the most savings.
For example:
As a new customer, you choose to try the 4GB data plan at a rate $15/month for three months, you can expect to pay $45. Psst. Text and talking (minutes) are unlimited with each of the plans. 
However, after the initial offer, if you want to stay with the $15/month pricing, you'll need to commit to the twelve (12) month plan. If you opt for six (6) months the monthly price increases to $20/month or three (3) months for $25. 
IMPORTANT CONSIDERATIONS TO MAKE BEFORE SWITCHING TO MINT MOBILE
Here are some things to consider before switching to Mint Mobile:
 Buy a phone or bring your phone? 
Mint Mobile allows you to purchase a phone along with you service plan or you can bring your own phone. If considering bringing your own phone two conditions must be met. 1. Your phone must be compatible with Mint Mobile and 2. It also must be unlocked. An unlocked phone is usually a phone that's completely paid off and the mobile number is not associated with another mobile service provider. You may also be able to keep your same phone number. Check your phone's compatibility.
If you want to purchase a phone along with your coverage you'll want to consider the actual savings you'll get because you're essentially paying for the phone and coverage. Having a paid off phone will maximize your savings.
 Service Coverage Availability
The overall coverage map for Mint Mobile is vast but there are some typical coverage location gaps to check. Check coverage map by zip code. Also try other zip codes that you frequent, i.e. you work in a different zip code than you live.
Mint Mobile has an mobile app for Android and Apple users. We've used the Mint Mobile app for Apple and it has a very clean, sleek, look and it's easy to view data usage. The one downside of the app is it does not appear to update data usage in real time (a little lag but not so much that you'd be surprised at the data you've just used 30 mins. ago). You can also manage a family with multiple lines within the app by designating one user as the manager for the family.
A REAL LIFE BREAK DOWN OF OUR INITAL PHONE BILL SAVINGS FROM SWITCHING TO MINT MOBILE
First, let's breakdown what was in our plan. Unlimited data, unlimited talk/voice, and unlimited text, for two lines of service. The total bill, including taxes and fees, was around $90 each month.
At the time of this posting, Mint Mobile has an initial "kick the tires"/new customer trial for $15/mo for three months. With this trial you are committing to $45 plus taxes and fees for three months of 4GB data & unlimited text and talk. So we gave it a go for three months!
Let's breakdown the total cost for both lines of this trial.
Our bill:  4GB Plan | 3 Months |  2 Phone Lines | $15/Month per Line
$15 per person for 3 months plus taxes and fees came to a total of $103.36. In math that's….$15 per person x 2 people x 3 months + taxes & fees = $103.36. (Taxes and fees totaled 13.36). See below for itemized taxes and fees. Those are the expenses we forget about sometimes.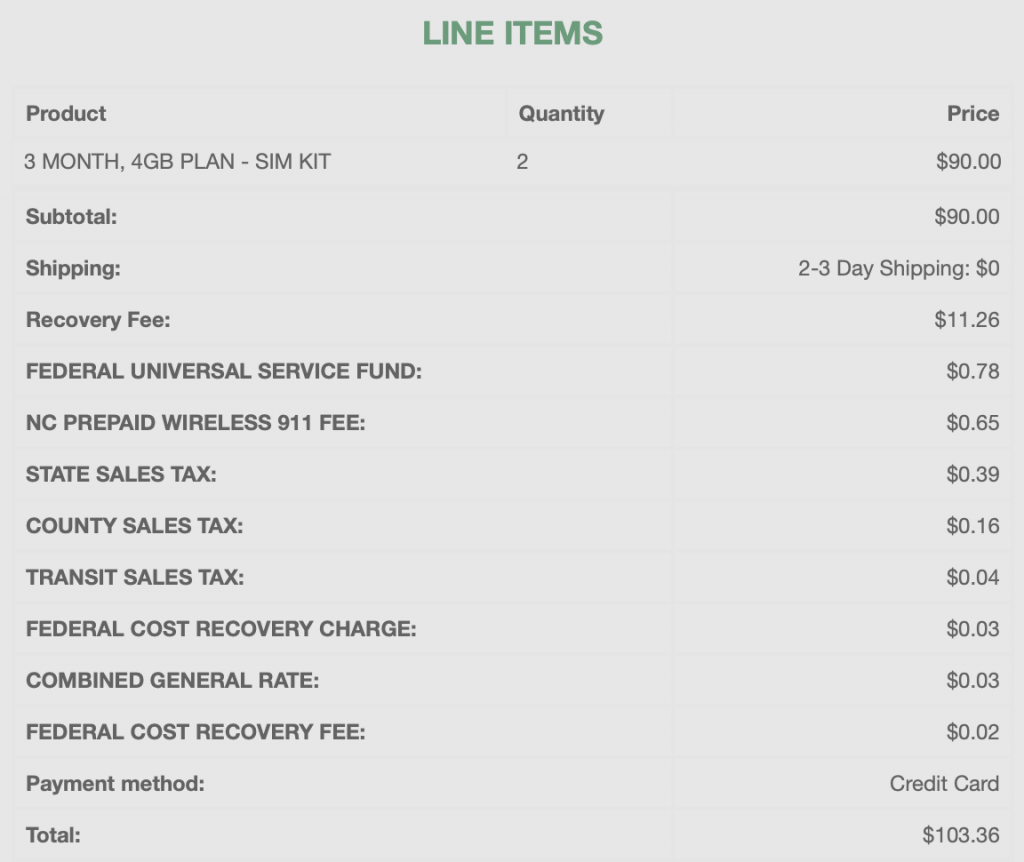 Note: After the initial three months, the lowest 4GB plan increases to $25 per month for three more months. If you want to keep the $15 per month you'll need to commit to 12 months. There are other longer term plans that can save you more, if you sign up for more than three months. 
Here's a savings comparison chart between our previous mobile provider and Mint Mobile. We saved $275.64 over the course of six months, that's about $46 saved each month! We could have saved even more if we went with one of the other longer term plans.

A few things I'll note here. The glaring difference between our previous provider and the Mint Mobile plan we we chose (besides the cost) is the data per month. 4GB vs. unlimited in our case could not have been worth it but we tracked our data usage prior to switching and it averaged around 6GB of data used each month.
This number dipped dramatically during the pandemic, when we were all at home and just utilizing wi-fi. So the lowest cost 4GB plan works for us.
Before committing to a year, we wanted to do the trial but we calculated that we would still have saved $370 over the course a year using Mint Mobile's 1-year unlimited data plan! 
OTHER FEATURES WE CAN'T REVIEW YET
1. We haven't used the free mobile hotspot that is included in each of the plans. 
2. We haven't had to call anyone in Mexico or Canada but apparently it's free no matter what plan you choose.
3. Due to Covid, our travel has been more limited than usual so getting a grasp of coverage while traveling hasn't been easy.
IS MINT MOBILE TOO GOOD TO BE TRUE?
Nope. It is what it. A low frills phone service that has delivered what we want and need at a price we enjoy. As new customers, weren't convinced, so held on to your former service during the trial. After the trial, we committed and now we are happy Mint Mobile customers. 
We highly recommend the service but also want you to be comfortable before you go all in. So. Test the service during the trial and find out if it works for you and your family. 
Related: 18 Tips for Frugal Living So That You Can Stop Living Paycheck-to-Paycheck
FINAL THOUGHTS ON MINT MOBILE
It's legit! And, we are telling everyone we know about it!
The mobile service plans are very affordable and you can save a lot of money each month if you bring your unlocked paid off phone.
We have not experienced any voice call drops or lag in data compared to our previous, larger, big name, mobile service provider.
There is also a great app that has a family manager feature for multiple lines.
Overall, if you are looking to save on your phone service plan we think Mint Mobile is a great option to consider. Signing up is easy and can be done in minutes! Start your trial today!
We are all about helping parents organize and manage family life efficiently. We hope this information helps you make a decision that serves you and your family well. Cheers.