1 in 4. 1 in effin' 4. I get it. Miscarriage, aka the loss of a pregnancy before the 2oth week, is common. That doesn't stop it from being devastating.
Getting Pregnant
My husband and I decided we wanted to invite another baby into our hearts and home and so we started trying. I was doing all the healthy things to prepare for pregnancy and by the third-ish week in January, I had lower back pain, swollen breasts, and mild nausea.
I couldn't be pregnant so soon, could I?
It had only been a few weeks/one cycle since we started trying BUT I had PMS-like symptoms and… my boobs. They were amazingly plump and tender, something was up. I suspected pregnancy and sent hubby to the Dollar Store for some pregnancy tests.
He brought back four pregnancy tests and I took three STAT. Each of the test results read negative (one line). But, I know my body. These PMS-like symptoms were way too early for it to be my period and again…the boobs??
Instead of stressing, I held off on taking the last pregnancy test. The hormone that many at-home pregnancy tests measure is HCG and it takes time to build up in our system over the first several weeks of pregnancy. Waiting to take the last test would give my body more time to produce the hormone.
After a week and a half or two, I still had the amazing boobs, mild bloating, a lower backache that was relentless, and I had just missed a cycle.
It was time to take another test.
I took the pregnancy test and it read positive (two lines) immediately. I was too excited!! But one test wasn't enough. I had to take a few more to confirm the positive. Again, off I went to the Dollar Store. I purchased three tests and of course, the clerk had to make a comment – "Can't ever be too sure?" – or something like that, I was too excited to care.
I took two of the three tests and each read positive. I was ready to share the news with hubby. Instead, of just showing him the tests all lined up on the bathroom counter like I did with Tot (our firstborn), I helped my daughter write him a letter on a huge piece of white cardboard paper.
It read:
"You're going to be a dad again and I'm going to be a big sister."
When he came into the room to see what we were doing, I just told her to pass him the card. He read it and couldn't believe the news. He smiled a knowing smile (because he predicted it, just as he had done before). Hugs and kisses for everyone. He hung the card in his closet (so sweet).
All the conversation became about how we'd have a child before the year was over, where we'd set up a new nursing station, Tot having a sibling. We wanted this pregnancy. We wanted this baby. Our baby already had space in our hearts and our home.
"We wanted this pregnancy. We wanted this baby."
Our first scheduled prenatal appointment confirmed we were six weeks but this was just based on the first date of my last menstrual cycle because we weren't given an ultrasound. Our first ultrasound was scheduled for our next appointment, I'd be approximately 10 weeks pregnant.
While we waited…
I thought about how it would be to have a toddler and a newborn in the house. I thought about breastfeeding again and traveling with two kiddos instead of one. I thought about my baby daily.
On top of that, each week, my husband would rub my belly and tell me what fruit corresponded to our baby's size. He had an app that he referenced. I loved it.
ULTRASOUND DAY
Ten weeks couldn't come fast enough and when it finally came, I filmed a video with my daughter sharing how excited we were to finally get a chance to hear the heartbeat. That was a huge treat in my first pregnancy and I wanted to hear it for this pregnancy too.
We (hubby, Tot, and I) got to the appointment and didn't have to wait long to get called back. The sonographer led us to the ultrasound room and I laid back on a table covered in white tissue paper. She folded a towel between the top of my pants and poured warm gel on my belly. Finally, we were ready. I watched the large screen above me on the wall in the far corner that showed everything she saw on her screen and watched as she searched for our baby.
Nothing.
She didn't find anything with the belly ultrasound.
She sent me to the restroom to provide a urine sample. When I walked into the bathroom I knew something was wrong. This wasn't how it happened last time. I came back into the room and we did a vaginal ultrasound.
This time, she found the baby. Hubby and I saw it. I smiled when I saw the baby in the frame but the sonographer was quiet. She pointed out my ovaries and my fibroid but said nothing about the baby. For the baby, she just measured and clicked and measured and clicked and measured and clicked.
Finally, she said I could get dressed and she stepped out. I knew. Last time, there were printouts; last time, there was a heartbeat.
"Last time, there was a heartbeat."
After some time, a doctor came in the room and delivered the news "I'm so sorry." along with statistics and options (natural completion, a drug that causes contractions, or a D&C) for how to proceed. He couldn't help the outcome but his delivery could have been much better (a rant for another day). It didn't matter. The only thing that mattered was that my baby didn't have a heartbeat.
I was devastated. I sat next to my husband who was holding my daughter and heard the worst news about the baby that was still inside me. She wasn't measuring 10 weeks and there was no heartbeat.
I didn't know what to do with that information. This wasn't how the appointment was supposed to happen.
MISCARRIAGE AND STATISTICS
I know the statistics. The doctor reminded me of the statistics. The statistics don't matter. Not right now when my one heart is broken.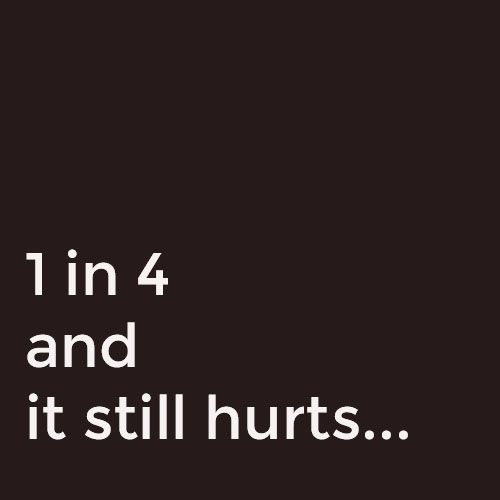 "The statistics don't matter. Not right now when my one heart is broken."
Miscarriage doesn't hurt less because it's commonplace; it doesn't hurt less because I have another child; it doesn't hurt less because it happened early.
If you know this hurt, I'm sorry you had to experience this. I wouldn't wish this hurt on anyone.
For ten whole weeks, I was a mom of two; that means something. That doesn't go away.
Have you experienced pregnancy loss? Do you know someone who has experienced pregnancy loss?