When Thanksgiving and Christmas roll around I think about family and holiday traditions.
I think about how I want my daughter to remember the holidays during her formative years and how we can help create lasting memories.
Currently, my daughter is two and I haven't decided if I'll teach her about Santa Claus and elves. I mean my husband and I work really hard to provide and giving credit to a fictional old guy in a red suit isn't an appetizing thought. Thankfully, she doesn't care right now and she gets pure excitement from lighting up the tree each night.
Here is a list of holiday traditions I am sure (right now) I want to invest in.
1. Letting my husband and daughter decorate the tree together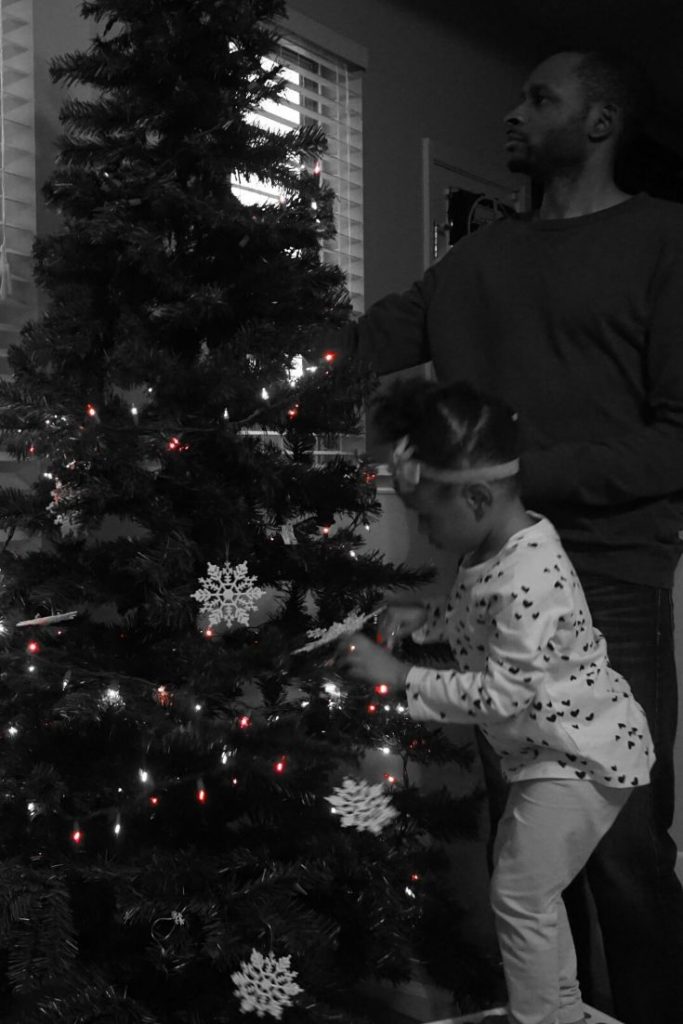 My husband and I were married several years before welcoming our daughter and each of those years, we put up a tree. We decorated it together sometimes but I mostly preferred to stand back and watch. You see. The view from a distance is better than from up-close sometimes. Now, that my daughter is an active toddler, the view is even better and more entertaining.
2. Spending the holidays at home
When you're married sometimes there is this dance of deciding where to spend the holidays.
We've done it all. Christmas with my family, Thanksgiving with his family.

Visitings our families separately and meeting back at home.

Half the day with his family, half the day with my family.
Now, I mostly just want to spend the days at home in my pajamas, not watching other people open gifts and get food comas from eating lots of carbs.
3. Cooking small meals
I know that many families enjoy large meals during the holidays but I've found that cooking large meals in my home often leads to large amounts of waste. The food that isn't eaten within the first two days get relegated to the back of the refrigerator where it's forgotten about until I do a deep clean and find seven-day-old crusty cranberry sauce and greens that soggier than cereal left in milk to old.
Instead of large meals, I've decided to cook small meals with dishes that I don't cook often throughout the year. I want it to be an experience that's enjoyable, creative, not wasteful.
4. Gifting before Christmas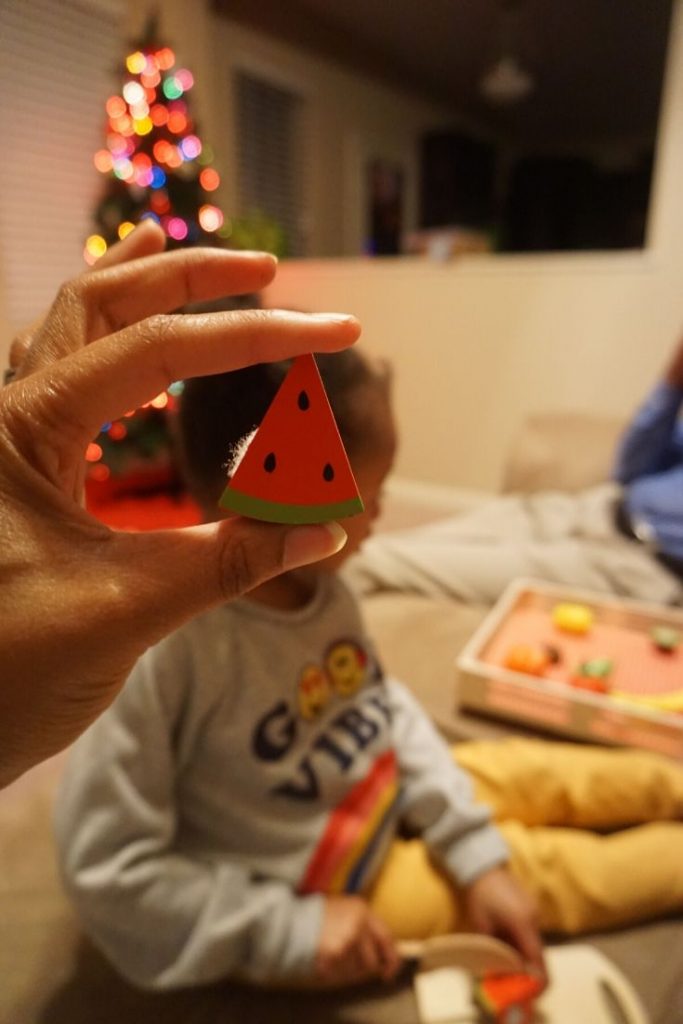 Having a kid makes every holiday more enjoyable. Watching my daughter's face light up from receiving a new gift or having a new experience is exciting. But I don't want to wrap dozens of gifts and watch her open great gifts just to be forgotten in seconds by the next one that gets opened.
Instead, my husband and I have been giving gifts all month long. One gift at a time. One of the latest was this cute wood fruit tray with velcro fruit and a cutting board.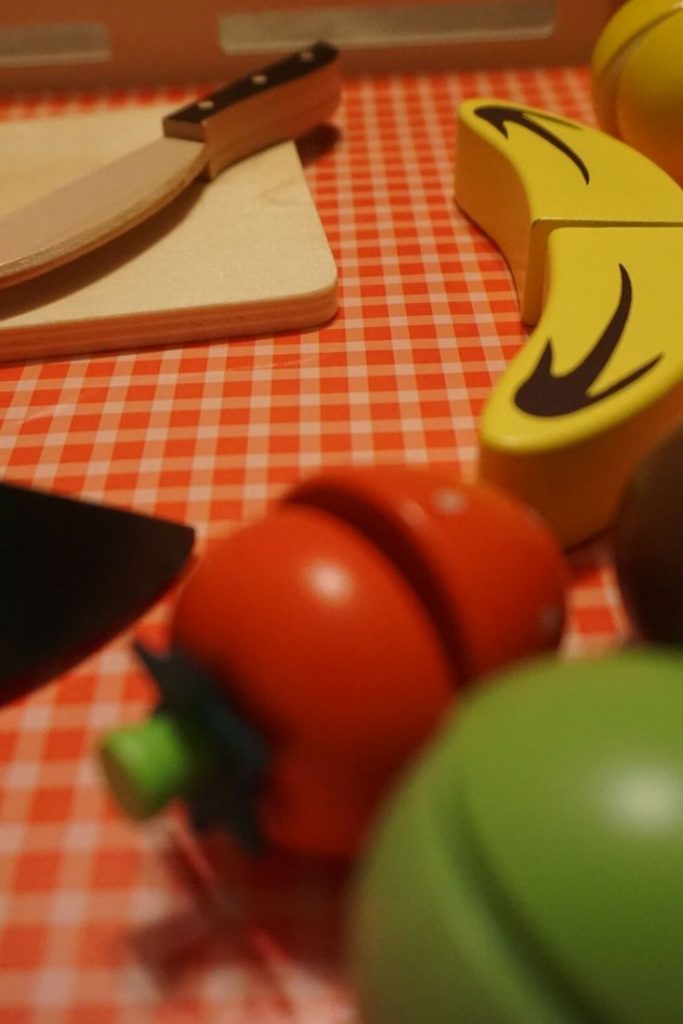 We spent all evening playing make-believe with our toddler.
Why?
Doing it this way allows us and my daughter to focus on one gift and one activity at a time. There is no rush to get to the next toy or game and we get to cherish each gift.
It's great. There is no stress of opening dozens of toys, removing tons of packaging, trying to assemble everything in a day, or a need to go treasure hunting for batteries. Each gift gets to shine.
5. Giving to those in need
When I was younger (high school and college), I spend time volunteering much more often than I do now. I didn't have much money but I had time. As an entrepreneurial mom, I have less time but my ability to give other gifts has increased. I want my daughter to know the value of giving both time and other resources. Not because it's the right thing to do but because with practice, she'll learn the giving feels so much better than receiving.
I want our family to come together and choose a cause to give to together so that our traditions can have a positive impact on other families.
I'm sure this list will continue to grow but for now, these are the traditions I want to commit to.
How about you? Have you created new holiday traditions with your family? Are you excited about growing your family to created specific holiday traditions?